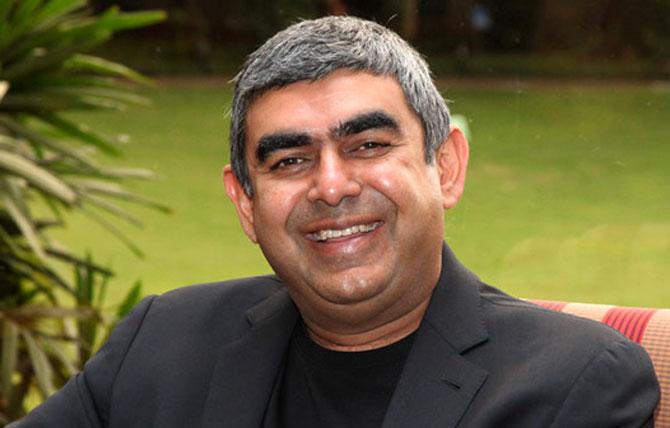 Infosys' new Chief Executive Officer Vishal Sikka won't be under pressure for performance for at least a couple of quarters, for the Street, experts believe, is adopting a wait-and-watch approach.
While investors have been waiting for a sharp turnaround in Infosys' performance for several quarters now, analysts are of the view that it is widely accepted that Sikka would need a few quarters before being able to show any results in the company's bottomline.
Reflecting this sentiment, shares of Infosys have outperformed the information technology sector index on BSE since the company announced the appointment of Sikka as its next CEO.
While the S&P BSE IT Index rose 5.6 per cent during the period, shares of Infosys have risen 10.1 per cent.
MINTING MONEY
Shares of Infosys have outperformed the information technology sector index on BSE since the company announced the appointment of Sikka as its next CEO "We cannot judge Sikka based on one quarter performance; that would not be right.
We need to give him at least two to three quarters to show some substantial results.
Until then, we need to sit tight and wait," said Manish Bahl, vice-president at independent technology and market research company Forrester Research.
"There is no doubt that Infosys needs to get back on a high growth trajectory soon, but nobody is expecting Sikka to do that overnight. There is a broad understanding among the investor community that Sikka's efforts will take time to reap benefits, and thus everyone is patient," said an analyst with a leading foreign brokerage house on condition of anonymity.
"Even if Infosys' performance in the next two quarters is not very impressive, I don't think investors will get flustered about the company's prospects or doubt Sikka's capabilities," he added.
Sikka, who comes from a non-IT services background, has already made a few early moves at Infosys, which analysts believe, were in the right direction.
Sikka announced 5,000 promotions within the first week of his joining Infosys at the beginning of this month.
Experts believe the move is likely to boost employees' morale and also help in taming the all-time-high attrition level, which is one of the primary concerns for Infosys.
For the quarter ended June 30, 2014, Infosys' attrition rate was at 19.5 per cent — the highest ever at the company.
Additionally, according to an update by Sikka on micro-blogging website Twitter, he spent time with several of Infosys' senior leaders in the US during an off-site over the previous few weeks.
Experts are of the opinion that the activity will help the existing top-leaders of Infosys to understand and adapt to Sikka's strategy more smoothly.
Analysts have time and again said a smooth acceptance of Sikka by the existing senior leaders at Infosys is of prime importance, as this is the first time that the company has brought on board a CEO from outside.
While it was widely anticipated that Infosys might see more senior-level exits after Sikka's coming on board, none of that seems to have happened so far.
"In the short term, Sikka will need to build internal confidence. Getting a buy in from senior management, addressing investors, areas of improvement, becoming more hand on to the business are key focus areas that he will need to look at," said Sanchit Gogia, chief analyst and CEO of Greyhound Research, an independent IT and telecom research and advisory firm.
"In the mid-term, Sikka will need to further partnerships and alliances particularly in emerging tech and markets. Attrition is one aspect that requires monitoring, setting of mid managers; investing in people is going to critical in midterm. Sikka will personally add immense wealth to alliances with product firms and to the hived off software firm."