Asian shares took a beating and the yen raced to a seven-week high against the dollar on Monday, as emerging markets remained under pressure with the US Federal Reserve poised to continue tapering its stimulus and tighter credit conditions in China raising fears of a slowdown.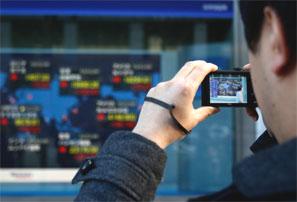 MSCI's broadest index of Asia-Pacific shares outside Japan tumbled 1.6 per cent to nearly a five-month low, on track for its worst one-day performance since August after losing more than 1.0 per cent on Friday. Japan's Nikkei share average gave up the 15,000-level and dropped 2.7 per cent.
Expectations of continued stimulus withdrawal by the US Federal Reserve added to the market's gloom.
Fed officials are seen cutting bond-buying by another $10 billion at their regular two-day policy meeting beginning on Tuesday, and are likely to remain unfazed by the ongoing rout in emerging markets.
"Everyone was reminded about last May's turmoil when investors unwound their positions in emerging markets on worries about Fed's tapering," said Norihiro Fujito, a senior investment strategist at Mitsubishi UFJ Morgan Stanley Securities in Tokyo.
The Korea Composite Stock Price Index (KOSPI) .KS11 was down 1.7 per cent after touching its lowest level since August 29.
Investors continued to fret about the impact of tightening credit conditions in China as Beijing seeks to curb growth in high-risk lending.
The dollar slipped as low as 101.77 yen early on Monday, its weakest level since December 6, and was last trading at 102.22 yen, down about 0.2 per cent. The yen's session high marked a strengthening of more than 2 yen over the past three sessions, as Japanese stocks withered in line with their global counterparts.
The euro also fell to a seven-week low of 139.25 yen but recouped some losses to buy 139.85 yen.
"The combination of the drop in US and Japanese equities, and the sharp decline in US bond yields helped accelerate the short squeeze, which was already helping the yen recover," strategists at Brown Brothers Harriman said in a note to clients.
"Renewed yen weakness would seem to require a move back up in US yields and/or recovery in the equity markets," they added.
On Wall Street on Friday, all three major stock indexes dropped for a second consecutive session, with the Standard & Poor's 500 index shedding 2.0 per cent.
The yield on benchmark 10-year Treasuries notes fell as low as 2.706 per cent on Friday, its lowest intraday level since November 26. It stood at 2.726 per cent in Asian trade.
Argentina, meanwhile, abandoned support of its peso on the open market last week, sending the currency skidding to its biggest drop since the 2002 financial crisis.
Latin American stocks tumbled to a 4-1/2-year low on Friday.
In commodities trading, gold rallied for a third straight session on Monday to a fresh two-month high, after marking its fifth consecutive weekly gain. Spot gold added about 0.3 per cent to $1,271.59 an ounce, after rising as high as 1,278.01.
US crude futures edged higher on the weaker dollar, rising about 0.2 per cent to $96.79 a barrel, though fears of a slowdown in China capped gains.
Copper on the London Metal Exchange lost 0.2 per cent to $7,169 a tonne, after sinking as low as $7,160, which was its lowest since December 11
Additional reporting by Dominic Lau and Ayai Tomisawa