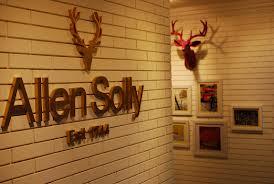 When was the last time you found a garment that was styled right but the store had either run out of the colour you sought or did not have the shade to start with?

Such a disappointment is the result of chinks in one of the most complex supply chains – that of branded apparels.

Branded clothes can take eight months to a year to move from the drawing board to shop shelves, and then there are different sizes and colours.

Brands have to monitor what needs replenishment as shelves start to empty.

Allen Solly, the mid-to-premium casual clothing brand from Madura Fashion & Lifestyle (a division of Aditya Birla Nuvo) is attempting to change the model for part of its line.

In October, Allen Solly started offering male consumers a choice of 670 colours for dyeing clothes from the brand's core segment comprising shirts and pants.

The core segment (as opposed to the fashion line which keeps pace with the season's trends and contributes 85 per cent to apparel brands) remains constant in a brand's offering and does not change in terms of its styling.

Every apparel brand dedicates at least 10-15 per cent of its shelf space to the core segment.

The brand is giving its audience a free-hand to choose the one thing that can change in the core line-up -- colours.

Allen Solly will keep eight colours in the store.

The rest can be customised and delivered at the consumer's door-step.

But what consumers see at stores as the Colour Lab, called for a separate production line of dyeing and garmenting at the manufacturing plant in Bengaluru.

The company stocks small amounts of undyed core patterns and sizes of its shirts and pants and sets in motion the dyeing upon orders.

The maximum time for delivering is 15 days, albeit the fortnight deadline reserved for places furthest away from Bangalore such as Agartala in Tripura.

Not the usual supply chain

A piece of clothing in Allen Solly's existing supply chain takes no less than 120-160 days to chart the journey from the factory to the store.

While the fabric manufacturing takes 90-120 days, the garmenting (or styling and cutting) takes 30-40 days for the 8,040 different SKUs (stock keeping units or varieties of the products and their packaging units).

Shopper insights

Sooraj Bhat, brand head, says, "A lot of shoppers are willing to buy from the existing assortment and not wait for their garments to be delivered.

"Hence, we are looking at 5 per cent of revenue from this initiative."

The pants are priced at Rs 2,599 and the shirts at Rs 2,299.

Even then, a recent study by Nielsen on men's
shopping habits showed that male shoppers bought more on impulse than according to a plan.
Nielsen found that the shopper was highly open to influences within the store when choosing between brands, making it possible for brands to secure the consumer with in-shop tactics.
Seventy-five per cent of consumers could be influenced at the stores as three out of four male apparel shoppers visited stores to seek out new product experiences, necessitating a refresh every month.
Allen Solly could have found the mantra to put its core segment on auto-pilot for such refreshes.
"This offering for the core segment, which is not a major chunk of a brand's revenue, could work well as Madura already has a good back-end in place.
This will appeal to the fashion-conscious consumer who is willing to wait for the product to be customised," says Kiran Kothekar, one of the promoters of Vector Consulting Group, which specialises in supply chain consultations.
Questions on feasibility
Some retail consultants, however, warn about the feasibility of the move. Prashant Agarwal, joint-managing director of Wazir Advisors, a retail consultant, says, "It is trying to put the onus on the consumer. How much he would savour it, is debatable.
"Also, the shade displayed on a tablet might differ from the shade on the dyed garment, leading to mismatched expectations."
Inventory management could also pose a problem for the company as Madura would have to hold on to stocks (and not send them out to stores rightaway) in order to be ready to dye according to the orders, Agarwal says.
Part of a bigger plan
However, the initiative is part of the company's streamlining of its supply chain.
Bhat says, "A 15-day turnaround time is pretty sharp and we have reversed the process by first selling the garment and then manufacturing it.
"It will ultimately bring our supply chain closer to the market which will respond better to consumer needs.
"While our regular supply chain can't yet feed off the move, we will ramp up slowly and stay invested. "Over time, we will get a sharper sense of what colours people are going for and get faster."
By spring/summer, Allen Solly will extend Colour Lab to womenswear and kidswear.
Womenwear makes up 25 per cent of its sales while kidswear contributes 3 per cent. Menswear remains the brand's flagship line.
Allen Solly's revenue in the last financial year was Rs 650 crore (Rs 6.5 billion) and it expects a growth of 40 per cent this year.
The brand, which leveraged the concept of 'Friday Dressing' for its casual clothing, has 175 stores across metros, tier I and II cities and plans to add 25 by the end of the year.