Most public sector banks, flush with deposits now, offer 3-4% interest on savings deposits, while a few private sector banks go up to 6%.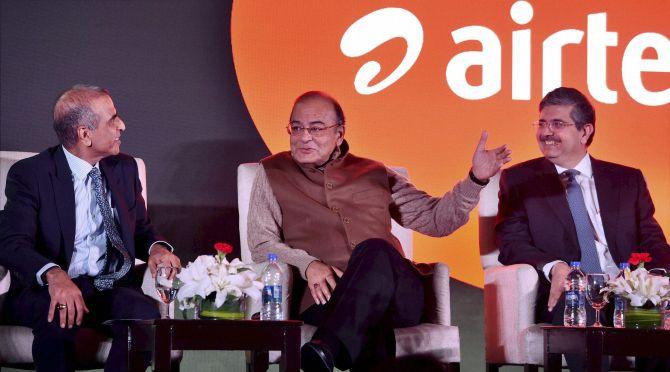 Image: Union Finance Minister Arun Jaitley (centre) with Bharti Enterprises Chairman Sunil Bharti Mittal (left) and Kotak Mahindra Bank, Executive VC, Uday Kotak during the launch of Airtel Payments Bank in New Delhi on Thursday. Photograph: Shahbaz Khan/PTI Photo.
Bharti Enterprises chairman Sunil Bharti Mittal has launched India's first payments bank -- Airtel Payments Bank -- giving a 7.25% interest on savings accounts, which makes it the highest interest rate on offer.
Most public sector banks, flush with deposits now, offer 3-4% interest on savings deposits, while a few private sector banks go up to 6%.
Besides the lucrative interest rate, the bank also offers personal accidental insurance of Rs1 lakh with every savings account and free talktime equalling the amount deposited in the payments bank-saving account.
The fully digital and paperless bank aims to take basic banking services to the doorstep of every Indian by leveraging Airtel's vast retail network, an official statement said.
With the launch, over 250,000 Airtel retail stores across the country would double up as banking points. The plan is to scale up to 600,000 banking points by the end of the year.
Shashi Arora, managing director and chief executive officer of Airtel Payments Bank, said, "We get reach through 1.5 million outlets from the telecom operations, of which almost 50% will become banking points in future."
From these points, customers would be able to open savings accounts, and deposit and withdraw cash. The platform that will connect 100 million Airtel customers, is aiming to add 25,000 accounts per week.
The country's largest telecom operator launched the first pilot of its payments bank at its 1,000 outlets in Rajasthan in November 2015. It has already added one million customers during its pilot phase, it said in a statement.
In the initial period, Airtel Payments Bank will not charge any processing fee from its customers and merchant partners for digital transactions, in a bid to encourage them to adopt cashless payments.
The company said it would develop a nationwide merchant ecosystem of over five million partners including small kirana stores, grocers, pharmacies, restaurants, etc. These merchant partners will accept digital payments from Airtel Payments Bank customers over mobile phones.
The newly launched bank has committed an initial investment of Rs 3,000 crore to further develop a pan India banking network and digital payments ecosystem.
Bharti Enterprises chairman Sunil Bharti Mittal also hinted at roping in a strategic partner for the payments banks, launched on a pan-India basis.
As per current RBI norms, the promoters have to keep a minimum 40% stake in the payments bank in the first five years.
Foreign shareholding is allowed in these banks as per the rules for foreign direct investment in private banks in India.
Mittal said, if at any juncture the company found a suitable partner, it would be open to offering a 10-20% stake to that strategic partner. Private-sector lender Kotak Mahindra Bank owns a minority stake in Airtel Payments Bank.
Finance Minister Arun Jaitley, who launched Airtel Payments Bank's national operations said, "Airtel payments bank is a convergence that was waiting to happen and moving forward, banking and digital transactions will increase in a less-cash economy."
RBI had granted in-principle nod to 11 payments banks in August 2015 to bring financial services within the reach of millions who still lack access to formal banking. Payments banks can take deposits and remittances but are not allowed to lend.
Airtel Payments Bank got the license in April 2016 and became the first among such niche banks to start operations.
Payments banks are expected to increase competition in the sector by offering higher interest rates on deposits. Other telecom players that have payments banks licences include Reliance Industries (Jio), Vodafone and Idea Cellular.