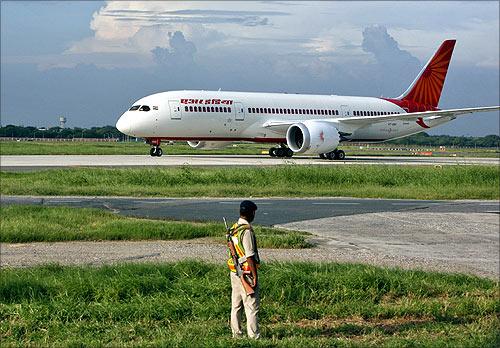 Air India has signed a memorandum of understanding (MoU) with the ministry of civil aviation to realise financial and operational targets in 2014-15.
The MoU specifies targets for categories based on scenarios (depending on whether the airline's performance is average, good or excellent).
An Air India senior executive said, "The oversight committee would continue to evaluate the performance as relates to the targets set in the turnaround plan.
The MoU is a separate agreement entered into with the ministry that is more broad-based.
Every parameter on which the airline will be evaluated has been assigned a certain weight and the airline's performance in each such category would be assessed to arrive at an overall rating."
The operational and non-operational targets have been determined by a special task force of the department of public enterprises (DPE).
Under DPE guidelines, all public sector units (PSUs) are required to enter into a MoU with their administrative ministry.
The subsidiaries of a PSU enter into an agreement with the main body.
Based on the performance of the PSU, performance-related pay (PRP) amounting to five per cent of profit before tax of the organisation is distributed among the chairmen, managing directors and functional directors.
"In Air India's case, PRP is not applicable. However, the MoU would help in making directed efforts to improve the performance of the airline across operational and non-operational areas," the executive added.
In the best-case scenario, for instance, the airline is required to clock net sales of Rs 23,000 crore (Rs 230 billion) in 2014-15. Air India's cash losses and net losses are required to reduce to around Rs 3,800 crore (Rs 38 billion).
The airline is required to attain average passenger load factor of 78 per cent across domestic and international sectors. Its on-time performance is required to improve to 85 per cent for domestic and 79.6 per cent for international flights.