'The drive against shell companies will not scare businesses. Rather, it will boost ease of doing business.'
'Chartered accountants are primarily auditors who report a company's finances. This is why it is important for us to monitor them.'
'Restriction on subsidiaries would ensure that multiple layers of companies are not used for money laundering.'
Illustration: Uttam ghosh/Rediff.com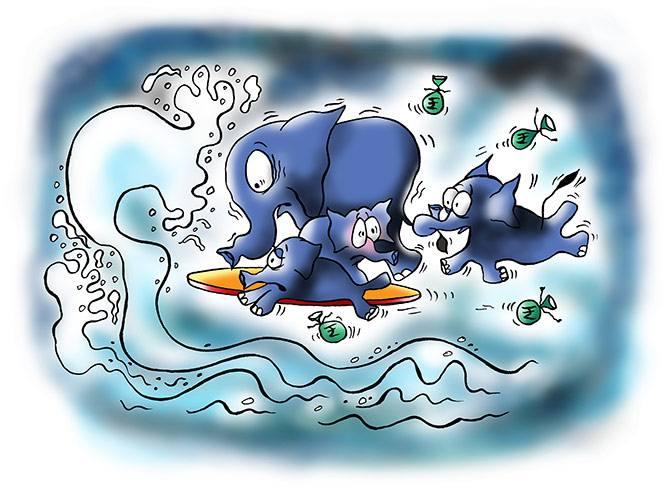 P P Chaudhary, bottom, left, the newly-appointed minister of state for corporate affairs, is monitoring and coordinating actions against shell companies.
He tells Veena Mani & Indivjal Dhasmana that the government is trying to find the beneficiaries of the 209,0000 companies that have not filed statutory returns. Chaudhary says there may be cases where "even domestic help could be part of the board of directors". Excerpts:
This government has initiated action against shell companies on a bigger scale than the previous governments. What was the trigger?
Misuse of the corporate structure by unscrupulous persons has been a matter of concern. The Prime Minister's Office (PMO) took a call that such misuse should not be allowed and all possible actions be taken to wipe out such shell companies.
The PMO constituted a task force, co-chaired by the secretaries of the departments of corporate affairs and revenue, to monitor and devise ways to fight the menace of shell companies.
Although there is no formal definition, a simple concept of a shell company may be stated as 'a non-trading company used as a vehicle for various financial manoeuvres or kept dormant for future use in some other capacity'.
Accordingly, such suspect companies are continuously being identified for action in accordance with the Companies Act by our ministry, along with other departments, for concerted action.
How serious is the problem of shell companies? Is it widespread?
We had 1.6 million companies registered with the ROC (Registrar of Companies). Of those, only 1.1 million are active.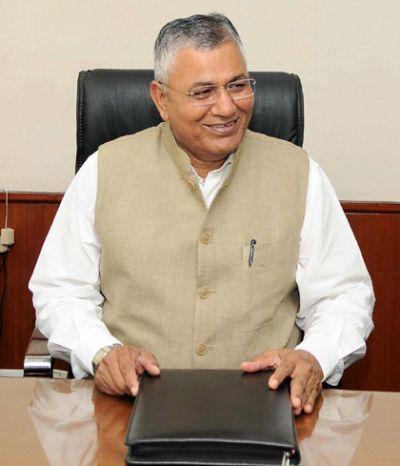 Some of them are limited liability partnerships and the rest non-compliant companies. These have not been complying with the Companies Act in one way or the other. They might be involved in money-laundering or terror funding.
We had issued notices to 290,000 such companies and 60,000 of these complied and gave us an update. They have filed their returns.
Now, 209,000 companies have been struck off because they have not responded. Directors involved with these companies cannot be reappointed as directors in other firms.
What other steps are being initiated to tackle the menace?
Finance ministry officials have been instructed to check with the Ministry of Corporate Affairs before clearing a company's cheque. They need to check if the company is active or not. We are trying to find out who the beneficiaries (owners) of such companies are. For that, we are mining various sorts of data.
What kind of data are you mining?
There may be some genuine companies. We don't want to target them. That is why we are planning to use artificial intelligence to track companies and their financials.
There could be as many as 400 companies in one location. We are investigating and trying to get more data. We have disqualified the directors we had identified.
Now, we are investigating their connection with the companies. Are they part of other companies? There may be cases where even the domestic help could be part of the board of directors.
Will the drive against shell companies scare businesses?
The drive against shell companies will not scare businesses. Rather, it will boost ease of doing business. Only those who are involved with shell companies need to be scared.
How are you monitoring the action taken against chartered accountants, cost accountants, and company secretaries involved with shell companies through their respective institutions?
Chartered accountants are primarily auditors who report a company's finances. This is why it is important for us to monitor them.
Periodic reports are being sought from the ICAI (Institute of Chartered Accountants of India) for the action being taken against CAs on the basis of complaints filed by government agencies. Further, periodic review meetings are also held.
To tighten the noose on shell companies, there were plans to limit the number of subsidiaries a company can have. By when is this likely to be implemented?
The Rajya Sabha will take up the Bill (Companies Amendment) on bringing down the number of subsidiaries a company can be allowed. This is, again, a move to eradicate the menace of black money.
It is felt that the restriction would ensure that multiple layers of companies are not used for money laundering, siphoning off funds or other illegal activities, and firms are used only for legitimate purposes.
Care has been taken to ensure that genuine businesses are not affected, and the restrictions on layers are proposed to be applied prospectively.
How is the government planning to increase the wherewithal of the National Company Law Tribunal (NCLT) as more and more cases are going to be filed, particularly after the RBI-advised cases are referred to the tribunal?
The selection process is going on for 16 members. Of the approved 62 seats, 22 have been filled.
The ministry has also approved a proposal from the National Informatics Centre (NIC) for implementing e-courts and other e-governance solutions in the NCLT, which is at an advanced stage.
Individual insolvency or bankruptcy is an integral part of the Insolvency and Bankruptcy Code (IBC). What is the progress in notifying these rules?
A working group has been constituted for recommending the rules of the bankruptcy provisions (individual insolvency) in accordance with the IBC with respect to guarantors, corporate debtors, and individuals.
The working group has submitted its report. The Department of Financial Services (DFS) has also been requested to strengthen the Debt Recovery Tribunals (DRTs).