'We are here to build a meaningful and responsible enterprise for the long term.'
'Many more medium-sized retail enterprises could come up in times ahead. The future looks promising for brick and mortar retailers.'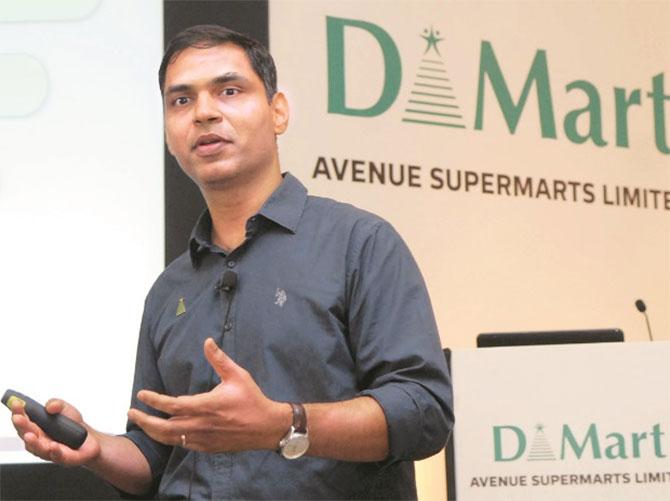 Avenue Supermarts, which runs D-Mart, posted a 47 per cent jump in net profit in the March quarter and its revenue and operating profit went up 41 per cent. The company's chief executive and managing director, Neville Noronha, talks to Raghavendra Kamath about strategy. Excerpts:
Your margin is flat in the March quarter at 6.9 per cent. What is the reason behind that? Do you think this quarter will be better?
Margins grew by 41 per cent in the like to like period for the quarter. However, the quarter is relatively slower than the December quarter and the mix also changes.
This is primarily because the festival period has been covered in the previous quarter and there is restraint on discretionary spending as we head towards February and March. We also added 14 stores in the March quarter.
D-Mart added 21 new stores in FY17, similar to the additions in FY16. What is the plan for FY18?
Our model makes it hard to predict what that number is going to be, considering the time taken to convert our properties into a retail store. We strive hard to at least open as many stores as we opened last year.
Some years we do it successfully and in certain years we have also opened fewer stores than in the previous year. Our philosophy has always been that we shall not grow at any cost. Running the business efficiently is the priority.
You opened six stores in Rajasthan, the Delhi region, Daman and Tamil Nadu. How has been the experience?
New regions are never good experiences in the beginning. It takes a lot of effort in understanding customer needs in every new cluster.
In retail, when we talk about taste it is not just food. Everything in retail changes every 200 km. For a country like India that is exciting as well as daunting for any retailer. Hence we prefer the bulk of our growth to come from markets we understand well.
How is the response to your online portal. How do you plan to scale it up?
It has only been three months since launch in a small region of Mumbai. It is a humbling experience, we are learning every day. There is so much we still do not know about e-commerce and are trying to understand. It is very premature to even have discussions of scale beyond the current area of operation.
Analysts have said your stock price is expensive and investors should sell the stock. How do you react?
I understand the retail business reasonably well and my job is to to ensure my team and I run the D-Mart business efficiently. We are here to build a meaningful and responsible enterprise for the long term. Everything else is hard to decipher and hence react.
How does your expansion plan change with the goods and services tax?
The GST is going to enable ease of doing business. Not just for D-Mart but for the entire retail sector. Planning stores and warehouses will now be driven by pure supply chain logic and efficiencies.
How will your strategy on real estate change?
All our decisions on real estate are based on the long-term cost-benefit ratio. Some locations make sense for lease while some others make more sense in ownership. In general, we have been a ownership model business.
The Future Group and Reliance Retail have aggressive expansion plans. How do you look at them in your scheme of things?
We all have tremendous opportunity in this country. We all can co-exist well. In fact, many more medium-sized retail enterprises could come up in times ahead. The future looks promising for brick and mortar retailers.
What is the share of private labels in your sales? Are you looking to add more products and where do you see the share of private labels by FY19?
We have an insignificant share of private labels right now. We are working on areas where we see an opportunity, but it will be with due care and diligence.
Analysts say you will not be able to sustain sales and profit numbers.
Everybody has an opinion, and why not. Our job is to run a business well and let the performance speak. Some periods will be good while some may not be. Our job is to deliver great value and being consistently relevant to consumers every single day.
That is our long-term objective. Everything else could also be a priority, including top line and profits, but those should not conflict with the first objective.