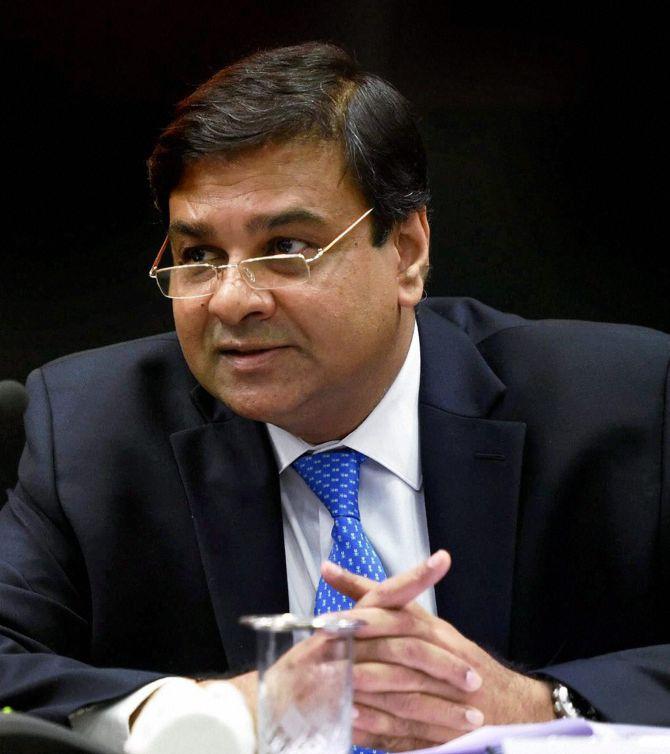 'When a soldier becomes a king, he better be a king. He should now just forget the past and move beyond continuity. He should catch the potential of India's moment and play a leader's role,' says Vallabh Bhansali of Enam Group.
With the Union government choosing Dr Urjit Patel as the next governor of Reserve Bank of India, everyone has heaved a sigh of relief that the government has chosen to follow continuity over confrontation.
Dr Patel, 52, who, like his predecessor Raghuram Rajan, has done his PhD in economics from Yale University, and later had an illustrious career with the International Monetary Fund, Boston Consulting Group and Reliance Industries, will helm the RBI from September 4, 2016, when Rajan's three-year tenure, during which he and Finance Minister Arun Jaitley seemed to disagree over the cutting of interest rates, expires.
Vallabh Bhansali, chairman of Enam Group, made no bones about how the economy, when it needed more interest rate cuts, was left gasping for breath under Rajan, even as he welcomed the appointment of Urjit Patel as his successor.
"I think if I were him (Dr Urjit Patel), I would not look at continuity at all," Bhansali told Prasanna D Zore/Rediff.com on the sidelines of the launch of Itihaasa, an app that chronicles the history of the Indian information technology revolution, by Kris Gopalakrishnan, former Infy vice chairman and now chairman of start-up accelerator Axilor,.
How do you look at the choice of Dr Urjit Patel to succeed Raghuram Rajan?
In the career of a person this is a unique opportunity, a milestone and I do hope that Dr Urjit Patel thinks beyond continuity.
This is a unique moment in India's history, that we are not only the leading growth nation in the world but we have a very important role to play domestically and globally.
I think we must catch the momentousness of his appointment and hope he really acts as a leader now that he has got this opportunity.
But isn't he an inflation hawk, just like governor Raghuram Rajan? At least important policy-makers in the government seem to think so. Will the markets like Dr Patel?
My experience is, the chair does wonderful things to you. Dr Urjit Patel, as I said, now needs to think of himself as a leader. When a soldier becomes a king, he better be a king. He should now just forget the past and move beyond continuity. He should catch the potential of India's moment and play a leader's role.
Will a cut in interest rates be in the interests of Indian industry?
We have to view the interest (rate policy) or other economic policies in the correct perspective. It is not the moment to go into these (issues) but it will be useful for a serious student to look into how the world is looking at deflation and inflation over the last 100 years starting from 1919, the aftermath of the First World War.
Has there been a stable policy? Has there been a stable view? How many times has the view changed? And if I am a blind follower of an economic theory, how much damage can I do to generations to come?
One has to be open-minded and an academic, and now an administrator and governor of an institution as important as India's central bank, Dr Urjit Patel is expected to be open-minded and understands the difference between demand-supply and play, what I would call the Krishna game in Mahabharata, he eats and then he makes the whole world feel sated. (Legend has it that once sage Durvasa along with 10,000 disciples reached the Pandavas' home in exile and sought food. The Akshaypatra in their possession would supply unlimited food as long as Draupadi had not eaten, but that day she had already eaten her meal. As there was no food to serve the sages, a distraught Draupadi seeks Krishna's help, who then eats a morsel left in a vessel and miraculously Durvasa and his disciples felt sated).
This is the kind of macro-economic thought (that must go into framing monetary policies).
Nobody can argue that we don't want macro-economic stability. Nobody can argue that we have to beat inflationary expectations. But from that theoretical position, (one also has to see) what's happening on the ground.
The world is fighting deflationary pressures. Economic multiplier (effect) has gone down around the world. It has gone down even in a developing country like India. Nobody talks about it. There are other macro-economic parameters which need to be talked about and dealt with (not just inflationary expectations).
I think if I were him (Dr Urjit Patel), I would not look at continuity at all.
I would look at the opportunities and play accordingly; be extremely honest to my craft; honest to my position and do whatever is right. I am not saying this or that but I am just saying have an open mind and understand the importance of what is happening.
Were you expecting Dr Patel to be made the RBI governor?
He has the right kind of academic background; all his career has been around India and that's an advantage.
The government also saw (and told itself), 'look, we are not fighting anything. We are happy to continue in the same manner.'
An attempt was being made to (create an impression) that the government was fighting.
Do you see the interest rates softening after Dr Urjit Patel takes over as RBI governor?
The RBI is far better informed than I am. But all empirical studies need to be tampered by intuition. That's what leadership is all about... that against all odds a leader takes a position.
He has no more to be an academician, no more play the second fiddle to anybody and be bold enough to play to his intuitions. That's how I see it.
Do you think Indian economy needs a dose of interest rate cuts to stimulate demand?
I think the recognition for the money multiplier is going down. That the capacity utilisation is extremely low.
Just as you have inflationary expectations that the central bank wants to beat, my only worry is there is also a deflationary expectation that is now setting in.
The stock markets, the average businessman are all extremely depressed -- if earnings don't go up, growth will not happen. So, sector after sector for very different reasons, for example real estate, the luxury goods and jewellery sector and so on, we find several sectors that the money multipliers are in serious trouble. We also need to look at the revival of this sector.
During Raghuram Rajan's tenure he cut the interest rates by 150 basis points (or 1.5 per cent) and yet there has been no significant demand stimulation. In fact, the RBI governor has gone on record that there has been no transmission of these rate cuts by banks to the end borrowers...
It (the rate cuts) was only academic. The RBI sat on liquidity for nine months. They never said we have made a mistake; but they changed course in April (2016). But by then the bankers were crying hoarse.
We can have no institution which should say that we are a law unto myself.
I have just tried to establish a context as I welcome Urjit Patel as governor.
I only hope he beats the deflationary expectations as much as he beats the inflationary expectations.