He ran past beautiful villages, stunning deserts, verdant fields... running 4,400 km in 64 days on the Spirit of India run.
Australian Ultra-marathon legend Pat Farmer completed his Spirit of India Run a few days ago.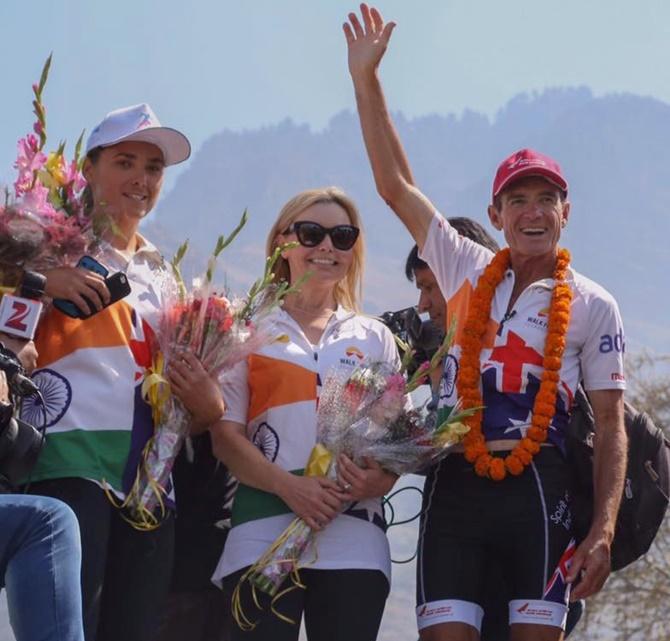 IMAGE: Pat Farmer, right, finishes his run in Srinagar.
On March 29, the inspirational Farmer took his final stride at the Nishad Gardens in Srinagar and ended his epic run across India, charting a total course of 4,400 kms in 64 days.
The 54 year old, who embarked on his historic run on January 26 -- India's Republic Day and Australia Day -- began in Kanyakumari, and from there treaded through the beautiful villages of Goa, the stunning deserts of Rajasthan and the verdant fields of Punjab, before reaching his destination.
Pat started the run when he was 53 years old and turned 54 on his Spirit of India Run. He weighed 71 kgs at the outset, but at the end of the run he weighed 59 kgs.
After battling the conditions and health issues, he completed his epic run to raise money and awareness for girls' education.
Laxmi Negi/Rediff.com asked Pat Farmer to list his 10 most memorable moments from his Spirit of India Run...
1. I started my run from Kanyakumari -- I was surprised to get tremendous support. There was a sea of people and school children lined up to flag off my run. It was a humbling experience.
2. Running through Goa was a welcome change. I found Kerala humid, which was difficult for me. Also, the coastline was beautiful.
Goa was the first place where I got a taste of running in the hills.
3. Goa was also where I tasted Alphonso mangoes!
I got lucky in Goa because there was the carnival in Margao, and I happened to witness some floats.
4. On my way to Goa, I received the biggest and grandest welcome in Karwar. The crowd was pouring in and we were literally crushed (chuckles). Later, my crew and I were taken on a cruise to an island nearby.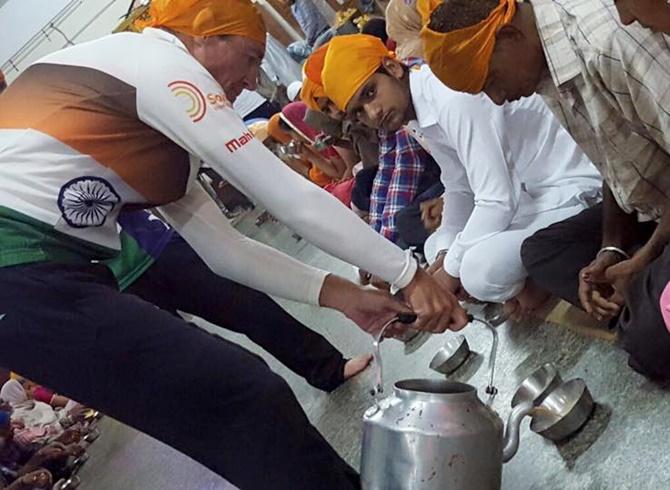 IMAGE: Pat at the Golden Temple.
5. The Golden Temple stop will be close to my heart. I experienced a different kind of energy.
We had the opportunity to attend the first prayer of the morning at 4.30 am and we witnessed the opening of the Holy Book of the Sikhs.
My crew and I also worked in the kitchen (langar) and served the people. I then started my run from the holy place of the Sikhs.
6. I witnessed the change of guard performed by soldiers of the Indian and Pakistani army at the Wagah Border. I had never ever seen such a show in my life! It was an incredible experience.
7. The next fascinating place was Rajasthan. My crew and I had an opportunity to stay at a beautiful palace and have tea with the prince and princess. It was a great highlight of my run.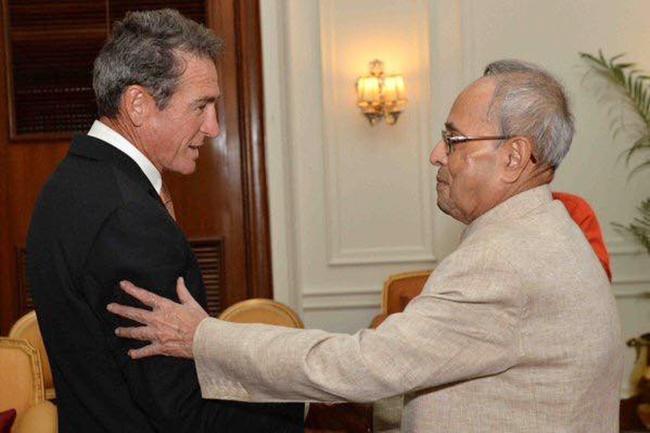 IMAGE: Pat meets President Pranab Mukherjee.
8. When I started my run on 26th January, I received a call from the Governor General of Australia. It is a huge morale boost to get a call from such a huge dignitary from your country.
When I ended my run, on 31st January, I had the privilege of meeting the President of India. It was a huge honour to meet and share my experience with him.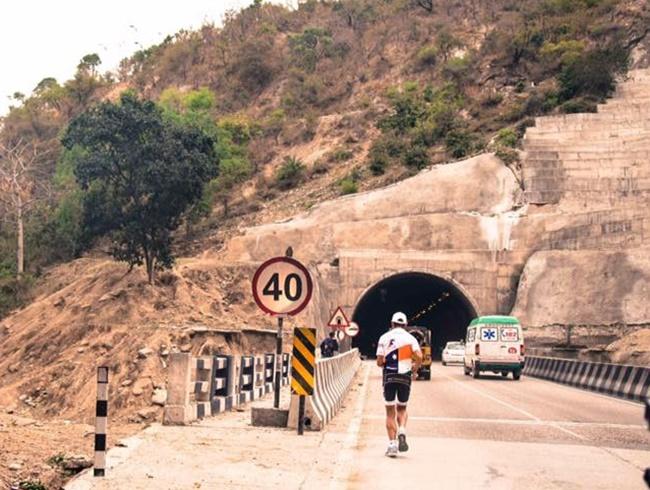 IMAGE: Pat runs towards a tunnel.
9. It was a one-of-a-kind experience running through a 2.5 km tunnel from Jammu through to Kashmir.
There was a beautiful valley in front of me and I was running alongside fields of wheat and flowers. The alpines in the backdrop made my journey beautiful.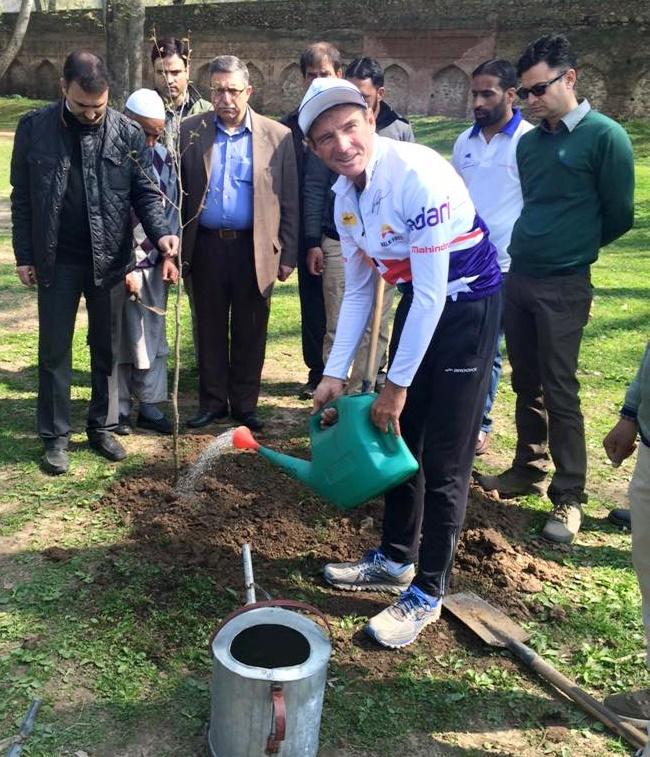 IMAGE: Pat plants a sapling at the Nishad Gardens, Srinagar.
10. I finished my run on a high in the Nishad Gardens where I planted a sapling. It was a good way to finish because I had started my run in Kanyakumari after planting a mango tree. So it was great that I began and ended my run in similar fashion.