He was blessed with celestial ability, a once-in-a-generation player destined to pull India out of its hockey inertia and lay down for it a new, exciting, path of greatness.
Then he was shot and unsure if he would walk, let alone play hockey again.
Dhruv Munjal hopes Soorma, the biopic on Sandeep Singh's life, will bring him back where he belongs -- in the spotlight.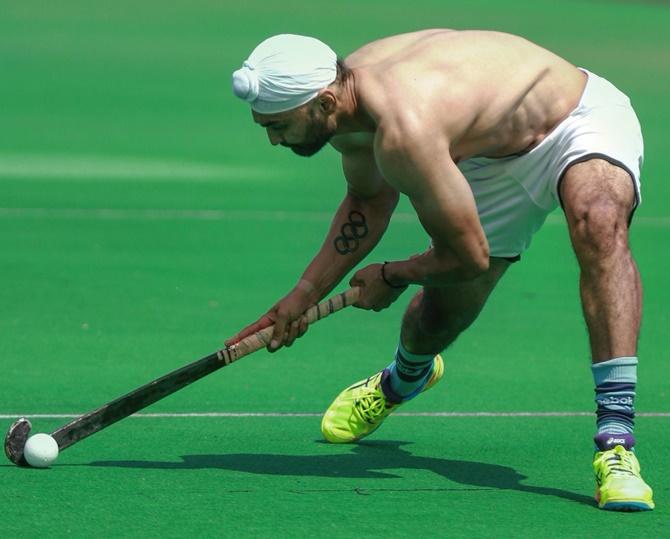 IMAGE: Sandeep Singh sports the Olympic rings tattoo. Photograph: Kind courtesy Sandeep Singh/Twitter
Sandeep Singh offers a slow smile when asked to recall the events of August 22, 2006. The lack of alacrity somehow only serves to reveal his disappointment, even annoyance.
"I've been asked this hundreds of times."
Given the frequency of this one query, Singh's narration of what happened that life-altering afternoon is unsurprisingly brief.
"I remember everything -- from the moment the bullet struck to when they administered anaesthesia to me at the hospital."
The physical trauma aside, it is almost impossible to imagine Singh's mental state at the time.
One moment you are set to go to the World Cup, the next you are on a hospital bed, wondering if you will ever be able to pick up a hockey stick again.
The trauma is perhaps intensified by the fact that you are the best upcoming drag flicker in the world, blessed with a celestial ability that will help you command a central figure in Indian hockey in the years to come.
Essentially, you are a once-in-a-generation player destined to pull India out of its hockey inertia and lay down for it a new, exciting path of greatness.
Even as he himself talks about it only reluctantly, Singh, for the record, was accidentally shot by a Railway Protection Force jawan inside the Delhi-Kalka Shatabdi Express while on his way to a national camp ahead of the World Cup that year.
His lowest rib was fractured, his liver and kidneys were damaged, and his spine, having taken a bulk of the impact, was chipped.
His team-mates, meanwhile, struggled without the young superstar at the World Cup the following month, turning in an abject showing that saw them finish winless and bottom of their group.
Singh's recovery, however, was quite the antithesis of the nerveless surrender of his fellow players in Germany.
After a resolute battle that saw him spend most of his time in a wheelchair, Singh was back on his feet and playing for India after two years, eventually becoming captain of the national side in 2009.
This stirring comeback is the meat of an upcoming film on Singh's life, Soorma, starring Diljit Dosanjh, Taapsee Pannu and Angad Bedi.
Since Indian audiences have not been known to be enthusiastic about biopics on non-cricketers, Soorma is a bit of a surprise.
Never has Bollywood been inclined to capture the life and times of an Indian hockey player in the same grandiloquent way it honours cricketers, no matter how strong his credentials. But then Singh's miraculous resurgence perhaps truly merited this welcome departure.
"My idea behind the film was to show the struggles an athlete continually endures. There is always a story behind a successful sportsperson. In Soorma, we have tried to recreate that," explains Singh.
When the makers first proposed a film to him, Singh was stunned.
"I remember Bhaag Milkha Bhaag had come out around that time. To be elevated to the same level as Milkha Singh, it was unreal," he says.
Soorma, earlier titled Flicker Singh, has Sony Pictures Network and actor Chitrangada Singh as producers. It has been directed by Shaad Ali, whose previous successes include Saathiya and Bunty Aur Babli.
During a tough recuperation phase, Singh tells me he lost more than 40 per cent of his body weight, and stayed up for as many as 23 hours on some days. The ordeal was compounded by the lack of rehabilitation centres at the time.
"I have no complaints about the initial treatment I was given. But rehab was difficult because there were no good facilities around," he says.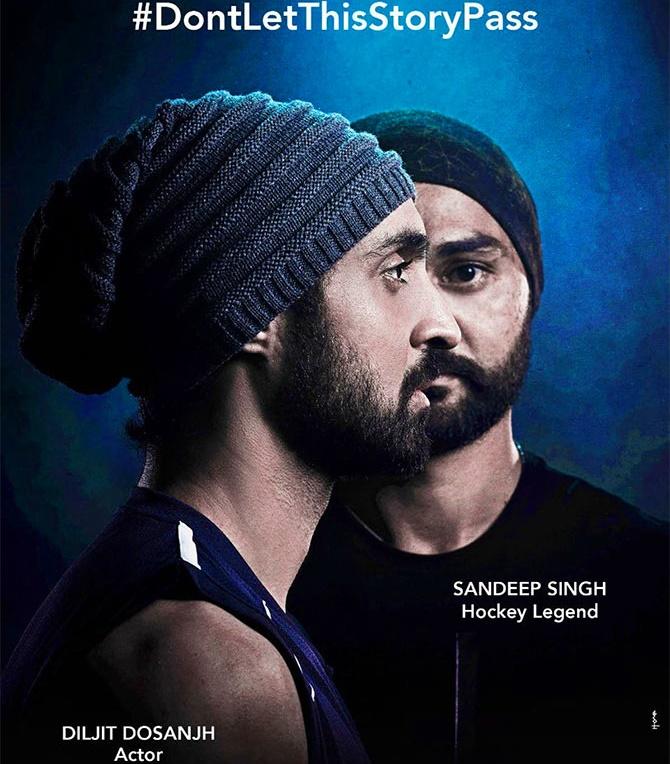 IMAGE: The Soorma poster. Photograph: Kind courtesy Sandeep Singh/Twitter
Driven by an indomitable will, Singh rallied remarkably, fighting back to reclaim his status as India's ace drag-flicker.
In 2009, he helped India win its fourth Sultan Azlan Shah Cup; three years later, he virtually single-handedly propelled the team to the London Olympics.
For those not fortunate enough to have seen him play, Singh was a defensive colossus who could score thunderous goals from penalty corners in his sleep, a facility in the drag-flicking stakes comparable only with modern greats such as Pakistan's Sohail Abbas, Dutchman Taeke Taekema and Argentina's Jorge Lombi.
And despite playing alongside stalwarts like Dilip Tirkey, Viren Rasquinha, Dhanraj Pillay and Ignace Tirkey very early in his career, Singh routinely served up performances that often outshone them.
"Two years before I made my debut for India, in January 2004, I used to look at guys like Pillay and Tirkey and go 'wow'. Playing with them in the same time was just something else," he says.
In spite of not having featured for India since 2014 -- a back problem has kept him out -- Singh has been back on the field in recent months, this time as coach to Dosanjh.
"He is actually quite good with the stick," concedes Singh.
Even Pannu, whose character has been kept under wraps by the makers, took to the pitch like a natural.
"That both their fathers were national-level hockey players came in handy," he adds.
Singh was a constant feature during the filming, which was spread across Punjab and Haryana, passing on advice and ensuring Dosanjh looks exactly like him on screen.
"I was always a fan of his music and his work in Punjabi cinema. So meeting up with him for the first time was quite an experience," he gushes.
So how well has Dosanjh managed to step into his shoes?
"He has mastered the look. On set, both of us used to come dressed in the same clothes and sit next to each other. People had a hard time guessing who was who," he laughs.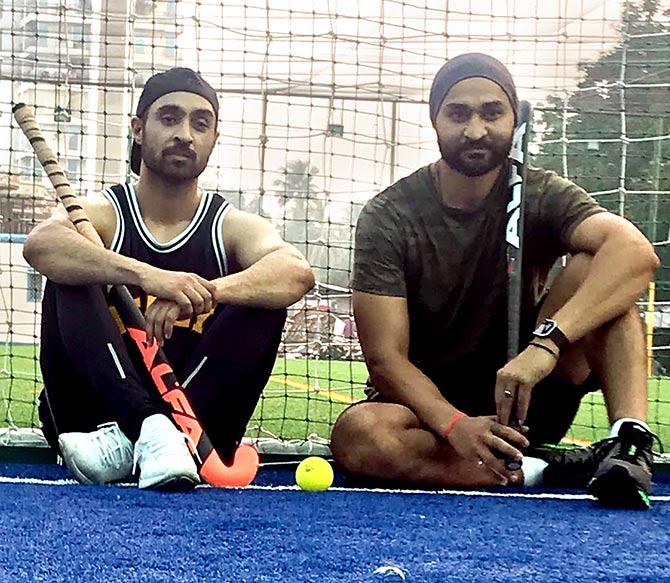 IMAGE: The reel and real Sandeep Singh. Photograph: Kind courtesy Diljit Dosanjh/Instagram
Much like his film, Singh has high expectations from the current crop of Indian hockey players.
Over the past few decades, embarrassing capitulations at major tournaments have become a norm for the Indian team, a slide that Singh feels the present side can arrest.
"A lot of people talk about how India hasn't won an Olympic medal in such a long time. The truth is we have never prepared enough to go that far in recent times," he feels.
That dream is still close to Singh's heart -- he has the five Olympic rings tattooed on his right arm.
"This bunch of players is different. They have that extra bit about them; they should do well at the World Cup in December."
He has been impressed by young drag flicker Varun Kumar, forward Mandeep Singh and captain Manpreet Singh.
"Manpreet is the Virat Kohli of the Indian hockey team. He has a really bright future," he says.
Singh has seen many different phases of Indian hockey in the last 15 years. He was part of the now defunct Premier Hockey League, was witness to the acrimony that accompanied India not qualifying for the 2008 Beijing Olympics and has also featured in the hugely popular Hockey India League.
What has changed since he started playing?
"The fitness is a big positive. More than that, it is the influx of younger players. Earlier, we used to have two or three guys in their early 20s; now you have seven or eight of them. It is tremendous for the sport," he says.
At just 32, you would expect Singh to harbour ambitions of playing for India again, a possibility perhaps made more likely by the fact that he still looks in excellent physical shape.
Singh, though, seems content.
"Mujhe pata hai main kahan se vaapis aaya hoon (I know what I've come back from)," he states.
"The doctors had given up. This was like scaling the Great Wall of China with no support at all."
Moreover, with better candidates in the Indian set-up, Singh says that he must let them take their opportunities.
"Practical hona bhi bahut zaroori hai (It is important to be practical)."
As for his newest flick, Soorma, Singh will be happily proud if it pulls in even half the crowds that his masterful flick on the hockey field once did.