It was by sheer accident that two teenage brothers, Srinivasa Rao and Muralidhara Rao, happened to see someone play table tennis at the Town Hall in Rajahmundry, a small town in Andhra Pradesh.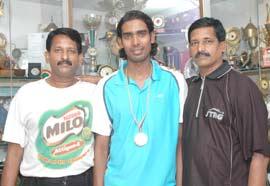 They were fascinated with what they saw; they wanted to play the game. Soon, the game became a passion. They wanted to become famous table tennis players.
Srinivasa Rao remembers those days: "In 1971, when we started playing, we couldn't get a good ball, good racquet or even a good table to play on. We never had any proper coaching. We just played and learnt on our own. But how much could two teenagers from Rajahmundry aim for?"
People too told them that if they remained in Rajahmundry, they would never be able to grow. So, dreaming of becoming famous TT players, they moved to Chennai. 
Even today, years later, Srinivasa Rao has not forgotten the humiliation the brothers had to go because they were from a small town. Overcoming all the hurdles, they became state level players, and Srinivasa Rao went on to become a national level TT coach too.
In the eighties, when they were playing and later on coaching young players, Srinivasa Rao would take his three-year-old son along, hoping that the toddler too would be smitten by the game he loved.
That little boy is Sharath Kamal, the double gold medal winner at the Melbourne Commonwealth Games.
"I didn't know whether he (Sharath) was interested in the game or not. I didn't know whether he had the spark in him or not," Sharath's father Srinivasa Rao candidly admits.
"I had a dream for him. I wanted him to achieve all that we could not. I wanted him to win laurels for himself and the country. When we were playing, we were humiliated, we resolved that we would coach many youngsters, including our own children," he adds.
"Me and my brother have been coaches from 1984," says Sharath's uncle and coach Muralidhara Rao. "When we look back, we feel because we would take him (Sharath) with us as a toddler, it might have helped him like the game. It has also helped him lose the fear of travelling and playing games. We knew then itself that he would take up the sport naturally."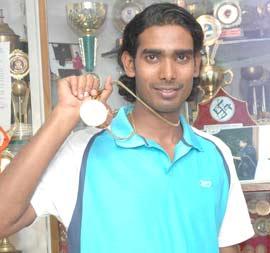 Sharath didn't disappoint his father and uncle; he became the under-10, under-12, under-14 and under-17 Tamil Nadu state champion. But at the national level, he made his mark only last year, and he is currently India's top player.
"Despite his not so encouraging performance at the junior level, we knew he would one day make it to the top at the international level," Muralidhara Rao says.
But why couldn't Sharath become the top junior player? "We were giving a lot of importance to correct stroke play and perfection in the basics," says Muralidhara Rao.
"When somebody is (concentrating on) playing the strokes perfectly, he would have difficulty from the other players than the other players having difficulty with his game. We knew his perfectionism would not yield immediate results but in the long run, the solid foundation he had acquired would help him," Muralidhara Rao continues.
"We also used to encourage him even if he lost. We wanted to mould him for higher things in life. That failure is the stepping stone to success has really come true in Sharath's case," the proud uncle and coach adds.
Sharath's father says what they saw in him as a youngster was his courage to experiment. "He lost many matches experimenting but we were not worried. Since we are coaches, we understood what he was doing but many parents of players do not like their children losing matches. I have seen many parents getting wild with their children when they experiment and lose."
And Srinivasa Rao admits that he entrusted the job of coaching Sharath to Muralidhara Rao because it wasn't possible for a father to be completely objective about his son.
Now, Sharath is a household name, but before him the Raos had trained players like Chetan Baboor, Anil Selvi, Bhubaneswari and Maithili.
They also coached Shamini, who won a bronze medal in the team event at Melbourne.
Kamal's brother, 19-year-old Rajat Kamal, is also a table tennis player, and currently ranked number three in Tamil Nadu.
"I know with the guidance from my father, uncle and brother, I can also win medals," says Rajat. "Me and Sharath practise together and our style of playing is similar, so I am sure I will also be successful like him," he adds.
Watching the finals of the Commonwealth Games on television was one of the most tense moments for the entire family. Once the match was over, Srinivasa Rao and his wife broke down. He went and kissed his son's face on the television screen.
Whenever there were tense moments in the match, Sharath's mother Annapoorna would close her eyes and pray. "I never had any ambition for him because his career was taken care of by his father and uncle. But as a mother, I want my son to win all the matches, at least the matches I watch. And if he loses, I feel very sad. When he was playing the finals, almost all the time, I was sitting there with my eyes closed. I just couldn't bear the tension. I opened my eyes only when he won a point," says the proud mother.
What did Sharath ask for first on reaching home?
"He wanted to know whether I had made sambhar. Sambhar is his favourite. If there is Sambhar, he doesn't need anything else with rice. He also loves dosa and puri with potato," says the mother of India's top table tennis player.
"So, when he is here, I make what he loves the most."
Photographs: Sreeram Selvaraj