'No matter when the Olympics are -- they can be after four months or after one year and four months -- I will be ready.'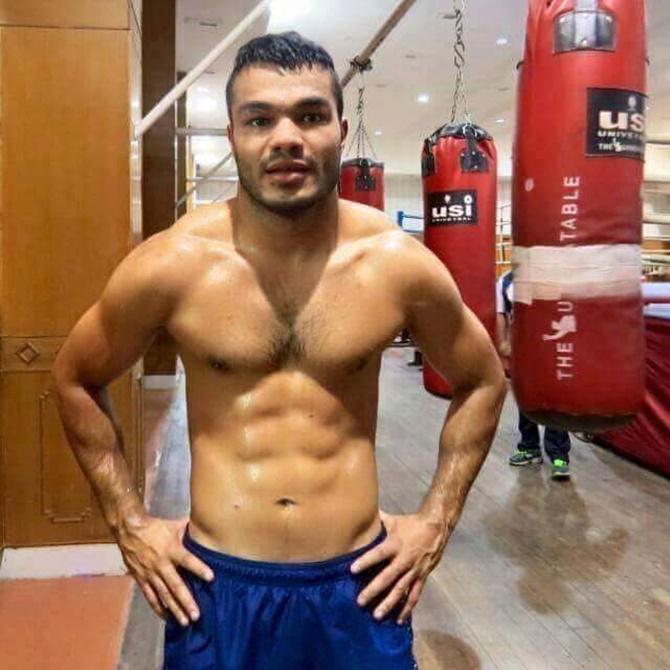 The Tokyo Olympics were placed on hold on Tuesday, March 24, after the International Olympic Committee and the Japanese government agreed to postpone it until summer next year amid the coronavirus pandemic.
So, with the Games put off to 2021, what happens now?
While some athletes have taken the news in their stride and vowed to come back even stronger, India pugilist Amit Panghal (52kg) feels gutted about the postponement of the July 24 to August 9 Games to around the same dates next year.
"I was not thinking about a postponement at all," laments 24-year-old Amit who won a silver medal at the World Championships in 2019 and was a strong medal contender at the Tokyo Olympics.
"We (boxers) were all performing well and looking forward to win laurels for our nation at the Olympics. It is the ultimate for an athlete and I was so close."
Vikas Krishan (69kg) feels the Olympics year has changed, but his goal has not.
"I still want that Olympic gold," he declares to Laxmi Negi/Rediff.com, quick to add, "People are dying out there. Sports is nothing compared to lives. Sports doesn't matter right now. All we need to do right now is pray for people who are suffering."
"Once this (the coronavirus pandemic) is over," says Vikas, "I will concentrate on boxing and that Olympic gold. I am sure that no matter when the Olympics are -- they can be after four months or after one year and four months -- I will be ready."
Vikas signed off the just concluded Asian qualifiers with a silver medal after an eye injury forced him to pull out of the final.
Assistant coach, Girish Pawar, who was in Jordan with the team for the qualifiers, says, "He is in such phenomenal form that he will return with an Olympic medal this time. In Jordan, had he not got injured, it was his gold."
Remind Vikas that he will be a year older by the time the Games are held next year, and he rubbishes the notion.
"A boxer is at his peak when he is 30. I will be 29-and-a-half and reaching my peak," he says.
"I am not at a disadvantage here," he adds. "Actually, it is a good thing for us. We Indians are very good at adapting."
A boxer hones his craft in a 16x20 feet roped square. So Vikas is used to being confined to a small arena. These days, he says, he is doing everything he can individually to keep the momentum going -- shadow boxing, bag punching, skipping, strengthen training.
"The only thing I lack is an opponent," he says.
Amit, who trains twice a day and concentrates on his fitness by running and skipping, feels the same.
"In boxing, sparring partners are very important. Right now I am missing only that. Other than that, my training is going very well. I have a boxing ring at my home which helps me invest more time practicing," says Amit.
Meanwhile, Manish Kaushik (63kg) -- who was the ninth Indian boxer to book an Olympic berth after a brutal box-off win at the Asian Qualifiers as the country recorded its best-ever qualifying numbers for the quadrennial showpiece -- cannot wait to join the national camp and get into "proper training mode".
For now, though he is almost under "house arrest" -- his parents won't even allow him to step out to buy essential supplies. The only time he feels better, he says, is when he is shadow boxing or skipping.
Since returning from Jordan on March 13, the boxers are in self-isolation which ended on Thursday, March 25.
"All athletes's lives are almost the same," says Manish. "We are in hostels all day and then go for training in the morning and evening. Most of the time we are confined to our rooms. So, this social distancing has not brought about any major changes for me."
Amit agrees. He says it feels like he is in training, the only thing missing is personal interaction with other boxers and sparring partners.
And when Vikas is not training at his home in Bhiwani, he spends his time with his three children.
"They kept complaining that I don't spend enough time with them, now they are going to get fed up by my presence," he laughs.