'It was a big relief to get it out of the way. Now he can concentrate on future progress.'
Devangshu Datta reports from Chennai.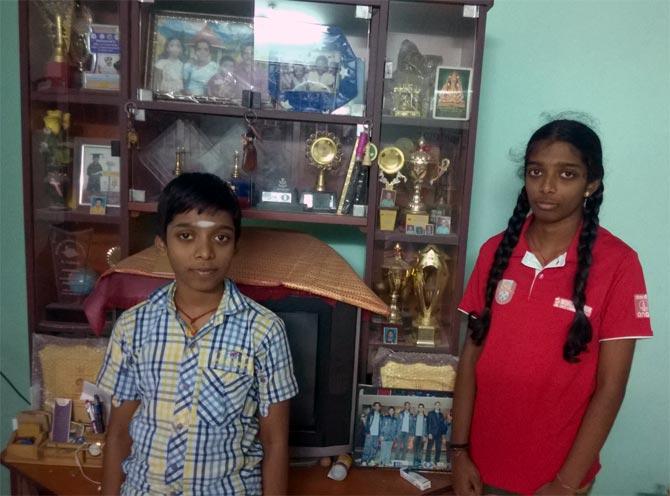 Residents of Padi in West Chennai are used to seeing a stick-thin boy zipping around the locality's lanes on a red bicycle that looks too big for him.
When he isn't playing chess, or table tennis, or badminton, or doing homework, Rameshbabu Praggnanandhaa cycles.
When Chennai threw a reception in the Class 8 student's honour last month, he was apparently unaffected by the pomp and circumstance.
The 12 year old made the statutory speeches and fielded the usual questions in considered fashion.
Then he went home and continued his unending chess match with his 17-year-old akka, Vaishali.
Praggnanandhaa ("People call me Pragg since it's easier") was born on August 10, 2005.
There are many references to his exact age because he is the youngest Grandmaster in the world and only two people have achieved the prestigious title as a pre-teen.
The other is Sergey Karjakin, who set the record when he became a GM in 2006 at the age of 12 years and seven months.
'Grandmaster' is a lifetime title. It is awarded to players who maintain outstanding performances over 25 games against opponents of given strength.
Between November 2017 and March 2018, Praggnanandhaa had a chance to break Karjakin's record.
He scored his first GM 'norm', as it is known, in November 2017 when he finished fourth in the World Junior Championships, ahead of several 20-year-old GMs.
But he couldn't score the two more norms needed, before the cut-off date of March 10.
The floodgates opened after that.
That first norm came at the World Junior Championships in Tarvisio, a small snowbound town deep in the Italian mountains.
The second norm was scored at the Fischer Memorial Tournament in Heraklion, Crete, in April.
The third norm came on June 23, at another Italian resort, Ortisei, where Praggnanandhaa tied for first place in the Gredine Open.
Tarvisio, Heraklion, Ortisei: Three obscure places etched in letters of gold into the annals of Indian chess.
One of the other participants at Ortisei remarked on Praggnanandhaa's laser focus.
'I asked him about the score he needed. He told me he had no idea. All he needed was to calculate on the board.'
Those who know the lad best insist that he is utterly unaffected by pressure, though perfectly aware of it.
His father and coach, Grandmaster R B Ramesh, who runs the Chess Gurukul academy, confesses that he himself was a nervous wreck as his pupil edged closer.
"It was a big relief to get it out of the way. Now he can concentrate on future progress."
Praggnanandhaa's mother Nagalakshmi says she never knows if her son is burning inside when he loses, or if he is mentally turning cartwheels of joy after a win.
She is herself an intense person, so intense that she can hardly bear to kibitz when her talented children are playing.
But when Praggnanandhaa exits the tournament hall, he always informs her nonchalantly about the result, whether he has won or lost.
Ramesh concurs: "He will discuss a game he has just finished, coolly and unemotionally. He is very analytical and self-critical and has his feet firmly on the ground."
Most chess players don't have poker faces, though they learn to tone down emotional 'tells'. Garry Kasparov had a patent grimace and world champion Magnus Carlsen often makes awful faces.
Praggnanandhaa betrays little emotion at the board, though streaming video reveals the occasional gesture of irritation when he loses.
When he is not playing chess, however, he comes through as a high-energy youngster, cracking jokes with an infectious grin.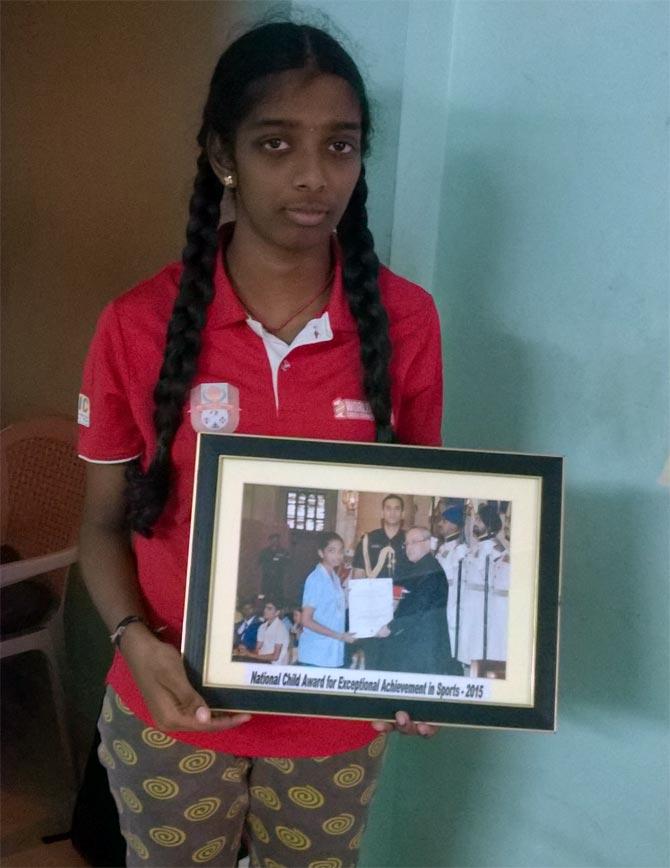 With so much attention on Praggnanandhaa, people overlook the fact that his elder sister is hugely talented, too. She is a world age-group champion and also logged a Women Grandmaster norm at Ortesei.
Indeed, Ramesh says he initially thought Vaishali was the bigger talent. Both siblings agree that she holds a lifetime edge of several hundred games head-to-head, and they prepare and practise together.
The family jokes that Praggnanandhaa learnt to play chess at age three because Vaishali had a TV addiction.
Her parents tried chess as a means of weaning her off the tube. Little brother learnt alongside.
When their talent became obvious, Nagalakshmi and Ramesh committed to the best coaching available.
That essentially meant Ramesh, one of the world's best coaches.
Chess Gurukul has produced a large number of medal winners at Asian and World age-groups events, and Ramesh has also masterminded India's successes at the Olympiads.
But Gurukul, in T Nagar, is more than an hour's commute each way for the siblings, which means it takes a big chunk out of their daily lives.
Vaishali effectively lost a year of her chess career while she prepared for her board exams.
The Velammal School in Mogappair has been understanding so far, allowing Praggnanandhaa to go globe-trotting.
The siblings are both extremely hard-working. "Their work ethic is actually scary," says Ramesh.
Chess is an expensive game for those who pursue it seriously. Preparation needs extensive computer resources, and then, there is the travel.
In the past year, among his various travels, Praggnanandhaa has played in Moscow, Crete, Adelaide, Charlottesville, Stockholm and Reykjavik.
Nagalakshmi and Vaishali have accompanied him to most of these places, with mom usually carting a rice cooker.
The family's circumstances are not easy. Ramesh is a bank employee; he can't underwrite this travel schedule. He is also not very mobile, since he was a polio victim.
He has scrimped and saved, and run from pillar to post to get the help his kids need. He says Gurukul persuaded Ramco Group (which also sponsored Viswanathan Anand as a youngster) and All India Chess Federation President P R Venketrama Raja to sponsor Praggnanandhaa.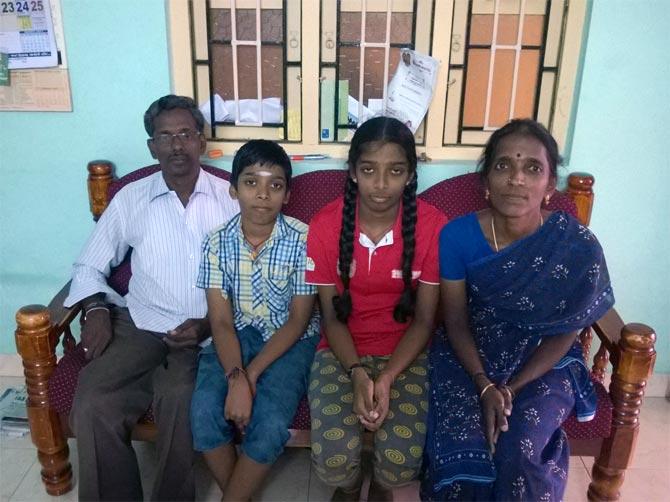 There are times Ramesh worries the kids will grow up too fast. He is careful to avoid putting too much pressure on them.
"We speak on Skype, or on the phone. But we talk about food, weather, sleep, music and movies, not about the games."
Ramesh is hopeful that the GM title and Vaishali's norm will ease the path to financial support.
"This gives visibility. Tournament organisers will now chase after him."
The family sees this as a beginning and not an accomplishment.
Despite Praggnanandhaa's talent and maturity, he is far from the finished article. There is a lot he needs to learn and he knows that.
He has a habit of getting into massive time scrambles due to a penchant for calculating too deep. He is occasionally outplayed because he is unaware of some opening nuance.
Even his fierce will to win can lead to disastrous results. Just before Ortisei, he played the Schaakweek in Apeldoorn, The Netherlands. He won three excellent games and lost six, due to overoptimistic risk-taking.
However, that same hunger also led him to play on and force a win in the last round at Ortesei, when the GM title was already in the bag.
Chess is a hyper-competitive game and even super talents can quit.
Delhi boy Parimarjan Negi became a GM when he was 13 years and four months old, making him the fourth-youngest GM ever.
Now aged 25, Negi is renowned for being an outstanding chess analyst, having played very sporadically after joining the computer science PhD programme at Stanford University. Chances are that he will never entirely fulfil his early promise.
Praggnanadhaa's incandescent talent could well carry him to the world title like his illustrious 'idol', Anand. but it won't be at all easy.
Quite apart from Carlsen, Karjakin and Fabiano Caruana, there are several youngsters in the same ballpark.
That list includes Praggnanandhaa's compatriots, Nihal Sarin (13), D Gukesh (11), American Awonder Liang (15), Iran's Alireza Firouzja (15) and Uzbek Nodirbek Abdusattorov (13).
Anand, who welcomed Praggnanandhaa to the 'GM Club', says, "His broad understanding makes him special. But he will have to keep improving and sharpening his skills."
That will happen, provided he retains his hunger and channels it into pragmatism.