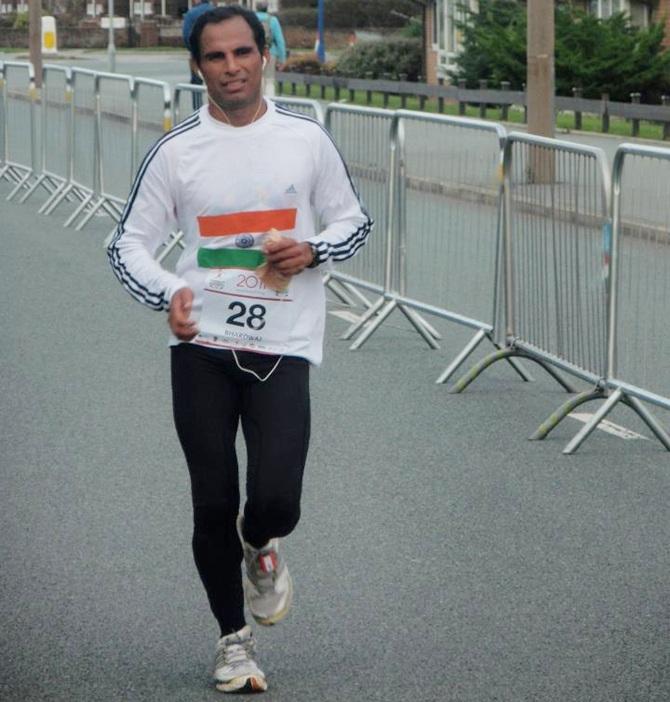 Image: Ultra marathoner Arun Bhardwaj. Photograph: Facebook
'After 8 to 10 hours of running, when my body starts paining, I keep thinking about the pain and sacrifice of my mother and it makes my will stronger.'
Arun Bhardwaj, India's first ultramarathoner, tells Laxmi Negi/Rediff.com what drives his passion for conquering distances.
Come January and Mumbai turns into a runners' paradise. The humidity evaporates and there's a nip in temperatures. New Year's resolution of staying fit lasts a little longer than a few weeks and roads are filled with enthusiastic runners from all walks of life.
On one such cool and breezy afternoon, the countdown for the 12th edition of the Standard Chartered Mumbai Marathon was launched. Besides corporate bigwigs, actor John Abraham, the face of the popular annual run, was present. Among the glitterati, a 'common man' stood out.
It wasn't because of his lean frame or casual track pants and jacket, but his humility.
Arun Bhardwaj introduced himself as a common man, even though he ran a distance of 147.2 kms in 24 hours non-stop on a treadmill during the 'Get Active Mumbai Marathon Expo'. He failed to beat his existing Asian record of 171 kms which he achieved at the Hyderabad Marathon in 2014.
This 'government servant' is India's first ultra marathoner and first Indian to cover 300 miles in a six-day race; his first run was 180 km solo from Haridwar to Baghpat, Uttar Pradesh, on July 29, 2000 and he completed the stipulated course in 24 hours.
The Delhi native then ran from Kargil to Kanyakumari via Leh (over 4100 kms) in 61 days in 2012.
Among his other achievements are a first place in the 567-km six-day run at Hekpoort, South Africa, in 2010, and emerging the first Indian to complete the Badwater Ultramarathon (217km) at Death Valley, California, in 41 hours in 2011.
Laxmi Negi/Rediff.com caught up with Bhardwaj, 45, to discover what drives his passion for conquering distances.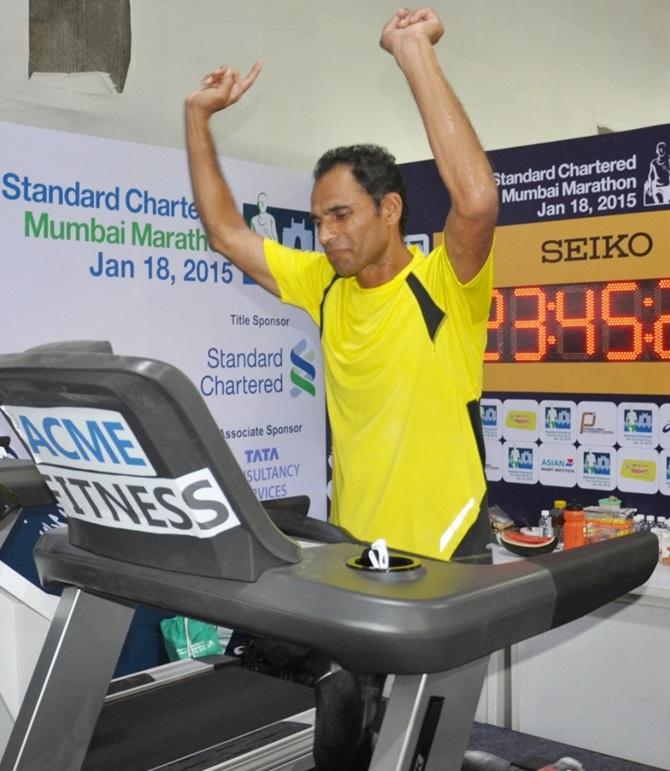 Image: Ultra marathoner Arun Bhardwaj during the last few minutes of his 24 hours run on the treadmill in Mumbai.
How did you start running?
I suffered from malaria as a kid for years. When I was in the ninth standard there was a tumour around my jaw and four major surgeries were conducted on me over two years.

My father used to play hockey in his schooldays and was a good wrestler, but he ended up being a school teacher. Along with my sibling I would to go to the neighbours' homes to watch the Olympics.
I used to weigh around 37 kgs and could never run due to medical reasons, but there was this desire to watch athletics.
Soon I graduated and got a government job. At the age of 27 I got married and was blessed with a daughter. I named her Zola Budd. I was reading Zola Budd's autobiography and, therefore, named my daughter Zola. I also wrote a letter to Zola saying the 1984 gold medal that she missed, God willing, my daughter Zola will win it. (At the 1984 Los Angeles Olympics, South Africa's Zola Budd, who competed for Great Britain, was accused of deliberately tripping American golden girl and favourite Mary Decker in the 3,000 metres event.)
Around 1983, a lot of people named their sons Kapil, after India's cricket legend, and Sunny, after Sunny Deol, following his debut film, Betaab. People name their kids after their idols but, sadly, fail to pursue their passion. These Kapils and Sunnys have not lived up to expectations and are clerks in banks or selling paan.
So when I named my daughter Zola there were no long distance runners in India and she had no one to look up to. Therefore, I decided to take things in my own hands. I started running long distances so that my daughter can really become Zola, the great runner!
My son's name is Yiannis, after Greek ultramarathon runner Yiannis Kouros.
Who is your inspiration?
Meri maa (my mother)!
I am speaking for everyone when I say that a mother works round the clock without getting tired. Even if she gets older she will not hesitate to cook for her children.
Even when I am running for hours and my body aches, I take inspiration from my mother. It is said that a mother goes through immense pain while giving birth to a child. We are four brothers and four sisters; I cannot imagine how much pain my mother must have gone through.
After 8 to 10 hours of running, when my body starts paining, I keep thinking about the pain and sacrifice of my mother and it makes my will stronger.
When it comes to athletes, my inspiration is Yiannis Kouros. He also comes from a humble background and has made a name for himself with his achievements. I always have his photograph with me.
How do you prepare for ultra marathons?
I have never prepared for treadmill runs. In 2007, in my first attempt, I completed 164 kms. After seven years, again in Hyderabad in 2014, I improved my personal record, which is also the Asian record on the treadmill.
I have never visited any gym, am a vegetarian and teetotaler. I feel that running doesn't require much training, but a runner should be dedicated.
My motto is what Swami Vivekananda says: 'Arise, awake, and stop not till the goal is reached.'
Yes, physical fitness is important, but when a runner runs beyond 10 hours, every joint, every muscle of your body is in pain. It is when the mind takes over the body.
That is the difference between a runner and an ultra runner. When the body is in so much pain that you cannot even change your t-shirt, that is when running is over and ultra running starts.
The battle with the mind is what makes you a better ultra runner.
If your mind is stronger, your body will definitely follow.
Why did you choose to run on the treadmill?
I chose the treadmill because it is easier for the media. They do not have to run anywhere. Treadmill is also easier to show people that a person can actually run for 24 hours or more.
There are times when we run in forests or deserts. A lot of people feel we must have hid behind bushes or must have stopped. So the whole purpose of showing that it is possible to run for 24 hours is defeated when doubts crop in people's minds. On a treadmill we are running in front of everyone.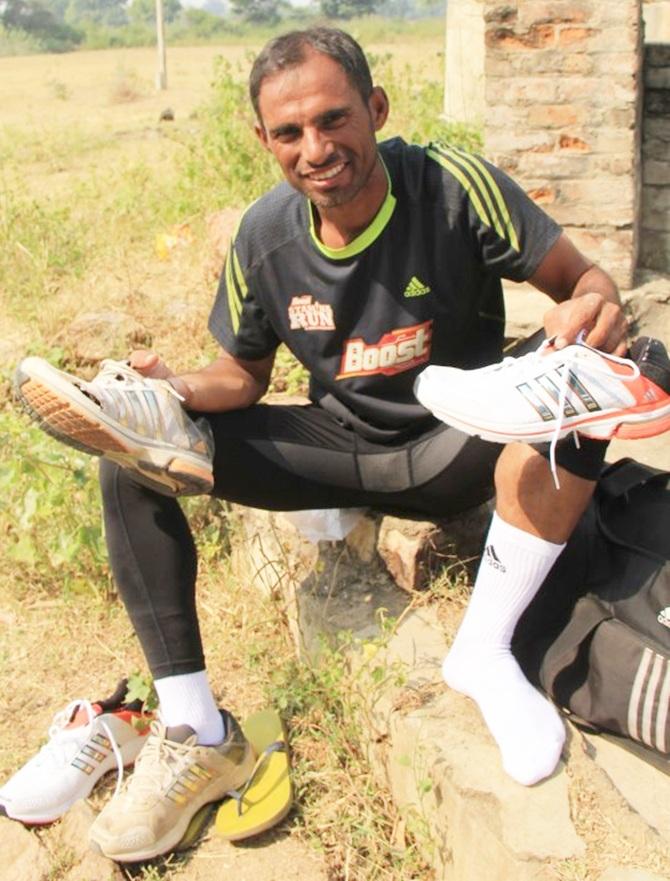 Image: Ultra marathoner Arun Bhardwaj. Photograph: Facebook
Your philosophy?
In 2010 I travelled to Hekpoort, South Africa, alone for a six-day race. I realised that the food there was non-vegetarian. I survived only on limited supply of fruits and honey.
To make matters worse it started raining from Day 2, which made it all the more difficult to run. I used to run one loop of one km and have a tablespoon of honey.
The race director got worried asked me how I was surviving on limited supply of food. He was curious from where I was getting energy. I told him Lord Indra is helping me. I went on to win that race. I was pleased to read the race director's report.
He wrote: 'The Indian runner had come with his own philosophy.'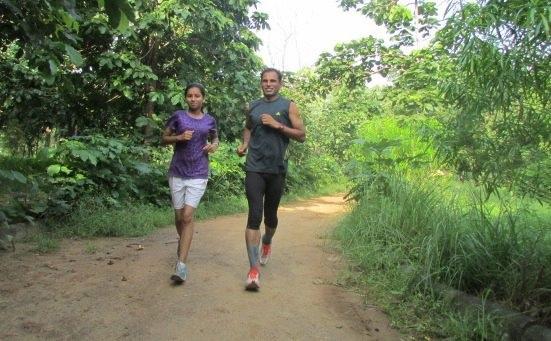 Image: Ultra marathoner Arun Bhardwaj with his daughter Zola. Photograph: Facebook
Your toughest surface to run on...
More than the body, it is the mind that dictates the terms. For me, it is all in the mind. But the monotony to treadmill gets to me. The mind gets fatigued running on the same spot and not reaching any desired spot.
Do any particular songs inspire you while running?
I prefer to listen to the Hanuman Chalisa. It is the best. Also, it depends on the situation of the race.
If the race is just beginning, then I opt for soft melodies, but if it is towards the finish line then any high beat song works for me.
High beat music helps you come up with a dramatic finish.
You have a strong mind.
I sleep for four to six hours. Once I visited a relative and their son was preparing for his Board examinations. He used to sleep for eight hours. I told him that he should concentrate on studies and not waste time sleeping.
He argued that it is healthy to sleep for eight hours and that is what is prescribed for a healthy body and mind.
I told him that I work and then look after my kids and run too. He thankfully listened to me and started sleeping for six hours. He secured 59 per cent in his board exams and was happy about it.
I don't want everyone to become an Ultra runner; all I want to say is that our body and mind are in our control. We can push both to any limit.