His 9-gold athletic haul at the Olympics remains unrivalled with Usain Bolt coming close with 8.
Raj Kishore Mishra, former joint secretary at the sports ministry, salutes Carl Lewis, 'Sportsman of the 20th Century' on his 60th birthday.
Frederick Carlton Lewis was the third of four siblings, born on this day in 1961 to parents Bill and Evelyn Lewis both of whom excelled in sports.
While Carl's father was a track athlete and played football, the mother was a world class hurdler.
That Carl inherited his parents' sporting genes wasn't so obvious early in his childhood when he struggled to keep pace with his siblings who were better than him in sports.
His parents, therefore, put him to pursue music for a while.
However, things began to change once the family shifted base from Birmingham, Alabama, to Willingboro, New Jersey.
There, Lewis's parents founded the Willingboro Track Club to groom budding athletes.
Carl continued to struggle initially, but his perseverance paid off eventually.
It was at this stage that the great Jesse Owens spotted him at a meet in Philadelphia and saw a spark of brilliance in the 'spunky little guy', as he described Carl.
There was no stopping the kid thereafter and he went on to graduate as the top athlete from the Willingboro High School.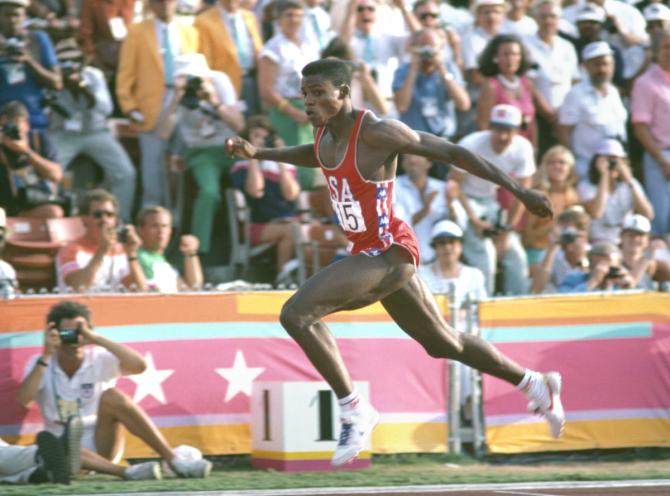 In 1980, one year after joining the University of Texas, Carl served notice of his prodigious talent by qualifying for the US Olympic team as a callow 19 year old.
Sadly, politics played spoilsport and the Olympic Games at Moscow was boycotted by the West led by the US.
Three years on, Carl had his first brush with success at the 1983 World Championships in Helsinki with a jaw-dropping 3-gold burst in the 100m race, the long jump and the 4x100 metres relay.
He repeated the feat at the Rome edition four years later and went on to win two more golds (100m, 4x100 metres relay) and a silver in 1991 at Tokyo before winding up at Stuttgart in 1993 with a bronze in the 200 metres race.
An astounding haul of 10 World Championships medals -- including 8 gold -- a record that stood for quite a while till it was broken by another great, the Jamaican Usain Bolt.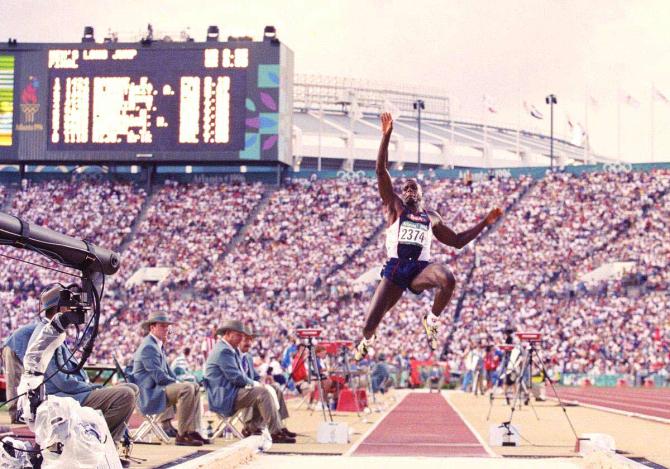 Carl's tryst with the Olympics was equally spectacular.
At home, in the Los Angeles Games in 1984, he equalled the feats of fellow Americans Alvin Kraenzlein (1900) and Jesse Owens (1936) by bagging four yellow metals in one Games -- the 100 metres and 200 metres sprints, the 4x100m relay and the long jump.
Four years later at Seoul, Lewis notched up two golds -- in the 100 metres and the long jump -- and a silver in the 200 metres.
He was thus the first athlete in Olympic history to retain his crown in the shorter sprint and the long jump.
More was to come and at the Barcelona Olympics in 1992, Carl won golds in the long jump and 4x100m relay before signing off with a long jump gold at the Atlanta Games in 1996.
His 9-gold athletic haul at the Olympics remains unrivalled with Usain Bolt coming close with 8.
Athletics apart, Carl has been a man of many parts.
After retirement from sports, he has acted in movies and television serials, often portraying himself in many of those, besides unsuccessfully dabbling in politics for a while.
In addition, he has involved himself in charities including the Carl Lewis Foundation which he established in 2001.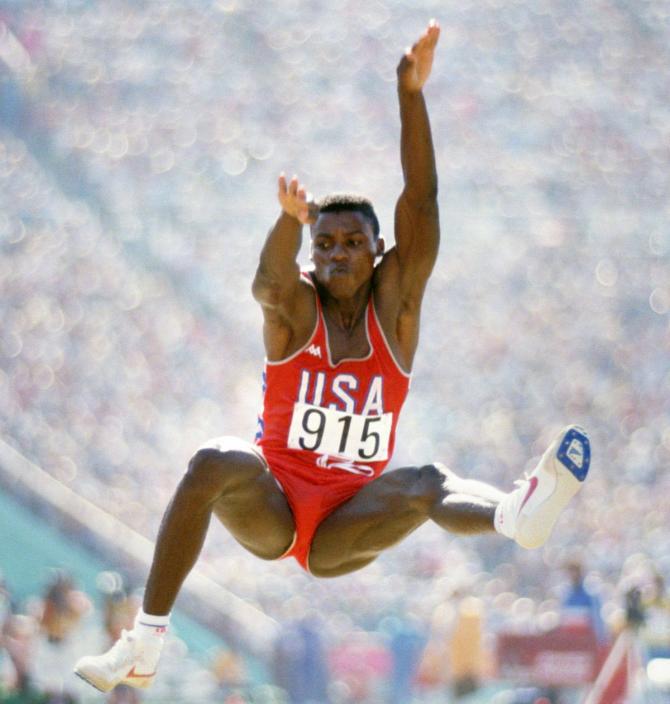 Comparisons are often odious. And yet, sports afficionados have continued to ask the question as to who would qualify to be the greatest track and field athlete ever.
Would it be Jesse Owens, Carl Lewis, Michael Johnson or Usain Bolt? In the opinion of this writer, it would be fair to leave the question open and instead rely on the declaration of Lewis by the International Olympic Committee in 1999 as 'The Sportsman of the Century'.
Happy Birthday, Carl.
Feature Presentation: Aslam Hunani/Rediff.com