When one meets a sporting legend, expectations of the star in question bringing along his ego for company are high. But tennis champion Stefan Edberg is anything but.
For a man who has won 6 Grand Slam titles, Edberg is devoid of any baggage.
Little wonder that he took home the ATP Sportsman of the Year 6 times during his famed career!
Rediff.com's Norma Godinho speaks to the legend, who made the art of serve and volley a potent weapon, about Federer, about Becker and how technology in tennis is here to stay.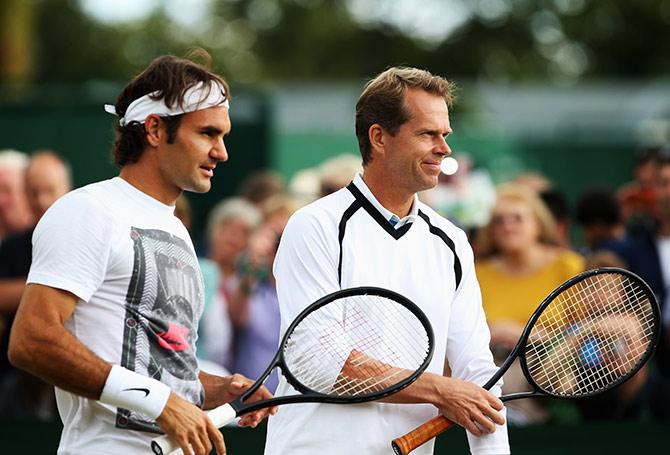 IMAGE: Roger Federer and his then coach Stefan Edberg at a practice session at Wimbledon in 2015. Photograph: Jan Kruger/Getty Images
2013. For the first time in 9 years, Roger Federer has failed to reach the final of any major. He has been riddled with injuries and at age 32 tennis pundits are writing his career obituaries.
2018. Now 36 years old, Roger is back to prime form. He has added 3 Grand Slam titles to his already overfull showcase. What's more, he has displaced Rafael Nadal to become the World No 1.
Fascinating, no?
Video: Rajesh Karkera/Rediff.com
Stefan Edberg, a six-time Grand Slam champion, who mentored the Swiss ace for two seasons before his return to glory days, is as astounded as anyone by the turn of events.
"When I started working with Federer, I thought he may have a chance to win a Grand Slam or two with a little bit of luck. But being out of the game for 6 months (Federer was sidelined for the latter part of the 2016 season following knee surgery) and then to come back and win a Grand Slam!" Edberg says with wide eyed-wonder.
"I thought his chances would be very small. It's amazing what has happened here because both Roger and Rafa (Nadal was hampered by a wrist injury throughout 2016 that saw him eventually end his season in October that year) had been out for 5, 6 months. Nobody really thought they'd come back immediately. Everyone thought it would take some time for them to get going."
"And, suddenly, last year at the Australian Open they are playing the final after a very long time. It was highly unexpected from both of them. But at the same time, it was an incredible feat."
"I think it must be hard for Roger to believe it himself. I think deep within himself he probably believed he can get there, but the chances were really small. I don't think anybody expected him to win 3 Grand Slams within one year and get back to No 1. I don't think he expected to get so good himself," says the soft-spoken Swede.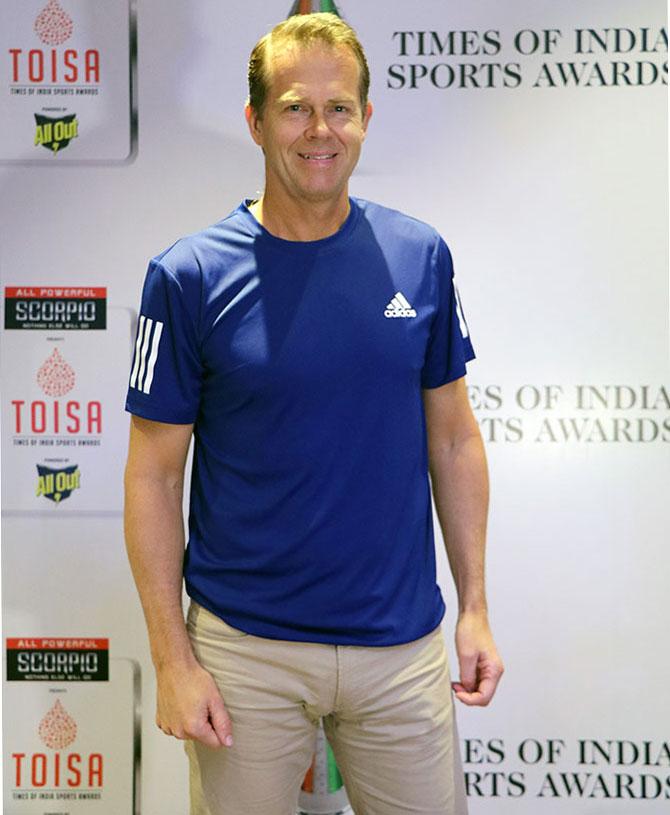 IMAGE: Six-time Grand Slam champion Stefan Edberg is now a successful businessman. Photograph: Rajesh Karkera/Rediff.com
While Federer keeps rolling back the years and the world watches in collective amazement, one thing that can be said with certainty is that Edberg is one of the catalysts for the World No 1's renewed zing.
"If you look back at 2013 he didn't have much success on court. He had a tough year mainly due to injuries -- back injuries," recalls Edberg.
"I had a telephone call from him that following October asking whether I was prepared to help him for some time and I said I need to think about it because it would be a change to my life as well because of the travelling."
"So we decided to spend a week in Dubai, and after that I decided to do one year at a time," Edberg points out.
Once they shook on it, the duo had to get down to business.
"We were discussing his game a little bit, and yes, there were certain aspects of his game I saw that needed changes. He probably needed to get somebody that's been No 1 before and have some experience and he felt as well that he needed to make some changes."
"Obviously, I felt at the later stage of your career you need to do something different, maybe play a little bit more offensive... taking the ball a little bit more early."
"Yes, small changes, but the major thing was also to switch racquets, which he did, from having a small sized racquet to a more modern racquet and techology."
"The combination of the two," Edberg feels, "made a difference."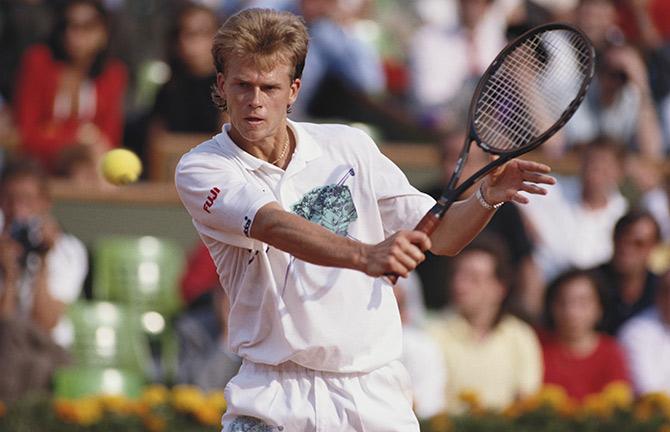 IMAGE: Edberg was an exponent of the backhand volley. Photograph: Simon Bruty/Getty Images
"The great thing about Roger is that he wanted to still go out there. He had the motivation to work hard and usually it takes time to get back (after the back injury)."
"He started to get some momentum, he started to get better and he started to get more confident. He had a couple of chances to win a Grand Slam. He probably deserved to win one."
Federer lost the 2014 Wimbledon final to Novak Djokovic in an epic five-setter.
"He didn't because Djokovic was playing some great tennis at the time. But he kept on going and look what has happened now."
During their time together, Federer employed his mentor's ideas and started using the serve and volley with rising consistency.
But in an era where a power game with baseline bombers took precedence for more than a decade, the deft art of serve and volley -- a craft mastered by Edberg -- was going to face extinction.
Edberg is pleased to see that others still use serve and volley in their game. The proponents of the style today are a mere handful -- German journeyman Dustin Brown, his compatriot Mischa Zvarev and leftie Feliciano Lopez.
"Serve and volley has been a dying art for a long time," says the champion synonymous with it. "It is very hard to play that way nowadays. One has to start an early age. It's been very difficult for the last few years because they have slowed down the surface and the balls and the equipment is different today."
"It's a lot easier to return with today's racquets. I don't think it's going come back big time in the near future."
"Tennis is going to change one way or another. There are some changes in the last couple of years where players are playing a little bit more offensive. Trying to get to the net, a little bit of serve and volley," Edberg explains.
" think it is because they have made the courts a little quicker and maybe sometimes the balls are a little bit quicker as well. Sometimes that gives the players the benefit of playing serve and volley as well," Edberg reckons.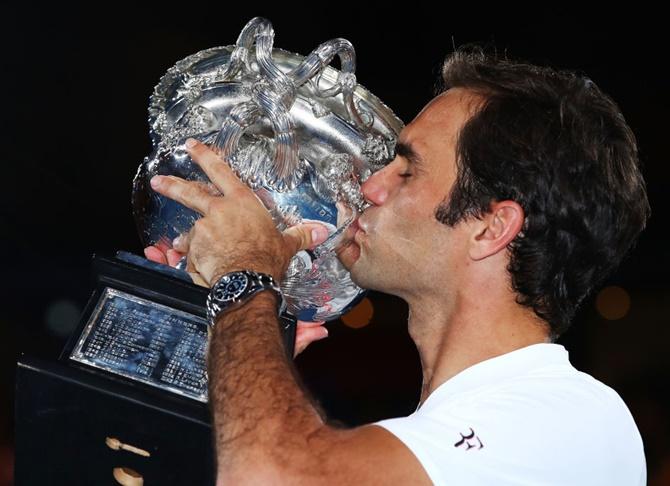 IMAGE: Federer kisses the Norman Brookes Challenge Cup after winning the 2018 Australian Open, his 20th Grand Slam title. Photograph: Clive Brunskill/Getty Images
"Fascinated" Edberg doesn't quite understand how Federer pushes himself daily after all these years on tour, but says the Swiss Master should enjoy this spell.
"It was nice to see him back as he had really worked hard. It fascinates me how he really does it. He still has the motivation, he still loves the game. He feels he still has more to do. He still wants to make improvements."
"Also, the support from his family and team is important. At the moment things are so good, so I think he just has to enjoy it. We all know it's not going to last forever. He just has to take one big event after another, one year at a time, and see how things go because as of now he can play relaxed."
"Whatever he does is going to be good. People love to watch him play," says Edberg.
For all his greatness, Federer has still not cracked the clay court code yet. And Edberg suggests that he should skip playing the red soil this season.
"He has to make the decision like he did last year. He has to think about having enough breaks so he can recover and be hungry for the big ones. I think choosing not to play on clay is very wise because it is not his best surface and the chances of him winning the French Open are not very big in my opinion.
"So may as well forget about it and just aim at now playing well at Wimbledon and the US Open."
"It was the right decision last year and I would imagine it would be pretty much the same this year, you never know."
"If he feels like he wants to play the French Open, that is his call. I think he should aim at being fresh and try to win Wimbledon once again."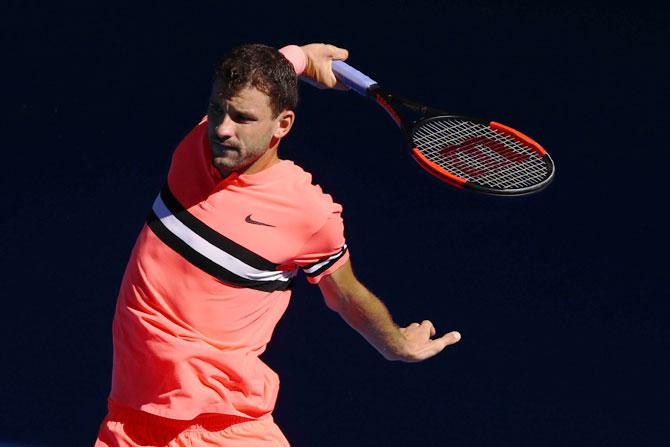 IMAGE: Edberg feels Grigor Dimitrov is a Grand Slam contender. Photograph: Cameron Spencer/Getty Images
While Edberg proposes that Federer be focused on winning a few more majors, he believes that from the younger lot, Grigor Dimitrov can catch up with Federer over time.
"He is just 26. With time he will match Roger. For now, Roger has the upper hand. Last year was a big breakthrough for him (Dimitrov). Winning the ATP Tour Finals was much needed for him. Now he believes he can win the big ones."
"He has been playing very steady for a long time now. He is definitely a player ready to win a Grand Slam now. Probably his best chances are more at winning at Wimbledon and the US Open. Clay courts are a little difficult. But you never know," said the former No 1 of Dimitrov, a player dubbed 'Baby Fed'.
Does Edberg see Novak Djokovic or Andy Murray winning majors any time soon?
Both Djokovic and Murray did not play most of the 2017 season because of injury. Djokovic made a comeback at the Australian Open this year, but bowed out after a shock loss to eventual finalist, Korea's Chung Hyeon, in the 4th round. His elbow injury has resurfaced.
Murray pulled out of the opening Grand Slam of the year following hip surgery in January.
"Djokovic will definitely be back, and once he is back he will be the one to watch out for. Physically he has always been a big threat in the Grand Slams. It's very likely that if he is healthy he will win another Grand Slam."
"Andy Murray is more of a question mark because a hip injury is very serious. But he has shown over the years that he is always going to be there for the big ones. But he is more of a question mark."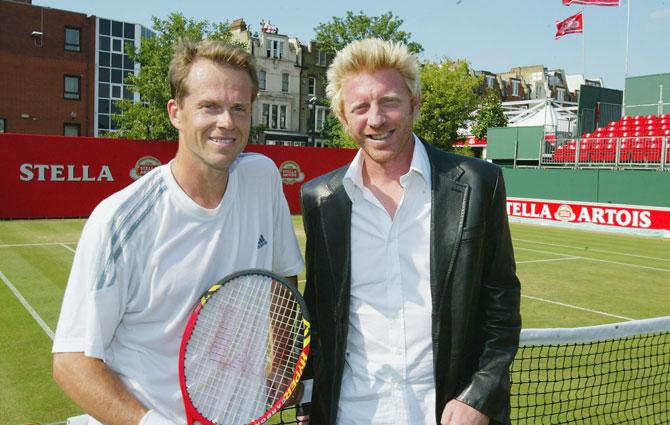 IMAGE: Edberg and Boris Becker played each other in 4 Grand Slam finals. Photograph: Phil Cole/Getty Images
Veering the conversation to his famed rivalry with Boris Becker brings a smile to Edberg's face.
"It's always special when you play the best in the world and our rivalry was special in many ways. We grew up during our junior days and we ended up playing 3 Wimbledon finals, they were really the big finals."
"What's extraordinary is we only played four times in Grand Slams. We did play a lot of other finals," Edberg remembers.
Though Edberg does not have a good overall win-loss record against Becker, the Swede beat the German in three out of the four Grand Slams they played each other.
"He was a tough opponent for me. He was tough. I knew I had to be at my best to beat him and he would be at his best in order to beat me. We relied on serve and volleys. Most of our matches were close and there was not much difference. Those duels were special," Edberg recalls.
And would he fancy his chances against Roger or Rafa had he played in this era?
"It would be hard to play both of them. They are extraordinary players, probably the best we've seen. You can tell by their records. My odds would not be so good," Edberg says, breaking into a little smile.
Video: Rajesh Karkera/Rediff.com
Edberg believes technology is good for the sport.
"Technology is here to stay. We are going to have more of it in tennis. Hawk Eye has done something great for tennis. I love Hawk Eye. It ups the excitement in a match. We may see technology line-calling in the future," predicts the Swede who played in an era where technology was kept away from the courts.
"Technology will be all around us and it will be no different for tennis. It will be good for the game", he says.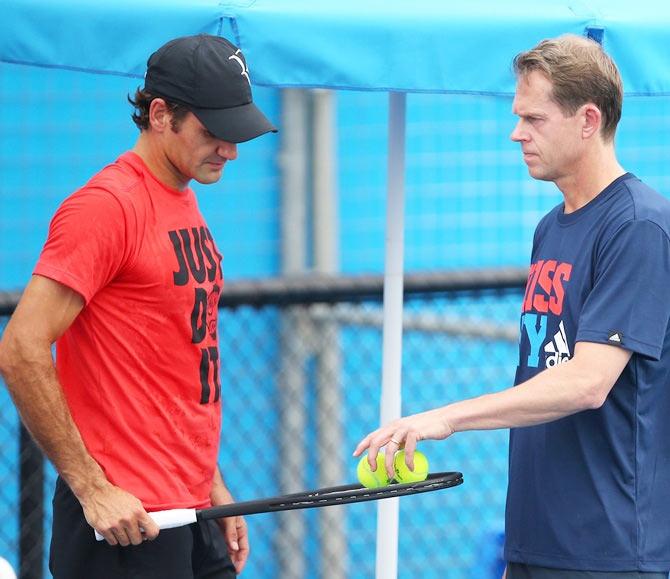 IMAGE: Federer came close to winning Wimbledon in 2014 under his then mentor Edberg. Photograph: Chris Hyde/Getty Images
As much as he is for change in the game, the Swede is against on court coaching.
While the WTA has adopted on court coaching for other events, it is still not legal in the majors.
Djokovic and Federer have contrasting views on the same. While Djokovic is for it, Federer thinks it is unfair. And his former coach seconds this.
"Fans, television will like something new come into the game, but I'm conservative in my view as far as on court coaching is concerned. Tennis is a game between two individuals. It's very difficult to be out on the court just on your own, but it's between you and your opponent. That is the beauty of tennis."
"In that respect I would like no on-court coaching," asserts Edberg.
It has been over two decades since Edberg have up tennis. He is a successful businessman now, and while his contemporaries have dealt with bankruptcy and other misfortunes, Edberg has done well to carve out a steady career after his sporting life.
"I own a financial company, I have commercial and rental property in my hometown. I didn't have a degree in finance," he says, "but I was fortunate."
"As a tennis player you make a lot of money. I just wanted to take control of my life and take control of the money and invest it wisely and protect it for my family and for the future."
"Right after my career I spent a lot of time with my family. But over the last 2, 3 years since working with Roger, I actually cut down on a lot of things. I try to work less now, enjoy life, travel around the world, do something different."