Prakash Bhandari salutes the spirit of Abebe Bikila who twice won the Olympic Marathon in record times.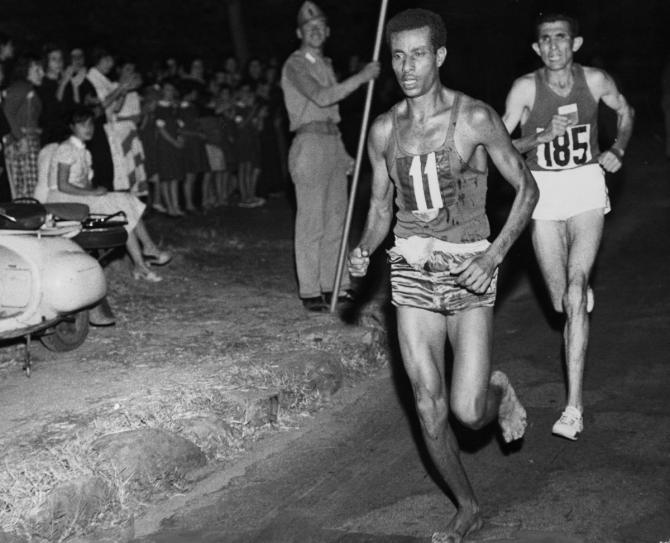 The modern marathon, the most gruelling event of the Olympics that require a runner to run 42.195 km or 26.219 miles, has a proud history.
In 490, Greek soldier Pheidippides covered the distance from a battlefield near Marathon, Greece, to Athens to bring the news of a Greek victory over the Persians.
At the end of his historical run, he collapsed and died from the exertions of fulfilling his duty. He is believed to have run barefoot.
In 1896, at the inauguration of the fifrst modern Olympic Games, the legend of Pheidippides was honoured with a race from Marathon Bridge to the Olympic stadium in Athens.
Thus, the long-distance race, given the name Marathon, made its Olympic debut.
Abebe Bikila made history when he won a gold medal at the 1960 Summer Olympics in Rome.
The Ethiopian's speed and agility won him the gold, but it was barefoot running that made him a legend.
A lot of marathons and distance runners, particularly the Africans, took part in distance running shoeless, including our own Shivnath Singh.
Shivnath Singh, who hailed from Bihar and one of India's greatest long-distance runners, was known for always running barefoot with just tape strapped onto his feet.
Shivnath represented India in the Asian Games and twice at the Olympics (1976 and 1980). He placed 11th in the 1976 Olympic Marathon, but failed to complete the 1980 Olympic Marathon in Moscow.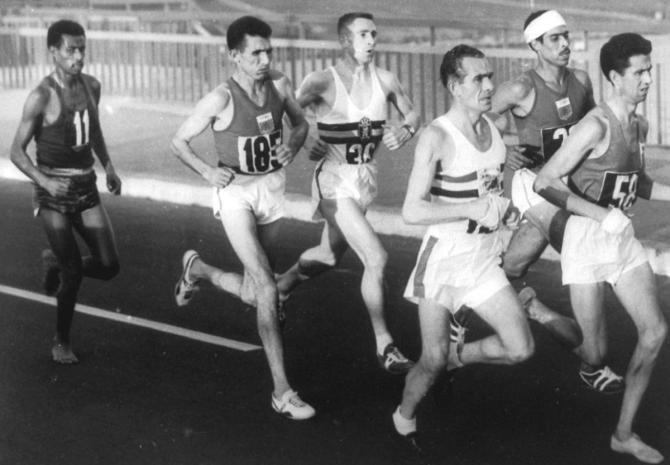 Abebe Bikila won the Olympic gold medal in the Marathon at the age of 28.
Then Ethiopian emperor Haile Selassie's personal bodyguard sped through Rome's cobblestone streets and -- just half a kilometre from the finish line -- pulled ahead.
Bikila sprinted so quickly that he came in at 2 hours, 15 minutes, 16.2 seconds. This was 25 seconds ahead of the next finisher.
He broke the world marathon record and became the first East African to win a gold medal at the Olympics. All without shoes.
Three Indians ran the 1960 Marathon and two of them -- Lal Chand and Jagmal Singh, who was from the army -- ran barefoot while Ranjit Bhatia ran with shoes.
Interestingly, the African runners showed promise as a Moroccan, Rhadi Abdeselam, won silver in Rome. The African runners who finished seventh and eighth also ran barefoot.
Bikila only found a place in the Ethiopian contingent because another Ethiopian runner, Wami Biratu, who was slated to compete at the Rome Olympics, was injured in a football match. Days before the race, Bikila flew to Rome to take Biratu's spot.
He arrived with one pair of running shoes in hand, worn from training. He tried a new pair, but got blisters.
On Marathon day, Bikila chose to leave those ill-fitting shoes behind and ran barefoot.
When asked about his decision to run on bare feet, he said: 'I wanted the world to know that my country, Ethiopia, has always won with determination and heroism.'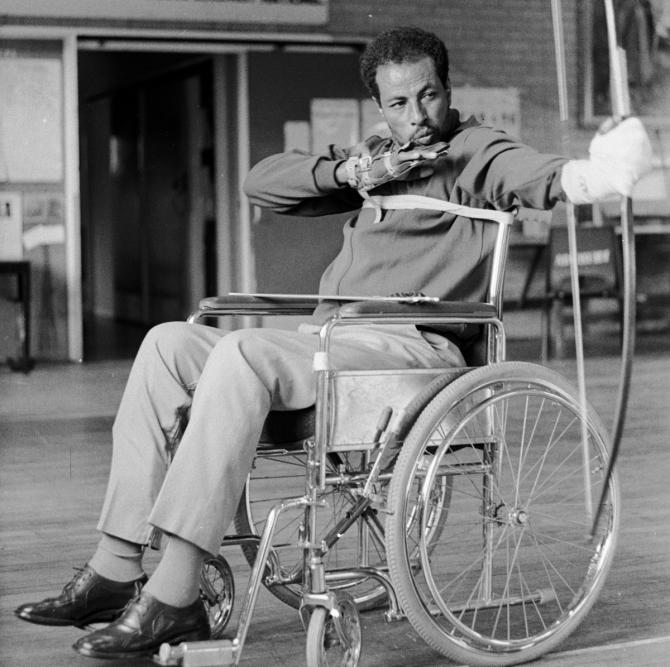 He returned to Tokyo for the Olympics in 1964, this time running with shoes, breasting the tape to win his second consecutive gold medal.
Bikila set a new Olympic record of 2 hours, 12 minutes, 11 seconds.
This was a better time than his Rome feat and prompted the athletics pundits to say that Bikila clocked a better time since he was wearing shoes.
When he returned to the Ethiopian capital Addis Ababa, the emperor received him at the palace and the royal lions roared.
When Bikila returned after his victory at Tokyo, the emperor presented him a white Volkswagen Beetle.
In 1969, Bikila was involved in a car crash that left him paralysed below his waist. He took to archery as he was unable to run anymore.
At the 1972 Munich Olympics, he watched as a guest of honour as fellow Ethiopian Mamo Wolde won the bronze in the Marathon.
When Bikila died in October 1973 of a cerebral stroke, he was just 41 years old. 65,000 Ethiopians, including the emperor, attended his funeral.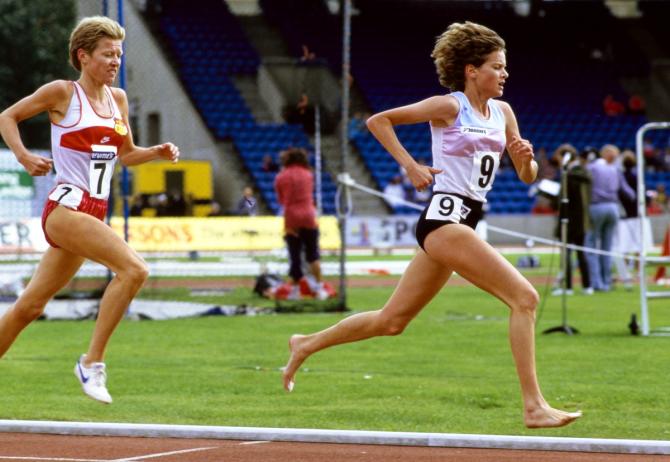 A number of runners, particularly African distance runners, turned to barefoot running in the hopes of improving performance and reducing injuries.
Zola Budd, who competed for Great Britain and later for her native South Africa, was a memorable figure at the 1984 Los Angeles Olympics, not just for competing bare feet, but also because of her collision with American favourite Mary Decker.
While running in a pack in the 3000 metres, their legs made contact mid-race and Decker fell to the ground, out of contention.
Budd continued, but unnerved by the boos of the American crowd upset at her for dashing Decker's Olympic dream, faded to seventh place. Zola Budd remains one of the best barefoot woman runners.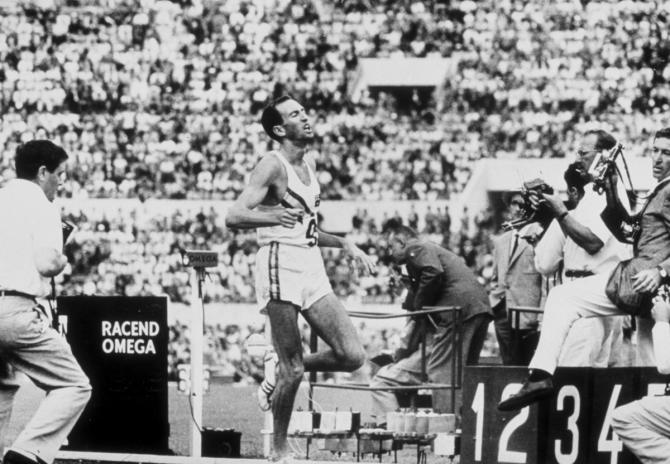 Australian Herb Elliott was arguably the greatest middle-distance runner of his generation.
A 1500 metre or mile race runner, he competed barefoot. And always trained barefoot.
Elliott held the world record for the mile and at the Rome Olympic Games, won the gold medal in the 1500 metres and bettered his own world record with a time of 3:35.6. Elliott's coach Percy Cerutty trained Elliot with a mind-body holistic approach to training that was centered around barefoot runs on sand dunes.
Barefoot running is allowed at the Olympics, but not many people opt for it.
Kenyan woman distance runner Teglah Loroupe was the last runner to run the women's Marathon and the 10,000 metres without shoes at the Sydney Olympics in 2000.
Realistically speaking, the only events in which one can be competitive bare feet are distance races.
It would be nearly impossible to compete without proper footwear in the throws.
In the sprints and jumps, competing barefoot would put the athlete at a massive disadvantage.
Scientists are divided on whether running barefoot either prevents or increases injuries.
Barefoot runners tend to land on their mid or forefoot as opposed to the heel, which good athletic shoes try to cushion.
Bikila may have been on to something, said Carey Rothschild, an instructor of physical therapy at the University of Central Florida in Orlando who specialises in orthopaedic sports injuries.
'The research is really not conclusive on whether one approach is better than the other. But what is clear is that it's really a matter of developing a good running form and sticking to it, not suddenly changing it.'
Feature Presentation: Rajesh Alva/Rediff.com