The mesmerising moments that made the 2018 FIFA World Cup a blockbuster worldwide.
On the eve of the World Cup final between France and Croatia, FIFA President Gianni Infantino hailed the 2018 tournament as 'the best-ever'.
After over a month of exiting action, which included a record own goals, the Video Assistant Referee and penalty shoot-outs, perhaps never witnessed before, few will disagree with this assessment.
While several big names and teams fell by the wayside even before the shouting began, many lesser known teams and players made a mark on the big stage.
The mesmerising moments that made the 2018 FIFA World Cup a blockbuster worldwide.
1. Mbappe, Modric, the brightest stars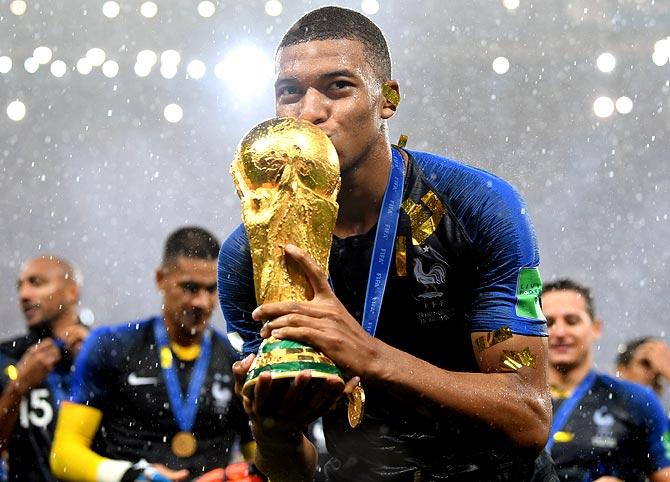 The French teenager shone brightest in his team's World Cup winning campaign in Russia.
The 19 year old -- who was not born when France won its last World Cup in 1998 -- set the tournament alight with his terrifying pace, superb touch and clinical finishing.
He became the first teenager since the great Pele in 1958 to score in a World Cup final.
Mbappe, who netted four goals in Russia, was voted the young player of the tournament, a recognition of his excellent performances, particularly in the knockout stages.
Despite finishing on the losing side, Croatian Captain Luka Modric was named the best player of the 2018 World Cup.
Croatia's outstanding run all the way to the final was largely due to Modric's splendid show throughout the tournament.
He scored two goals and provided one assist, but what caught the eye was his tireless work in the midfield.
The Real Madrid midfielder's incisive vision was instrumental in Croatia's forward line picking up gaps through the opposition defences and scoring goals regularly.
2. Controversial VAR penalty in the final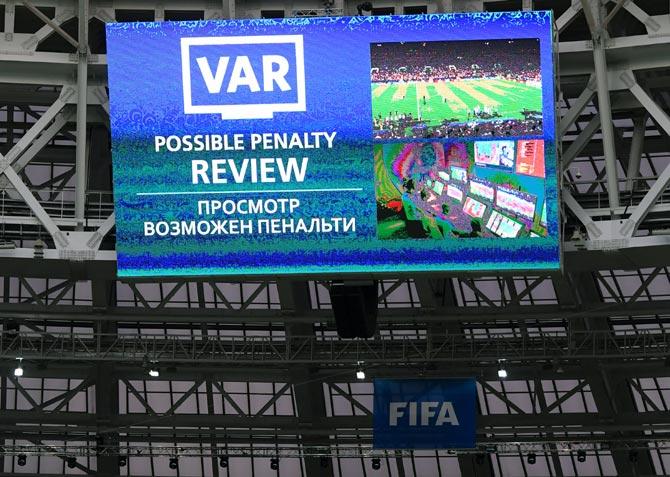 A debatable penalty awarded with the use of FIFA's new video replay system proved a turning point in the World Cup final and raised questions over whether the new technology is being used in the way it was originally intended.
France and Croatia were level at 1-1 in an evenly contested match when Argentine Referee Nestor Pitana was alerted to a possible handball and, after checking the off-field screen, he decided Croatia's Ivan Perisic had handled the ball.
Antoine Griezmann converted the penalty to give France the lead and the Frenchmen seized the momentum and went on to register a 4-2 win.
Even after the use of the Video Assistant Referee system, it remained a highly contentious call.
The incident arose when Griezmann drove in a corner and, as Perisic jumped with Blaise Matuidi, the ball made contact with the Croatia winger's hand.
Whether it was deliberate, or whether Perisic's hand was in an unnatural position was not clear, even after repeated viewing of the incident.
The VAR protocol says a review should only take place to correct a 'clear and obvious error', but that did not seem to the case here, as the question of whether Perisic had handled the ball was a marginal call and open to interpretation.
3. Croatia's superb comeback against England in the semis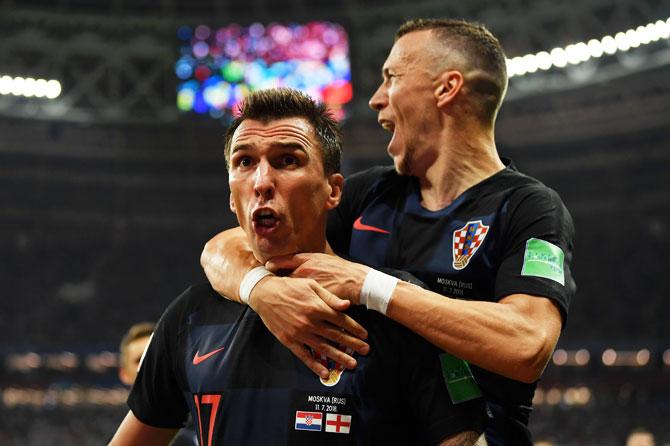 In a thrilling contest, Mario Mandzukic scored in the 109th minute as Croatia came from behind to beat England 2-1 in extra time and reach their first World Cup final.
In the first half Croatia looked down and out as England looked on course for their first final since 1966 as they led through Kieran Trippier's fifth-minute free kick and totally dominated the first 45 minutes.
But Croatia changed the script after the break as they levelled through Ivan Perisic after 68 minutes and then looked the more dangerous side.
Croatia, who got past Denmark and Russia on penalties, avoided their third penalty shootout as Mandzukic struck with a well-taken low shot in extra time.
4. Fans hail Russia after best-ever showing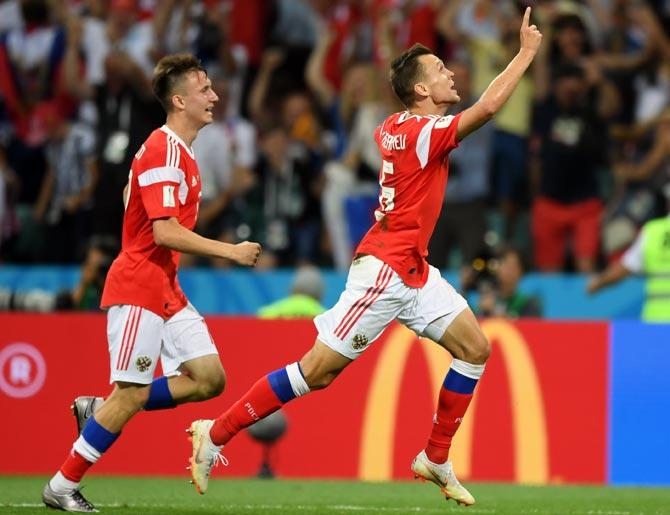 Hosts Russia entered the World Cup as the lowest ranking side, but defied all expectations to reach the quarter-finals.
The Kremlin dubbed the Russian national team heroes and proud soccer fans saluted their underdog host team after the side lost on penalties to Croatia, bringing an end to its World Cup challenge in the quarter-finals.
5. Goalkeeper Subasic, Croatia's hero twice in a row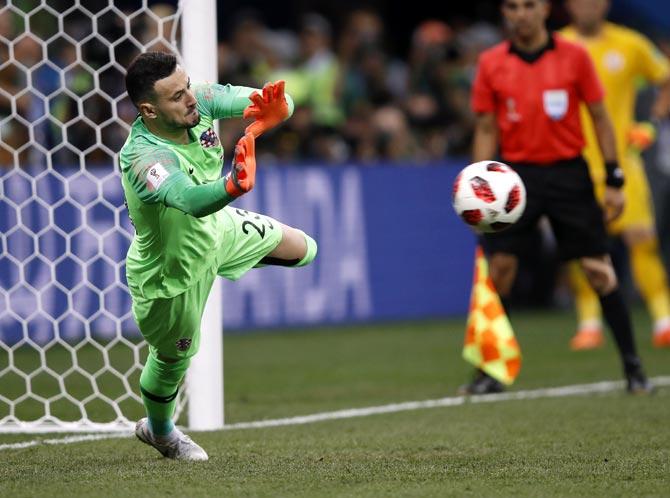 Croatia endured two nervy finishes as they were taken all the way to penalty shootouts in two successive matches.
The Round of 16 match against Denmark finished 1-1 after extra time following two quickfire goals at the start.
This was only the second match in World Cup history where both teams scored inside four minutes, but there was not much after that.
Modric missed a penalty in the last minute of extra time after Ante Rebic was brought down in the area. Denmark goalkeeper Kasper Schmeichel made a brilliant save to take the match into a shootout.
Modric redeemed himself in the shootout, converting his spot kick, but it was goalkeeper Danijel Subasic who was the hero, becoming only the second goalkeeper to save three penalties in a shootout at the World Cup to earn his side victory.
In their next match, Croatia needed nerves of steal once again as well as boundless energy to counter a Russian side with the support of a nation behind them in the quarter-finals.
Denis Cheryshev's curler for Russia was cancelled out by Andrej Kramaric within the 90 minutes, before Domagoj Vida looked to have headed the winner in extra time but Mario Fernandes' late equaliser took the game to penalties.
Subasic was again the hero, making one save, and watching another wide as Croatia became the first side to win two penalty shootouts at a World Cup since Argentina in 1990.
6. Belgium escape with late winner against Japan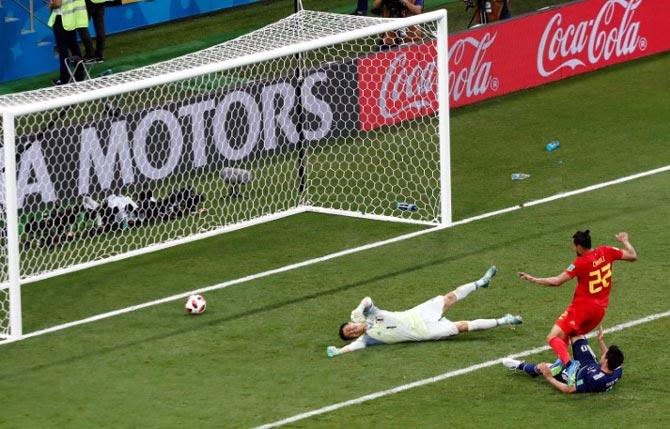 Belgium were one of the most impressive teams in the tournament and made it all the way to the semi-finals before finishing third.
But they came close to getting knocked out after trailing twice against Japan in the Round of 16.
Substitute Nacer Chadli scored in the dying seconds as Belgium beat a spirited Japan 3-2 to become the first side to recover from a two-goal deficit to win a World Cup knock-out match since Germany beat England 3-2 after extra time in Mexico in 1970.
After a goalless first half, Japan shocked Belgium with two goals in four minutes to take a 2-0 lead after 52 minutes.
Belgium pulled a goal back after 69 minutes when Jan Vertonghen scored from a header before Marouane Fellaini equalised with another powerful header five minutes later following a cross from Eden Hazard.
Japan had a late opportunity to clinch victory, but Keisuke Honda's 30-metre free-kick was parried away by Thibaut Courtois in stoppage time before the Belgium goalkeeper launched the ball to Kevin de Bruyne who sprinted upfield before finding Thomas Meunier, whose cross was met by Nacer Chadli for the winner in the dying seconds.
7. France survive against Argentina in Round of 16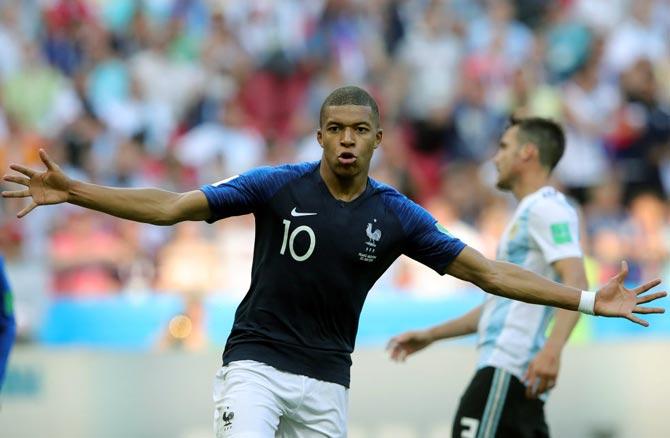 Kylian Mbappe outshone Lionel Messi with two goals in four minutes as France outclassed Argentina 4-3 in a thrilling Round of 16 match.
His twin strikes helped France overturn a 2-1 deficit and send Argentina slumping out of the tournament before the quarter-finals for the first time since 2002, as Messi returned empty-handed from the World Cup yet again.
After France full back Benjamin Pavard's long range strike had levelled scores at 2-2 after 57 minutes, Mbappe took centrestage as he lashed home a superb strike with his left foot six minutes later.
He then put France firmly in control with his second goal after 68 minutes with a composed finish at the end of a beautifully flowing French move with Olivier Giroud.
8. Messi, Neymar, Ronaldo fail to deliver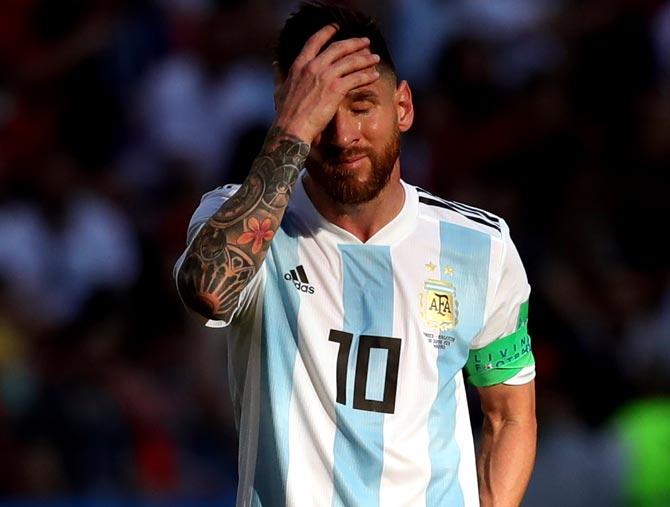 There was an over-dependence on big name players like Cristiano Ronaldo, Lionel Messi and Neymar who failed to make the difference as their teams bowed out early.
Argentina's Lionel Messi seems destined never to win the tournament and often looked detached from what was going on around him and did not seem to enjoy his fourth World Cup.
He was burdened by the responsibility of carrying the team and not helped by Argentina's shambolic defence which leaked nine goals in four games.
While Messi was disappointing, Neymar was infuriating.
Brazil's top player should have come out of the tournament as the victim of FIFA's permissiveness towards tactical fouling, as he was tripped and pushed by rivals.
But his constant complaining, his theatrical tumbles and repeated attempts to win penalties earned widespread reprobation.
He wasted scoring chances by taking a tumble instead and there were moments when his histrionics distracted the team from the task at hand.
Ronaldo started the tournament with a superb hat-trick in his opening game -- a thrilling 3-3 draw with Spain, including a brilliant late free kick to level the match. He also grabbed the only goal in the 1-0 victory over Morocco.
However, he failed to deliver when it mattered -- in the Round of 16 clash against Uruguay.
It was Edinson Cavani who stole the limelight, as he scored a brace to earn Uruguay a 2-1 win over European champions Portugal and advance to the quarter-finals.
Ronaldo was unable to improve his record of failing to score in all six World Cup knock-out matches he has played.
9. Germany's nightmarish World Cup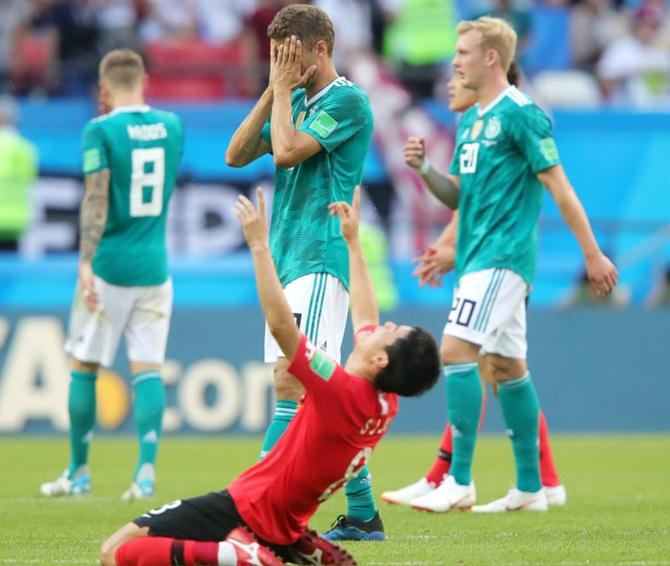 Holders Germany crashed out of the World Cup after suffering a stunning 2-0 defeat by a tenacious South Korea that eliminated the Germans in the opening round for the first time in 80 years and sent the football-mad nation into mourning.
Four-times champions and four-times runners-up Germany also suffered a shock 1-0 loss to Mexico in their opener and only scraped past Sweden with a stoppage-time winner.
German Coach Joachim Loew -- who surprisingly got a contract extension despite the flop show -- inexplicably left out English Premier League Young Player of the Year Leroy Sane, arguably the most talented German player of his generation, and invested his faith in ageing forwards Mario Gomez and out-of-form Sami Khedira and Mesut Ozil, who were all a big letdown.
10. Brazil fail to live up to expectations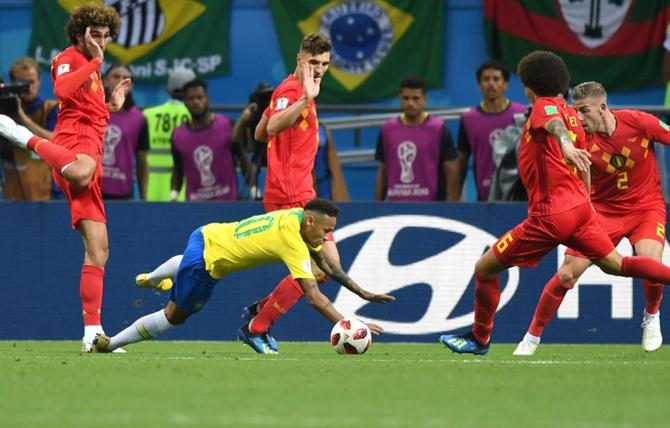 Five-time winners Brazil once again failed to live up to expectations as they bowed out of the World Cup with a disappointing 2-1 defeat at the hands of Belgium in the quarter-finals.
The most disappointing factor in Brazil's below-par showing was the performance of Neymar who was supposed to lead them to their sixth title.
Neymar collapsed to the ground at the slightest contact from an opponent and complained constantly to the referees.
He was ridiculed for his haircuts, diving and tears, and the 26 year old must now decide what to do about his tattered reputation.
Brazil started the tournament with a frustrating 1-1 draw against Switzerland before they got their campaign back on track with comfortable 2-0 wins against Costa Rica and Serbia before another win by the same margin against Mexico in the Round of 16.