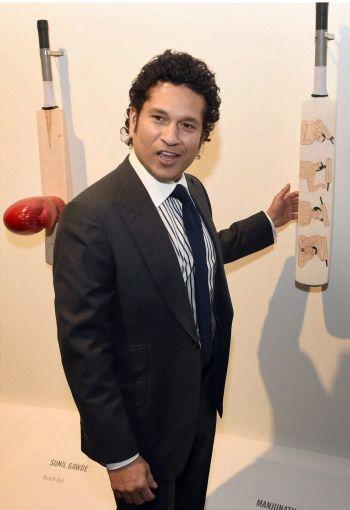 Sachin Tendulkar said the whole idea behind his writing a letter to world boxing body AIBA was to save woman boxer L Sarita Devi's career from ending abruptly after the Asian Games controversy in Incheon.
"Our effort was to see that Sarita Devi's career was not jeopardised. She committed a small mistake," said Tendulkar when asked to react to the news that AIBA had earlier imposed a one-year ban on the Manipuri boxer.
AIBA imposed the ban, which as per earlier indications could have extended to life, for the boxer's refusal to accept her bronze medal at the Asian Games after she had lost controversially to a South Korean rival in the semi-finals.
Sarita has been banned retrospectively from October 1, 2014 to October 1, 2015 and fined 1000 swiss francs.
Tendulkar gave the reaction to the media after attending a unique exhibition by ten artists titled "Deconstructed Innings - A tribute to India's greatest sports icon", on his glittering cricketing life and career.
Asked about the shocking killing of over 100 school children yesterday by the Taliban in Peshawar, the cricket great said: "I felt very sad (about the shocking incident)."
He praised the ten artists who have collectively called themselves "TenArt" and said he was "extremely delighted" by their work.
"I had spent a lot of time with each of them and they have played a fine innings. Each of them The breaking of window glasses (panes) which has been depicted (in the exhibits) brings back childhood memories. It's amazing. The whole exhibition is magical and fantastic," he said.
"The artists and their creativity must be applauded by all of us and I am humbled by this tribute," added Tendulkar who played his 200th and final Test at the Wankhede Stadium here in November 2013, and then retired from the game after 24 years of international appearances.
The exhibition, conceptualised by Kiran Desai and co-curated with Veeranganakumari Solanki, is open for public at the National Gallery of Modert Art from tomorrow and is set to close on February 15, 2015.
Image: Sachin Tendulkar
Photograph: PTI