'I think it's a curse I've gotten here. I've made semis, then quarters (2012), then fourth round (2013), then third round (2014), this year second round'
'A loss is a loss. All losses suck'
Caroline Wozniacki of Denmark in action during her second round match against Victoria Azarenka of Belarus. Photograph: Wayne Taylor/Getty Images
Caroline Wozniacki said she felt 'cursed' at MelbournePark after losing in straight sets to a resurgent Victoria Azarenka in the Australian Open second round on Thursday.
Is fluorescent 'in' at Australian Open?
The eighth-seeded Dane Wozniacki enjoyed making the semi-finals in 2011 but has since suffered diminishing returns in every trip to the year's first Grand Slam.
She could certainly count herself unlucky to run into fellow former World No 1 Azarenka so early at Melbourne Park, the Belarusian floating like a mine in the draw, with no seeding and nothing to lose after an injury-blighted 2014.
"Obviously she feels great here," Wozniacki told reporters of two-time champion Azarenka, who was a class above in the 6-4, 6-2 win at Margaret Court Arena.
'I'm so sad to be out already'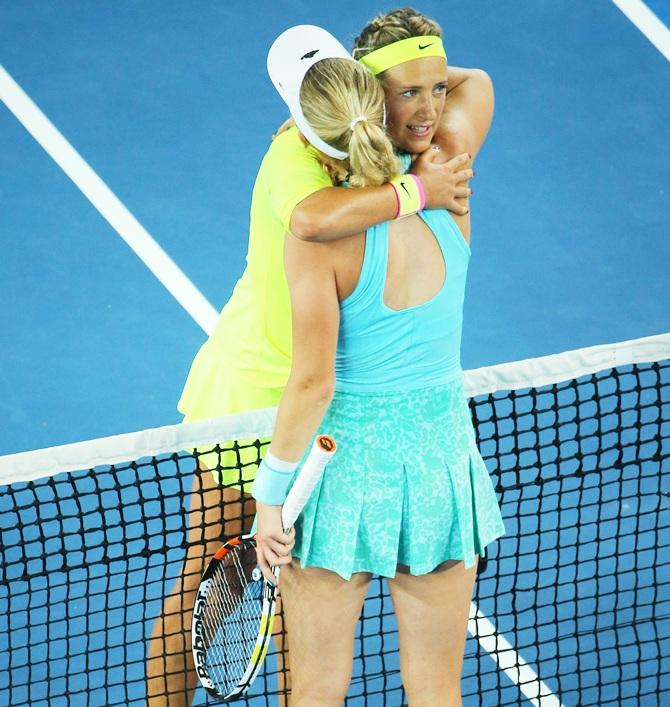 Victoria Azarenka of Belarus is congratulated by Caroline Wozniacki of Denmark. Photograph: Wayne Taylor/Getty Images
"I think it's a curse I've gotten here. I've made semis, then quarters (2012), then fourth round (2013), then third round (2014), this year second round.
"It's kind of gone that way the last few years. Hopefully I'm going to break that next year and start going the other way.
"I love this tournament and I'm so sad to be out already. Obviously it was a tough draw for both of us. But, you know, she came out on top and played better."
Wozniacki had worked hard to break back into the top 10 last year, reaching the final at the U.S. Open and raising hopes she might be able to compete with the likes of Serena Williams and Maria Sharapova after a couple of years in the wilderness.
'All losses suck'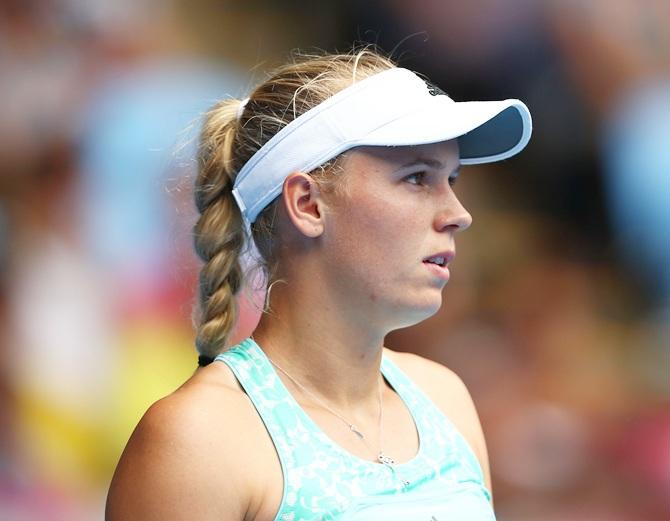 Caroline Wozniacki of Denmark looks on. Photograph: Mark Kolbe/Getty Image
Instead, Australia gave her a crushing reality check and produced a familiar complaint that she had let herself be dominated by a hard-hitting opponent.
"In general, I think I did okay. But at the same time I felt like I let her dictate a little bit too much," she said.
"She played cross-court, I played cross-court back. I let her dictate. I should have opened it up a little bit earlier and just tried to make her play my game.
"A loss is a loss. All losses suck. It doesn't feel fun to be here right now.
"I would rather completely suck and play terrible and win than play wonderfully and lose. I'm a competitor. It hurts to lose."
"But it definitely feels much harder to lose this early as well."