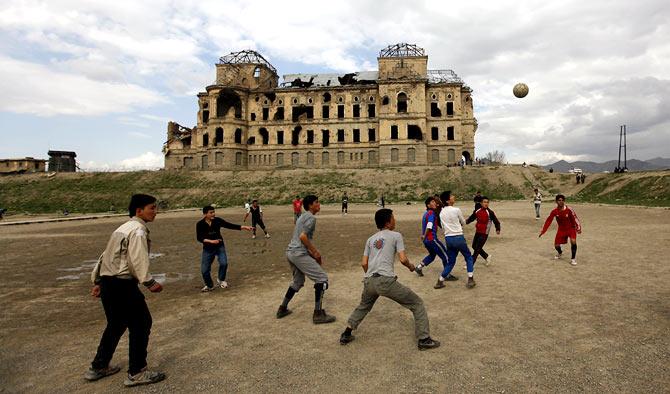 Local kids play in front of the destroyed Darul Aman Palace in Kabul. Photograph: Mohammad Ismail/Reuters
The 2022 World Cup in Qatar has been beset by controversy, but for the visionaries bringing soccer back to life in Afghanistan it represents a shining, magical light at the end of a very long and dark tunnel.

"It is an almost impossible dream, but our dream is that Afghanistan, an Asian nation, takes part in an Asian World Cup in Qatar in eight years time," Sayed Ali Reza Aghazada, the general secretary of the Afghanistan Football Federation (AFF), told Reuters.

"It might be beyond us, we might not be able to make it happen, but the fact we can even talk about this shows just how far we have come in a very short space of time.

"Even if we fail to make those finals, just to take part in qualifying for the World Cup, and to see our sport progress and develop technically would be a huge success for us after soccer virtually died in our country."

The sport has been reborn after wars, upheaval and the Taliban regime plunged the nation into despair.

To all intents and purposes, there was no organised soccer in Afghanistan for almost 30 years and the national team did not play a match from 1984 until 2002.

UNIQUE VOTE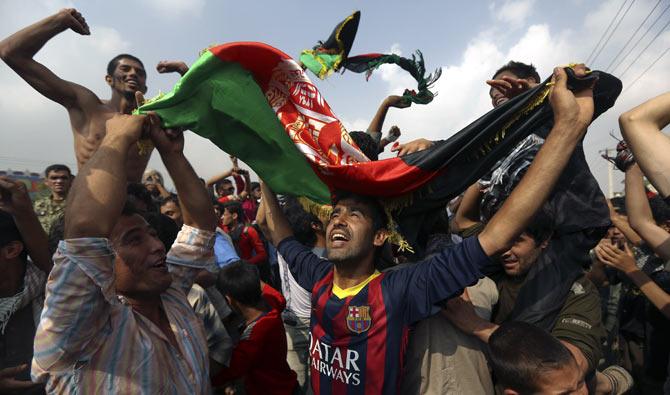 Football fans celebrate in Kabul after Afghanistan won the South Asian Football Federation championship in September 2013. Photograph: Omar Sobhani/Reuters
Today there are state championships which comprise teams from all 34 of Afghanistan's provinces and an eight-team tournament staged over 45 days in Kabul at the end of the season.

As well as attracting regular capacity crowds at both the Ghazi and Kabul stadiums, the eight teams were formed in a unique way when the tournament started in 2011.

Kate Hodgkinson, the English Premier League's International Development Manager, explained the process.

"In the first season the host TV broadcaster set up an X-Factor style TV show with the general public voting for which players would play in which team. That's how they got the public involved, it was popular and it worked."

Things have now moved on to such a degree that Afghanistan clinched the South Asian Football Federation (SAFF) Championship last year, having finished runners-up in 2011.

On their way to the title, they won four of their five matches, including a 2-0 victory over six-time champions India in the title decider in Kathmandu, Nepal.

"The scenes in Kabul after we won were like nothing I have ever seen before," said Sayed Ali Kazemi, the president of the AFF's Youth Committee.

"The war was forgotten, the Taliban was forgotten, people rejoiced like fans anywhere else in the world.

"Football had a long history in Afghanistan before the Taliban destroyed everything. The FA was formed in 1922, we joined FIFA in 1948, and took part in the London Olympics that year.

"Now we are rebuilding and it is special that cricket is rebuilding too. It is part of the normalisation of the country and at last things are moving in the right direction."

PREMIER LEAGUE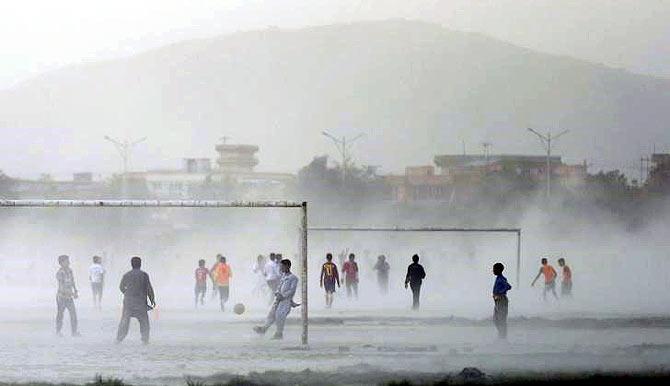 A group of young boys play football in Kabul. Photograph: Mohammad Ismail/Files/Reuters
The Premier League have played a role in helping the sport move forward in the country by organising coaching courses with Afghans.

These are held in Dubai rather than Afghanistan for security reasons on the advice of the British Council's Foreign and Commonwealth Office.

Jeremy Weeks, the head coach of the league's Premier Skills unit, has witnessed the astonishing transformation these courses have brought about.

"We basically started with those interested in coaching but otherwise with little or no idea of what coaching meant," he said.

"Most of the players who could play went to play in Iran or India, but that is changing now and they are staying to play in Afghanistan and the coaching is improving all the time with dramatic impact.

"Over the years a total of 27 Premier League clubs have sent 140 coaches to 25 countries in Asia, the Americas and Africa but it is fair to say that one of the biggest challenges in many ways was Afghanistan and our coaches are doing a brilliant educational job helping bring Afghan football back to life."

The Ghazi stadium returned to life as a sports arena in 2008 and the nightmares of the public executions that took place there are slowly receding.

Afghanistan were absent from FIFA and Asian confederation congresses for years, but are now re-integrated into the global football family, to the delight of Prince Ali Bin Al-Hussein of Jordan, the Asian vice-president on the FIFA executive committee.

The Afghan federation is now benefiting from FIFA grants and help from the AFC's Asian Football Development Project (AFDP), while Prince Ali told Reuters he was delighted the English FA had contributed so much to the Afghan cause.

"They have helped enormously, with grass roots and women's football too," he said.

"Afghanistan are doing things their way and went out and beat India to win the SAFF title last year, which was amazing. It is very positive they are focused on Qatar 2022 as their ultimate goal.

"I wish them well, they have overcome all the threats, they have survived, and that should make us all very proud."