'I don't trust my body nowadays; my body can do anything'
'My coaches made me believe that I had the game and I just need think smarter'
IMAGE: Saina Nehwal says she needs to beat tougher players to regain her place among badminton's elite. Photograph: Russell Cheyne/Reuters
London Olympics bronze medallist Saina Nehwal says the Glasgow World Championship made her realise that she needs to work harder on her stamina and beat tougher players to regain her place among badminton's top-10.
The former world number one knocked out Olympic champion Carolina Marin from the Denmark Open on Wednesday night in the opening round to avenge her second round loss to the Spaniard at the Japan Open.
"I have to play difficult players early because I am ranked 12 now. A lot of players who are ranked below me are getting good draws and before the match I was thinking, 'Oh my God, I am getting such tough draws'. But I know I have to beat tough players to come back to the top-10 again," Saina said.
"The World Championship taught me a lesson that I have to work even harder on my stamina. I felt I was kind of tight in my hip and legs and, of course, my shots were also not sharp.
"Looking at the way (Nozomi) Okuhara has improved, Carolina and (PV) Sindhu's improvement, the way they were playing big rallies, I am just happy to come a little close, but I have a lot of improvement to be done," she added.
Saina settled for a bronze medal in the World Championship in August after losing in the semi-finals to Okuhara, an opponent she had beaten six times.
The 2015 World Championship silver medallist said though she was happy with the bronze, losing to Okuhara "pinched' her.
"Any kind of victory feels good, but I also wanted to win the tournament because I have beaten Okuhara so many times; so it pinched me, but the way she was playing in the World Championship, the kind of retrievals she came up with, was amazing," the 27-year-old said.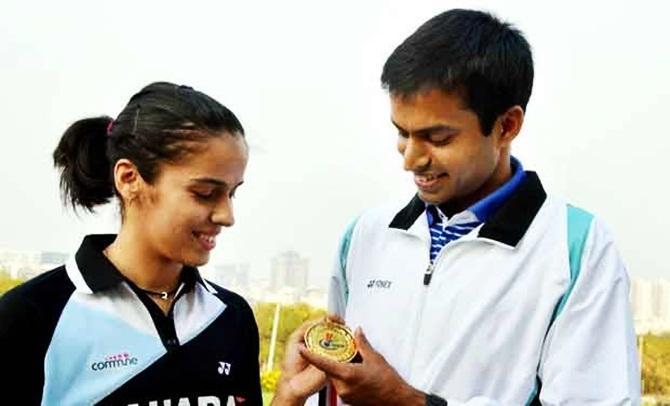 IMAGE: Saina Nehwal credits her revival to coach Pullela Gopichand. Photograph: PTI
She credited her coaching staff, headed by Pullela Gopichand, for working on her after she shifted base from Bangalore to Hyderabad, following the World Championship. She was training under Vimal Kumar for the last three years, which included her most difficult injury phase.
"The coaches worked really hard on me in the last three weeks. They told me that my movements were very heavy. Gopi sir found out at the World Championship that I was sort of falling down and I was not able to get up fast from the net and the players were catching me behind with fast tosses.
"He was scared that I had just come in and so he did not give me very tough training, they just focussed that I get adapted to the training, so he was not pushing me very hard.
"All thanks to (coaches) Mulyo (Handoyo), Gopi sir and Hariawan, three of them made a plan for me, made me believe that I had the game and I just need to work on my movement and sharpen my strokes; basically, think smarter and not go all out."
A year ago, Saina bowed out of the Rio Olympics after suffering from a knee injury and had to undergo a surgery. But she fought back to not only recover but also win the World Championship bronze medal in August.
Asked if she has any targets for next year, Saina replied: "I just want to think about one tournament at a time. I don't trust my body nowadays; my body can do anything. I am just happy with the kind of training I did in this tournament."