Asian champion L Sarita Devi (60kg) on Saturday took her first step towards the London Games qualification after she posted an easy win over Azerbaijan's Ayzanat Hajiyeva in the opening round of the Women's World Championships-cum-Olympic Qualifiers in Qinhuangdao, China.
Fighting for one of the two berths for Asia, Sarita overpowered her rival 27-11 to advance to the next round.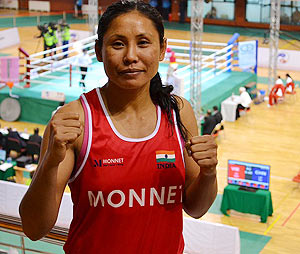 Sarita's victory came after the Indian boxing team tasted its first defeat in the tournament as Pooja Rani (75kg) lost her opening-round bout to American Claressa Maria Shields 10-27.
But Mandakini Chanu (57kg) and Neetu Chahal (69kg) advanced to the second round with easy wins.
It was total domination by Sarita as she led in all the four rounds.
After leading 4-3 in the first round, Sarita consolidated her position and by the end of third round, she was way ahead of her opponent.
After dominating the second round by pocketing eight points, Sarita took 10 points in the third and another five in the fourth and final to complete the rout.
Pooja was earlier fighting for the lone berth for Asia in her weight category.
The Indian trailed 3-7 in the opening two minutes and conceded 20 more in the next three rounds to lose tamely.
But Mandakini Chanu (57kg) and Neetu Chahal (69kg) advanced to the second round with easy wins.
Mandakini and Neetu are competing in non-Olympic categories as only 51kg, 60kg and 75kg divisions have been picked for the London  Games where women's boxing will make its debut in the quadrennial extravaganza.
Mandakini comprehensively defeated Serbia's Bojana Ranic. Right from the moment the gong was sounded, Mandakini went on a relentless offensive against the Serbian who was physically taller and heftier.
At the end of round one, the score was 10-3 in favour of India and during the second round, Mandakini stunned Ranic twice whereby the referee had to administer the standing count of eight on both occasions.
Finally the referee stopped the contest in the third round in favour of Mandakini.
Mandakini will now take on World No. 1 Tiara Brown of USA on Monday.
Neetu, meanwhile, defeated Hungary's European Champion Bianka Nagy 22-6.
At the end of the first round, Neetu was leading 4-1and although Bianka was a very experienced boxer, Neetu's attacking play gave her the edge and the bout.
The score at the end of second round was 9-3, which increased to 17-5 by the next. Neetu's next opponent is also a World No. 1 -- Marie de Jong of The Netherlands.