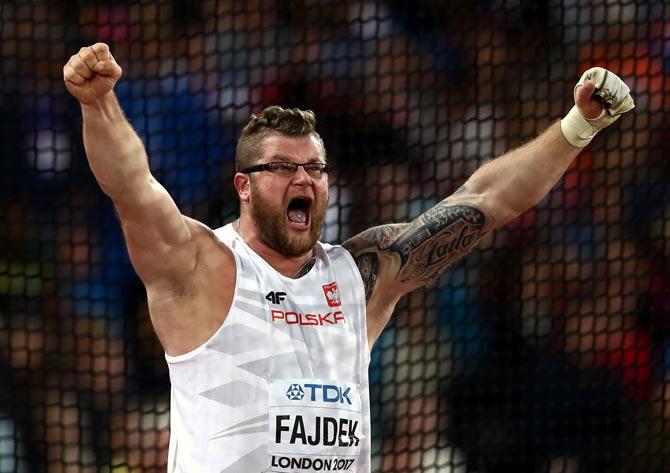 IMAGE: Pawel Fajdek celebrates winning the men's hammer throw gold. Photograph: Alexander Hassenstein/Getty Images - for IAAF
Pawel Fajdek, the colourful hammer champion from Poland, became the first man to win three successive world championship titles with a dominant triumph on Friday.

The bespectacled, tattooed 28-year-old, whose world championship triumphs have gone hand in hand with Olympic calamities, completed a hammer double for Poland after Anita Wlodarczyk's equally conclusive triumph in the women's event.

The silver went to Russian Valeriy Pronkin, competing under the neutral flag after being given permission to take part by the IAAF only last month, as he produced a final-round throw to consign Fajdek's Polish rival Wojciech Nowicki to the bronze.

It was a typically commanding victory for one of the biggest favourites of the entire championships as the bearded Fajdek produced easily the three biggest throws of the night, headed by one of 79.81 metres.

On winning, the 120kg giant threw himself on to the hammer circle and lay on his back, arms and legs outstretched in delight.

"I've waited for this competition at this stadium for five years," he said, reflecting on how miserable he had been in the 2012 Olympics when he failed to reach the final.

"So it was very important for me to get this revenge for the Olympics in here. Three-times world champion, I made history! What more could I expect?"

Inexplicably, Fajdek had not just failed to qualify for the London Olympic final but also last year in Rio when he was an even more dominant favourite.

"I was ready to throw the Polish record in Rio but I do not know what was going wrong. I have been still in shape, well prepared and I showed what I should have shown even before," he said.

After producing the eight best throws of the year, he was not about to let yet another gold pass him by.

After a no-throw and a disappointing second effort, he unleashed successive efforts of 79.73m, 79.81m and 79.40m that demolished the field.

Schippers retains world 200 metres title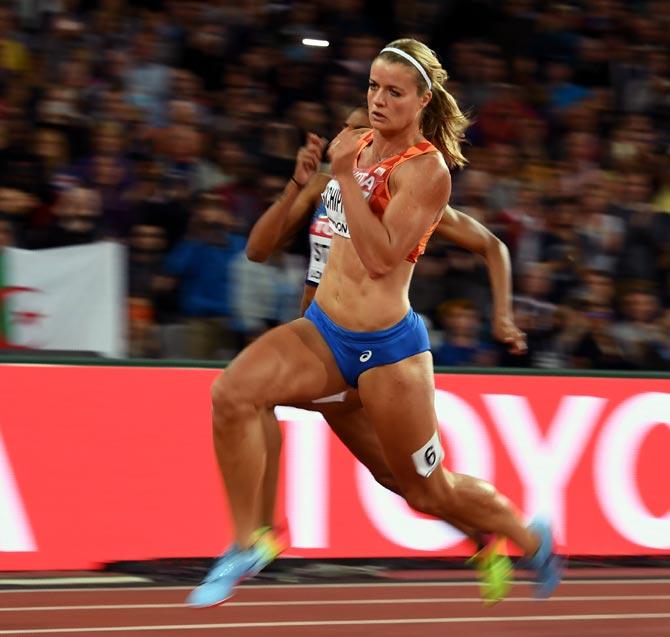 IMAGE: Dafne Schippers of the Netherlands competes. Photograph: Dylan Martinez/Reuters

Dafne Schippers of the Netherlands retained her world 200 metres title with a dominant display on Friday, leaving Marie-Josee Ta Lou of the Ivory Coast to settle for another hair's breadth silver.

With Olympic champion Elaine Thompson opting not to race the 200 and Tori Bowie pulling out after winning the 100, things had looked easier for Schippers but she had to use every inch of her strength to hold off Ta Lou and win in 22.05 seconds.

The Ivorian had lost the 100m final by one hundredth of a second after failing to dip on the line and though she did lean this time she was just behind Schippers in 22.08, still a national record.

Shaunae Miller-Uibo, who stumbled in sight of gold and slipped to fifth in the 400m final, this time produced a barnstorming last 30 metres to overhaul 21-year-old home hope Dina Asher-Smith in 22.15.

Reese wins fourth long jump world title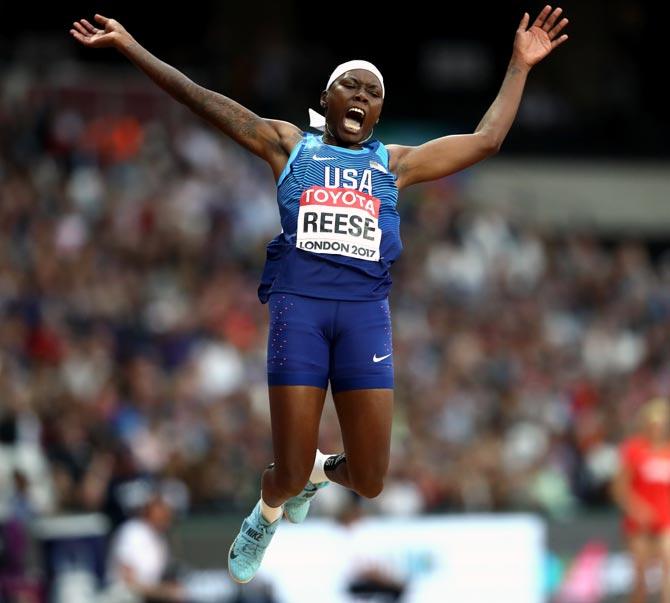 IMAGE: Brittney Reese competes in the women's long jump final. Photograph: Alexander Hassenstein/Getty Images - for IAAF
American Brittney Reese claimed her fourth world long jump title on Friday after a tense, tight contest in which only six centimetres separated the top four competitors.

Darya Klishina, competing as a neutral athlete after the Russian federation was banned over state-sponsored doping, took silver for her first medal at a major finals after jumping seven metres for the first time in six years.

Titleholder and Olympic champion Tianna Bartoletta won bronze, squeezing on to the podium with her last jump ahead of Serbia's Ivana Spanovic who missed out on a medal at a global finals for the first time since 2013.

Reese won with a leap of 7.02 metres on her third attempt and had to endure a nerve-wracking finale after receiving a red flag on her next three jumps.

The 30-year-old said it was an emotional moment after her grandfather passed away two weeks ago.

"I was doing this for him and I know he would have been cheering for me," she said. "I'm a stronger person than I probably think I am. It has shown me mentally at my best.

"I'll be continuing to Tokyo 2020. I'm not done yet, I can assure you."

Coburn, Frerichs complete shock US one-two in steeplechase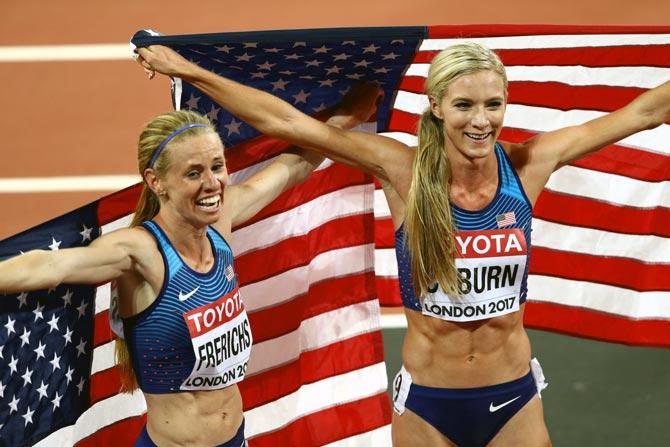 IMAGE: Emma Coburn, right, celebrates with Courtney Frerichs after winning the women's 3000 metres steeplechase final. Photograph: Patrick Smith/Getty Images

Emma Coburn and Courtney Frerichs stunned the World Championships by winning gold and silver in a dramatic women's 3,000 metres steeplechase final on Friday, the first Americans to get medals in the event.

The duo were not counted among the outright favourites heading to London, although Coburn did win bronze at the Olympics last year.

The woman who beat her to gold in Rio was world record holder Ruth Jebet of Bahrain, who led at the 1000m and 2000m splits. But going into the final lap, Jebet faded and was overtaken by the Americans and Kenyans Hyvin Jepkemoi and Beatrice Chepkoech.

The leading pack was heavily congested heading into the last 200 metres.

But Coburn launched herself over the final water jump in a daring move that led to her surging down the final straight to win in a Championship record time of 9 minutes 2.58 seconds.

"Oh my goodness, what a race to be part of," she said. "I have memories from 2015 and 2016 where I went too early for the last push, so I just had to keep trusting myself and be patient, and it looks like it paid off.

"I never expected to win in that time but I kept pressing. It is pretty amazing to get a championship record.

"I just expected the others to finish quickly, so I just kept pushing to make sure I got that gold that I wanted so much."

Athletics - World Athletics Championships - women's 3000 metres steeplechase final – London Stadium, London, Britain - August 11, 2017 - Emma Coburn and Courtney Frerichs of the U.S. celebrate wining the gold and silver medals.

She is the first American athlete since Horace Ashenfelter, who won gold at the 1952 Helsinki Olympics, to win a global title in the 3,000m steeplechase.

Frerichs finished in 9:03.77 to complete a brilliant one-two for the US and smash her own personal best by 16 seconds. Both women's times were well under the American national record, set by Coburn at the Olympics last year.