A bet placed nearly a decade ago by a tennis aficionado has won a British charity more than 100,000 pounds after tennis legend Roger Federer secured his seventh Wimbledon win.
Nicholas Newlife, an unknown punter from the British region of Oxfordshire, placed a 1,500-pound bet on odds of 66/1 with bookmaker William Hill in 2003, just after the Swiss champion won Wimbledon in his first Grand Slam victory.
- Federer never stopped believing despite title drought
When Newlife died in 2009, he left all his belongings, including several betting slips, to anti-poverty charity Oxfam.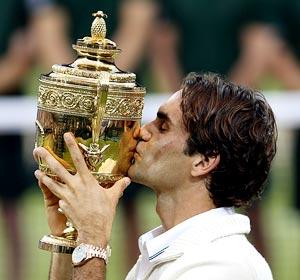 "Nick Newlife was a keen gambler on sports, and in particular a great tennis fan ... but sadly did not live to see Roger land perhaps the most spectacular bet we have ever taken on tennis," said William Hill spokesperson Graham Sharpe.
Federer beat Briton Andy Murray on Sunday to win a record-equalling seventh Wimbledon singles title.
The payout of 101,840 pounds is the first of its kind in 40 years, Sharpe said on Monday.
The charity said the money could feed 10,000 families in famine-hit West Africa for an entire month.
"All of Oxfam have been cheering Federer's progress for the past couple of weeks. The real hero, though, must be Mr Newlife, for his generous gift and his tremendous sporting acumen," said Andrew Barton, a marketing head at Oxfam.
Among Newlife's bequests to Oxfam was another betting slip which netted the charity 16,750 pounds in 2009, when Federer won his 14th Grand Slam.