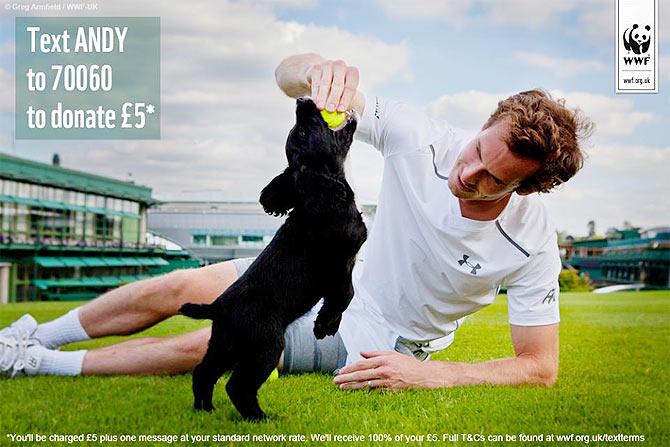 Andy Murray/Facebook
Andy Murray goes to the dogs, or more precisely the puppies, in a video released on Tuesday which shows him playing at Wimbledon with five cocker spaniels being trained to become sniffer dogs.
The six-week-old puppies are being raised by the Metropolitan Police Service and Murray, a self-professed dog lover and a World Wildlife Fund global ambassador, supports the use of sniffer dogs to crack down on wildlife poaching in Nepal, a release from the Wimbledon press office says.
In the video Murray is shown playing with the puppies on the famous hill within Wimbledon's grounds while they run around him and chew on his shoelaces and fingers.
"Hey, that's my finger," he says at one point, commenting that the pup has "sharp little teeth".
Eventually one of them seems to bond with Murray and he cuddles it.
"I think this one's ready," he says.
"It listens to me."
Police sniffer dogs are used at Wimbledon and Murray said in a statement that he supports their use at the Championships and to crackdown on illegal trafficking in wildlife.
"Sniffer dogs do an incredible job whether it's keeping us safe and secure here at Wimbledon, or fighting wildlife crime in Nepal," Murray, who is battling for a second Wimbledon men's title, is quoted as saying.
"I'm really hoping that whilst I battle it out on the court this summer -- people will join the battle to help fight the global problem of wildlife crime."