A dewy-eyed Goran Ivanisevic waved goodbye to tennis while Serena Williams and Tim Henman soothed wounded pride at Wimbledon on Friday.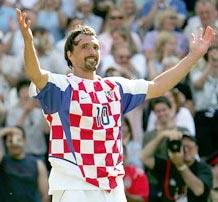 Men's third seed Guillermo Coria and women's second seed Anastasia Myskina also exited on a day when the umpire who made a scoring mistake in Venus Williams's shock defeat on Thursday was shown the door by organisers.
Ivanisevic bade farewell to his beloved Centre Court and headed for retirement after a 6-2, 6-3, 6-4 third round defeat by Australian seventh seed Lleyton Hewitt.
The 32-year-old Croatian, whose emotional triumph over another Australian Pat Rafter in the 2001 final earned him a permanent place in tennis folklore, was outplayed but enjoyed every minute in his final tournament before quitting the game.
Women's defending champion Serena ensured she did not follow older sister Venus out of the tournament by beating French qualifier Stephanie Foretz 6-0, 6-4 in the second round.
Third seed Venus was upset 7-6, 7-6 by Croatian Karolina Sprem and on Friday organisers said they had agreed with umpire Ted Watt, who made a scoring error in the second set tiebreak of that game, that he should take no further part.
Serena gave a ruthless display to set up a third round match against Magui Serna of Spain.
"I think I played really well in the first set," Serena said. "But there are still some things I want to try to work on. So I'm getting better.
"I consider myself a favourite to just go out there and do the best I can, and that's how I have to look at it."
SLUGGISH HENMAN
The English were nursing sore heads after the national soccer team's painful Euro 2004 exit against Portugal on Thursday.
Henman, after a sluggish start, provided the lift the home nation needed on Centre Court, although he admitted the soccer had been a distraction for him too.
Swiss qualifier Ivo Heuberger led 5-3 in the first set before Henman clicked into gear and raced away to a 7-5, 6-3, 6-2 victory under sporadic sunshine.
"I didn't sleep particularly well. I was very much aware of our disappointment," said the 29-year-old who is bidding to end Britain's 68-year wait for a men's champion.
Henman is still on course for a fourth round showdown with last year's runner-up, Australian Mark Philippoussis. The 11th seed lost the first set against Dutchman Martin Verkerk but recovered to win 4-6, 6-3, 7-6, 7-5.
Men's second seed Andy Roddick set up a high-octane clash with compatriot Taylor Dent in the third round when he flayed Austria's Alexander Peya 6-3, 7-6, 6-4.
The U.S. Open champion fired 13 aces at speeds of up to 144 miles per hour (231.7 kph) in an accomplished display, although he is likely to face a dose of his own medicine against heavy-serving Dent.
"It was okay. You know, I did enough to win," he said. "But I still don't feel like I'm playing my best tennis yet."
MYSKINA FINISHED
Third seed Coria, however, was sent packing by German debutant Florian Mayer.
The French Open runner-up, a clay specialist who had never won a match on grass before this year, lost 4-6, 6-3, 6-3, 6-4 in a second round surprise on court 18.
The defeat of women's French Open champion Myskina was more predictable. The Russian had complained of exhaustion after her three-set second round victory late on Thursday and having had little time to rest she succumbed 4-6, 6-4, 6-4 to American Amy Frazier.
The other leading women's seeds were untroubled, with Frenchwoman Amelie Mauresmo, American Jennifer Capriati, Argentine Paola Suarez and Russians Nadia Petrova and Vera Zvonareva all advancing.