'It's wonderful to hopefully have that continue, to have equal for the men and the women'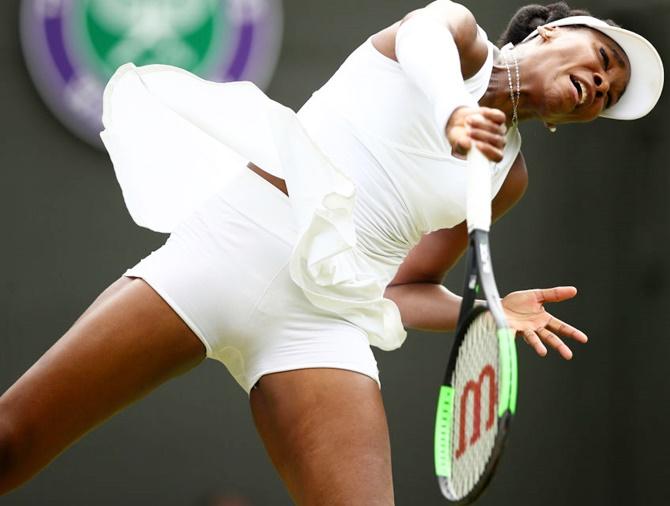 Venus Williams said she was 'overjoyed' that Wimbledon organisers gave women the spotlight on the tournament's main showcourts on Wednesday.
Five of the seven matches on Centre Court and Court One on day three were women's singles, although one of them was a late change after the Centre Court programme ended early.
It did not escape the attention of five-time champion Williams, who beat Romanian qualifier Alexandra Dulgheru on Court One to move into the third round.
"I was really overjoyed when I saw the schedule for today. We have a lot of equal play on the main courts in the other three Grand Slams," the American veteran said.
"It was just fantastic to see Wimbledon also follow suit. It's wonderful to hopefully have that continue, to have equal for the men and the women."
Wimbledon has come under fire in the past for sending top women's seeds, including Venus and sister Serena, out to the smaller courts.
While the club said there has not been a change in policy women's matches have outnumbered men's on the biggest courts so far at this year's tournament.
Seven-times champion Serena beat Bulgarian qualifier Viktoriya Tomova on Centre Court on Wednesday, having opened on Monday against Arantxa Rus on Court One.
She echoed her sister's sentiments.
"I think it's wonderful," she said. "For so many years it was just two men's, one women's."
"Now it's several women out there playing. I think it's a great opportunity. Just really proud to be here and play at a tournament that can recognise that."
Thursday's Centre Court and Court One programme favours the men, however, although three-time champion Novak Djokovic will find himself on Court Two.
Of the seven matches scheduled for the two main showcourts on day four, including Marin Cilic's unfinished second-round clash with Guido Pella, only two are women's singles.
Top seed Simona Halep will play Zheng Saisai on Court One while home hope Johanna Konta plays Dominica Cibulkova on Centre Court after Rafael Nadal opens the programme.