'I still think I had a great tournament'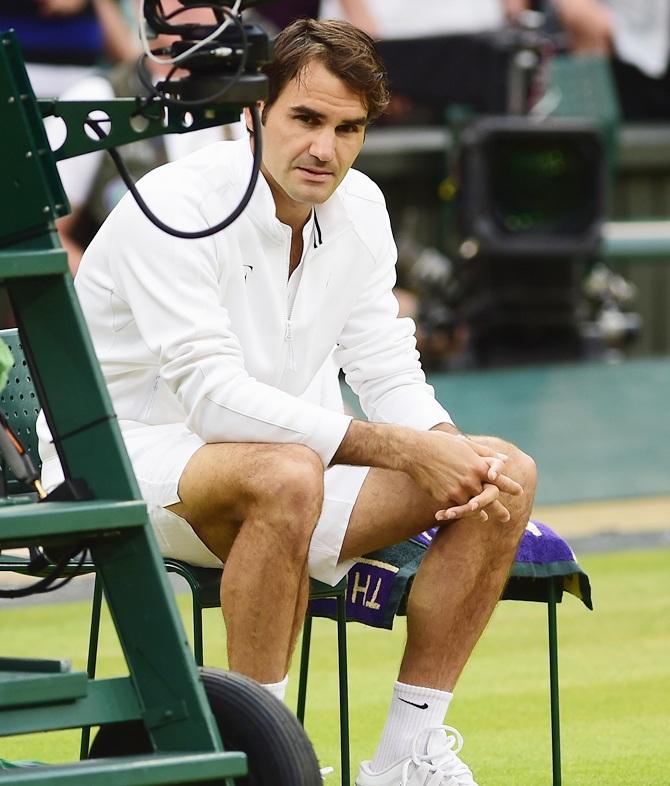 Switzerland's Roger Federer looks dejected after losing in the Wimbledon final. Photograph: Shaun Botterill/Getty Images
When Roger Federer saw Novak Djokovic sharing a victory embrace with wife Jelena in the corridor leading to the men's locker room at Wimbledon, the Swiss must have wondered if he will ever himself get a chance to experience such a moment again.
Steel-plated Djokovic a step too far for Federer
Mirka Federer cut a forlorn figure on Centre Court as she held up her phone to take pictures of her husband holding aloft the silver runners-up plate after he had been beaten in the final for the second year running by the Serb.
It was a memento neither she nor her husband wanted to take home, especially since Federer had come into the final having beaten Andy Murray in three elegantly brutal sets -- a display that left many of the sport's greats drooling.
Two days after a performance which many rated among Federer's top five ever, he came within two sets of winning a much-wanted record eighth Wimbledon title.
'For me a finalist trophy is not the same'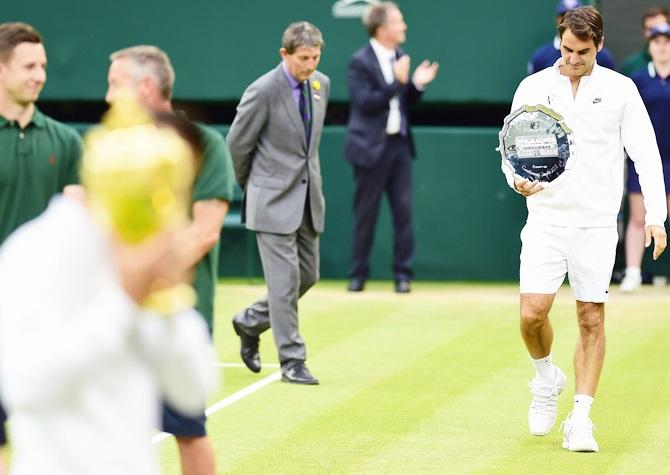 Switzerland's Roger Federer holds the runners up plate. Photograph: Shaun Botterill/Getty Images
But it was not to be for the 17-time Grand Slam champion who had been broken just once in 90 service games at this year's tournament before Sunday's showdown.
"I still think I had a great tournament," Federer told reporters after his 10th appearance in a Wimbledon final ended in a 7-6(1), 6-7(10), 6-4, 6-3 defeat.
"You can have good tournaments without winning, as well, at the end. I still won six matches, lost one. The ratio still remains very good.
"But of course you sort of walk away empty-handed. For me a finalist trophy is not the same. Everybody knows that."
Aged 33 and 338 days, Federer had been bidding to become the oldest Wimbledon champion in the professional era.
'It's no fun ever losing really, unless you know that you've entertained the crowd'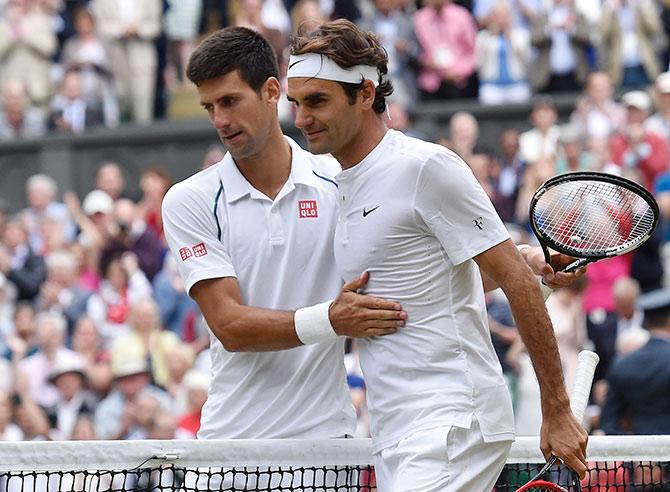 Serbia's Novak Djokovic embraces Roger Federer after winning their men's singles final at the Wimbledon Tennis. Photograph: Toby Melville/Reuters
On paper at least, it looked like it could have been an even contest as Federer led 20-19 in their overall head-to-head record. The duo were split 6-6 in Grand Slam meetings, 1-1 in majors finals and 1-1 on grass.
But the man who contested 18 of 19 Grand Slam finals from 2005 to 2010 when he was at the height of his powers simply ran into today's numero uno -- with Djokovic playing in his third successive major showpiece.
"Clearly I would have loved to win today. There's no doubt about it," said the World No 2, who has now gone three years without a Grand Slam trophy having won the last of his majors at Wimbledon in 2012.
But I still think I can be very happy with the level of play," added Federer, who saved seven set points to win the second but could not keep up the momentum.
"It's no fun ever losing really, unless you know that you've entertained the crowd, you can be happy with your performance, and then you get it over quicker.
"But it doesn't mean you're not disappointed, or you just kind of move on easily from it. Some matches tend to be easier to digest. This one feels the case."
While Federer's defeat left Centre Court's 15,000 fans deflated, his 2009 Wimbledon final victim, Andy Roddick, put it into perspective by saying: "I feel as badly for Roger as I can for someone who has won 17 Grand Slams."