'I guess you would have laughed if I told you I was going to win two slams this year'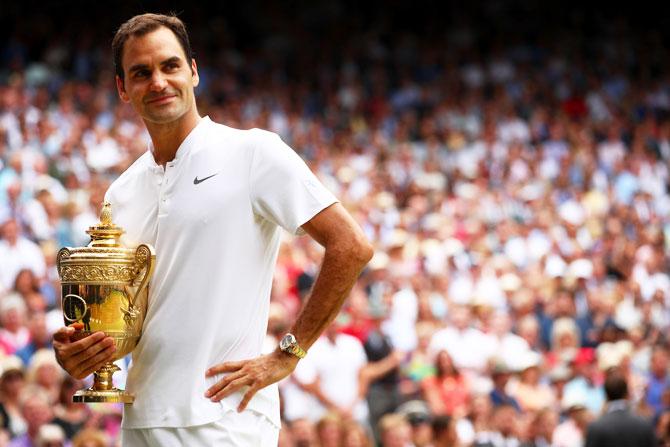 IMAGE: Switzerland's Roger Federer celebrates victory with the trophy after beating Croatia's Marin Cilic to win the Wimbledon final at the All England Lawn Tennis and Croquet Club at Wimbledon in London Sunday. Photograph: Clive Brunskill/Getty Images
Having reclaimed his place on Wimbledon's throne and indelibly etched his name in the tournament's record books, Roger Federer dangled the unpalatable possibility that he may never grace its fabled lawns again.
Fourteen years after a pony-tailed Swiss starlet first soared into the tennis ether at The All England Club, Federer returned on Sunday as a 35-year-old veteran to confirm his place as the greatest man ever to play the grasscourt slam with a record eighth title.
The 6-3, 6-1, 6-4 victory over Marin Cilic was a brutal demolition job, as the Croat's blistered feet rendered him easy pickings.
Yet, having delivered a 19th major title for his army of fans on Centre Court, Federer admitted that his advancing age and last year's injury issues meant he could not say for certain that he would be back to defend his crown next year.
"I hope that I'm back, but there's never a guarantee, especially not at 35," he told reporters.
Federer's resurgence to the game's summit will go down as one of sport's most remarkable comeback tales.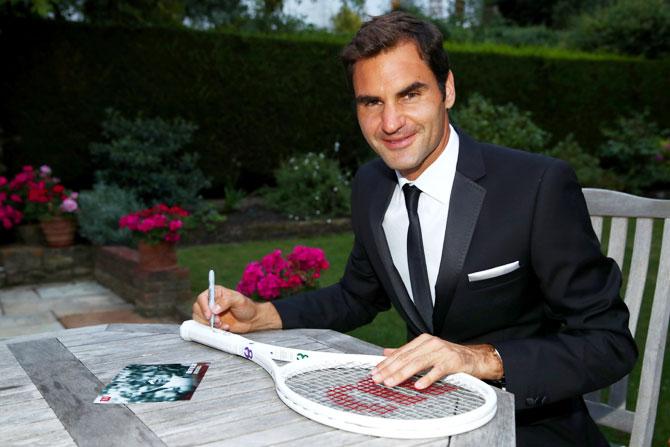 IMAGE: Roger Federer celebrates his Wimbledon record with an exclusive commemorative '8' Wilson tennis racket on Sunday. Photograph: Clive Brunskill/Getty Images for Wilson
When he exited Wimbledon last year, he spent six months out of tennis through injury. Even the great man himself had doubts as to whether he could ever rekindle the magic that had delivered his last major title in 2012.
However, after the doubts were swept away by a sensational victory at the Australian Open in January, Federer made a game-changing career move to skip the claycourt season and focus on his favourite surface.
And few calls have ever been vindicated with such a resounding affirmation.
"I guess you would have laughed if I told you I was going to win two slams this year," he said.
"I also didn't believe that I was going to win two.
"But, it's incredible. I don't know how much longer it's going to last... But I have just got to always remind myself that health comes first at this point. If I do that, maybe things are actually possible I didn't think were."
A lot has changed in the years since Federer clinched his first grand slam trophy at Wimbledon.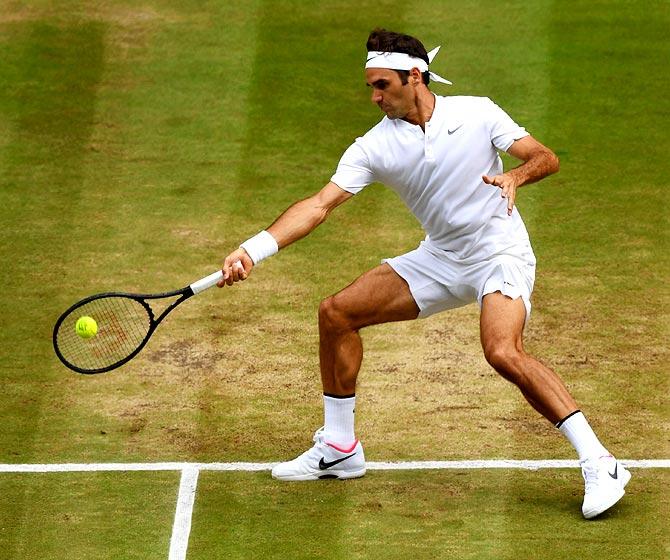 IMAGE: Roger Federer in action during the Wimbledon final. Photograph: Shaun Botterill/Getty Images
The long hair has gone and the fresh face that snatched the title in 2003 has been replaced by the filled-out features of a tour veteran.
Yet, as he marched to this year's crown without dropping a set, it was clear that the dazzling array of shots and sheer, balletic brilliance of tennis's greatest male player are all still in evidence.
Having surpassed Pete Sampras and William Renshaw, who both had seven titles, Federer has earned his place in the record books at a tournament whose history is so important to him.
"Wimbledon was always my favourite tournament, will always be my favourite tournament," he said.
"My heroes walked the grounds here and walked the courts here. Because of them, I think I became a better player.
"To make history here at Wimbledon really means a lot to me just because of all of that really. It's that simple."