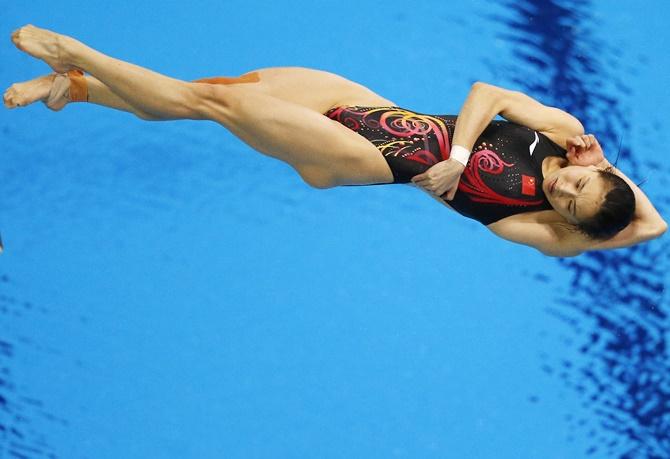 IMAGE: China's Wu Minxia performs a dive during the women's 3m springboard final. Photograph: Jorge Silva/Reuters.
China's Wu Minxia will make her bid to become the most decorated female Olympic diver at the Rio de Janeiro Games, fronting an attempt by her country to sweep all eight titles next month at the Maria Lenk Aquatics Centre.
The 30-year-old, who equalled her former diving partner's Guo Jingjing's record of four gold medals at the 2012 Olympics, will lead China's 13-member team who are expected to dominate after winning six out of eight golds at test events in February.
They also won six of the eight titles at the London Games.
Among China's other headline gold medal hopes are Qiu Bo, who won silver in the men's 10 metres platform event in 2012, and 15-year-old Ren Qian, who scored a perfect 10 at the February test event in the women's category.
China's diving team leader, Zhou Jihong, has remained cautious over the country's chances, saying that China "had no advantage in the men's events" and warned that "dark horses" lurked in the women's platform events.
"It is very hard. Our rivals are at high-level, very experienced and at the same time very young," she was quoted by Xinhua news agency as saying about the men's events in May.
The major competition for the Chinese men are from the United States' David Boudia who will defend his 10-metres platform gold at his third Olympics, and Britain's Tom Daley who took the bronze in London.
In the three-metres event, Jamaica's first Olympic male diver Yona Knight-Wisdom has been tipped as a contender after he clinched his spot by winning a surprise silver medal during the February test event.
Wu, however, will not be defending her individual three- metre springboard gold and will instead compete in the synchronized event with teammate Shi Tingmao.
North Korea will be also pinning their medal hopes on teenager Kim Kuk-hyang in the women's 10 metre event after she won her country's first gold at last year's world championships.
While China dominated the test event, the venue has been the subject of some concern over its outdoor nature which could see weather changes test divers' performances, especially during Brazil's winter.
It also suffered temporary power cuts during recent competitions.