'We should be encouraging young coaches in India. They are the ones who know the system and realities of sport inside out'
'We shouldn't allow foreign experts to dictate us'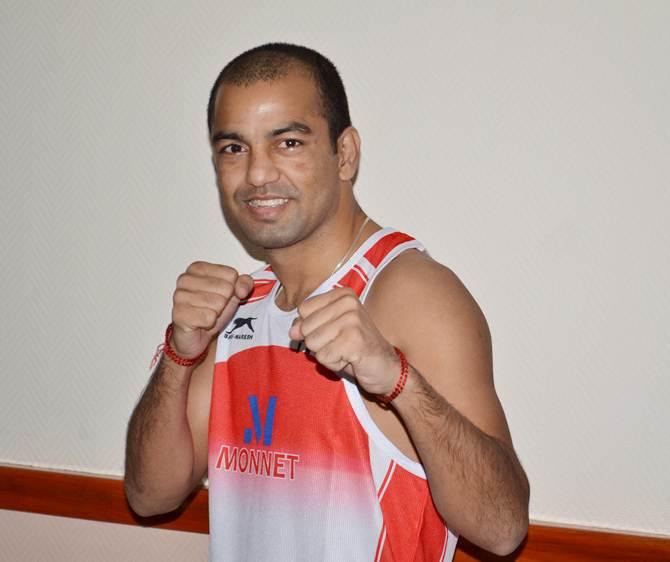 IMAGE: Akhil Kumar hardly minced words as he weighed in on the burning issues of his sport. Photograph: Rediff Archives
Indian boxing's national observer Akhil Kumar sees nothing wrong in leaving out national chief coaches from the Commonwealth Games contingent but what irks him is the higher pay and greater importance given to the foreigners in the support staff.
One of only five Indian boxers to have claimed a gold medal at the Commonwealth Games, the tough-talking 37-year-old hardly minced words as he weighed in on the burning issues of his sport and others at a function organised to send out good wishes to the CWG contingent.
"If the foreign coaches are so good then why are they not employed at the sub-junior level? If they are so good, let them shape youngsters. Why are finished products handed to them. If I come into the national camp after winning the national title, am I not an almost finished product given to them?," he asked at the launch of 'RangdeTiranga' campaign by the Games' official broadcaster Sony TV.
"I am not against hiring foreign coaches but it should not be at the expense of talent which is your own and which is as good. I have always failed to understand the obsession with white skin, is it to do with our colonial past, I don't know," added the 2006 Melbourne CWG gold-medallist.
The former Asian Games and Olympic quarterfinalist, however, saw nothing wrong in men's chief coach S R Singh and his women's team counterpart Shiv Singh being left out of the CWG contingent. The Indian boxing team will have five coaches in the Gold Coast CWG, starting April 4.
While the men's team will have High Performance Director Santiago Nieva and assistant coaches Dharmender Yadav and Jai Singh Patil, the women's team will have High Performance Rafaelle Bergamasco and Chhote Lal Yadav due to the cap put on the contingent size by the sports ministry.
"I remember when M C Mary Kom was national observer, she had raised objections about the presence of retired coaches in the national camp in the very first meeting we have. They are well past their retirement age, I don't think there is anything wrong in leaving them out," Akhil said curtly.
Akhil's views on foreign coaches found support from 2002 Commonwealth Games gold-winning trap shooter Moraad Ali Khan, who is part of the team overseeing Indian shooting's junior programme right now.
"I was asked before the 2010 CWG to coach Indian shooters 'I said I would do it, if their is no racist attitude'," recalled India's first shooter to participate in the World Cup along with Mansher Singh.
"Why should a foreign coach be paid more than an Indian coach of same calibre? Why is this discrimination? There is no sound logic for it," he said.
Akhil weighed in further,"When Mary Kom won five world titles, there was no foreign expert with women boxers. So the argument that they are better doesn't hold."
"We should be encouraging young coaches in India. They are the ones who know the system and realities of sport inside out. We shouldn't allow foreign experts to dictate us."
"If we hire them, we should be able to get work done by them, instead of doing what they want."