Dropped from India's women's hockey team for the Rio Olympics, skipper Ritu Rani reveals her side of the story to Rediff.com's Aruneel Sadadekar.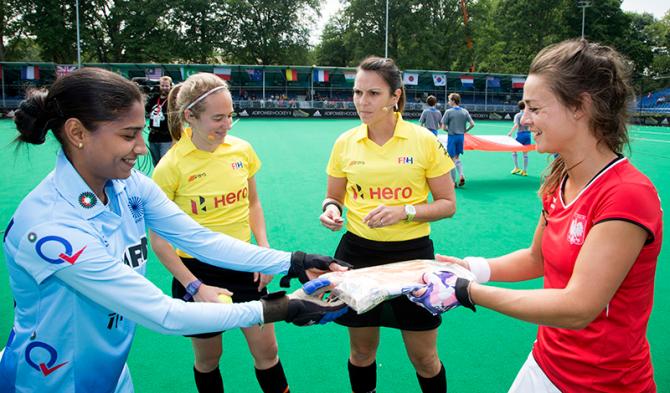 IMAGE: India captain Ritu Rani with her Poland counterpart Marlena Rybacha before a qualification match. Photograph: Hockey India
India's most experienced women's hockey player Ritu Rani will not be going to Rio.
The team's captain has been dropped for the upcoming Olympics.
Besides being penalised for leaving the preparatory training camp in Bengaluru and returning to her hometown, Shahabad, Haryana, she has been accused of an 'attitude problem', which reportedly led to her axing from the team.
It was under her leadership that the Indian women's team qualified for the Olympics for the first time.
Rani also led India when it won the bronze medal at the 2014 Asian Games in Incheon, South Korea.
Speaking exclusively to Rediff.com's Aruneel Sadadekar, the 24 year old reveals her side of the story.
You have been dropped from India's team for the Olympics.
I was told about it during the training camp in Bengaluru. All of a sudden they told me that my performance was not up to the mark and I had an attitude problem.
I was asked to go home and my world came crashing down.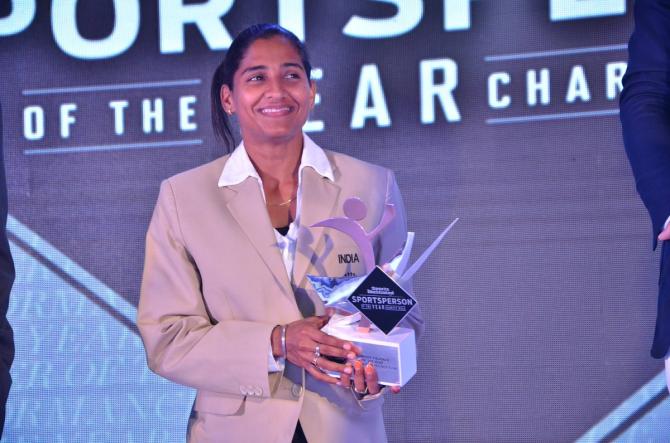 IMAGE: Hockey India tweeted this photograph of Ritu Rani after winning Sports Illustrated's Surprise Package of the Year Award, June 4, 2016.
But the federation claims you left the training camp on your own.
Why will I do it?
I have been playing for India for 10 years now and it was under my captaincy that India qualified for the Olympics for the first time in history.
We played earlier (the Moscow Games in 1980) but that was through an invitation.
This is the first time we actually qualified and now they don't want the person who captained this side to make history.
See, I don't know anything. I am shocked to see the allegations against me.
Attitude problem and underperformance. Duniya mein beizzat hone keliye toh nahi khelti thi na main (I never played for India to be disrespected in the media and society).
It hurts not to be part of a team which will be the first in so many years to qualify and compete at the Olympics. But more than that, these allegations are hurting me.
Whatever reason was given, why should it be revealed to everyone and degrade my image in society?
Why don't they clear the suspense about my attitude problem?
What could be the reason for your ouster from the team?
I don't know, but they always had an issue with my personal life.
I got engaged last month and since then questions are being raised about my focus. They thought my focus had changed.
I know what my dream is. If I was not capable, why did they allow me to lead the side during qualifications?
Have you ever seen a captain of a side during qualifications being dropped from the squad for the main event?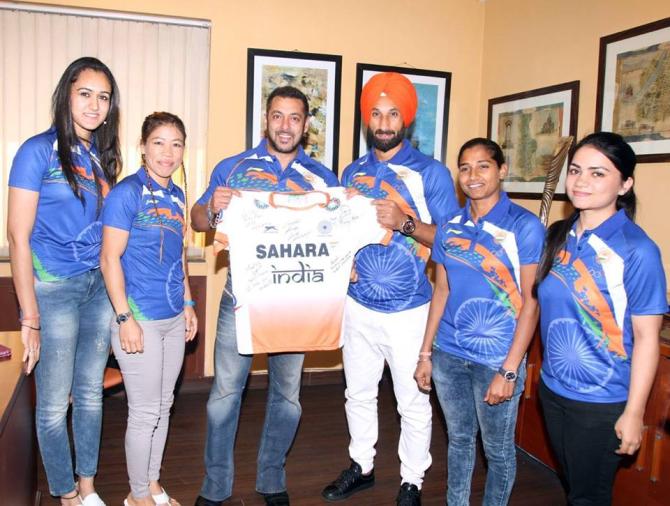 IMAGE: Ritu Rani, second from right, at an event in which Bollywood star Salman Khan was announced as the Goodwill Brand Ambassador for India's Olympic contingent earlier this year. Photograph: Hockey India.
You spoke about your dream and the Olympics...
I have represented India for 10 years and this was the only time we actually qualified for the Olympics. My performance was very good and I am one of the most experienced players in this side.
They have not only shattered my dream of leading India at the Olympics, which I thoroughly deserved, but mere pe upar se kicchad uchal diya (ruined my reputation).
All their allegations are baseless and false.
I never left the camp on my own. There were four more players. They came and told us that we were not selected and had to leave the camp.
Who do you think is responsible for your exit?
I want to say so much, but then I am also afraid. Politics chal raha hai (I am a victim of politics)!
What will be your future course of action? Do you plan to appeal?
I have no clue about this. I don't know what to do and where to appeal.
If I decide on anything and there is a solution for me, I will contact you.