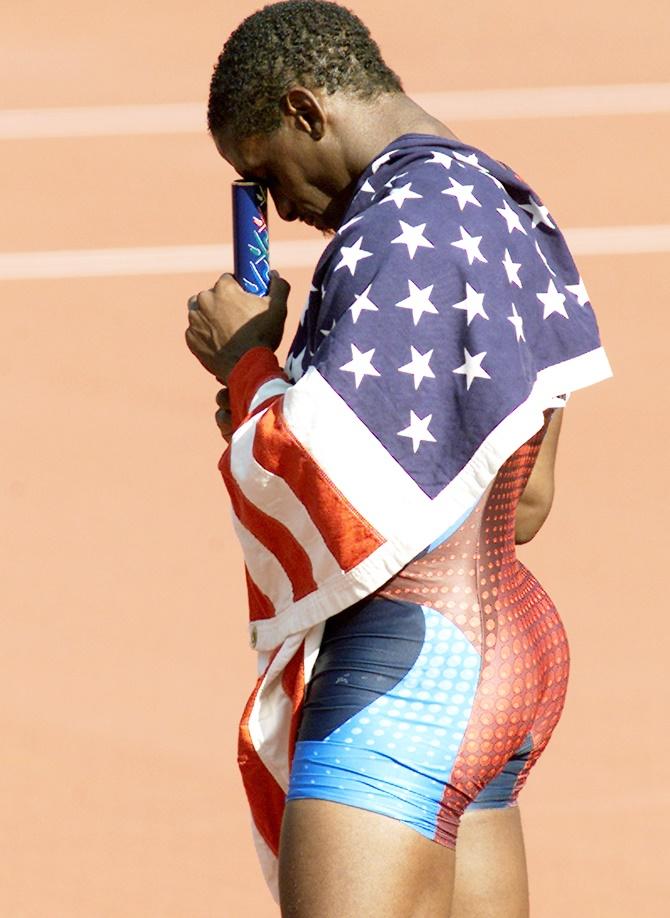 IMAGE: USA's Dennis Mitchell walks off the track. Photograph: Reuters
The coach of sprinter Justin Gatlin has stepped down as the head of the United States relay squads just months out from the Rio Olympics due to a change in USA Track and Field's criteria.
Dennis Mitchell, who served a doping ban in 1999, said on Monday he had learnt he fell outside new guidelines for coaching America's relay teams and had decided to step down.
The change prohibits coaches with likely relay candidates from being the relay coach. World sprint medallist Gatlin is expected to anchor the US 4x100 metres relay in Rio.
USATF's High Performance Division Executive Committee made the modification with input from the Athletes Advisory Committee, USATF spokeswoman Jill Geer said.
"They have added a provision, intended to minimize potential or perceived conflicts, that prohibits an individual from being the relay coach if he or she coaches an athlete who has a high likelihood of being part of the relay pool," Geer said in an email to Reuters.
"As a result of that new provision, Dennis Mitchell has resigned his position."
Geer added Mitchell had been approved by the US Olympic Committee for the position.
The 50-year-old had been the relay coach since 2014, though his selection had been controversial because of his 1998 positive test for the banned hormone testosterone.
"I do not want to start a controversy," Mitchell, who will continue to coach Gatlin, said via telephone from Florida. "I just want to thank USA Track & Field, the US Olympic Committee and everybody for their support.
"I would do it again if they asked me to."
Mitchell called the change "very exclusionary."
"There are not too many top level sprint coaches that would fall in the criteria they are looking for," he said.
Mitchell, a three-time Olympian denied his past had resulted in the change.
"In terms of dealing with my past, all parties that were involved were very respectful of my past and, in my opinion, didn't really use that as a driving force," he said.
"But I think there obviously are people out there that have strong feelings about my past ... and didn't support me being the relay coach."