'I do not shop in the middle or before a tournament starts, I shop only after, only if I do well at the tournament.'
'It always came from everybody telling me that how dark I had become playing tennis'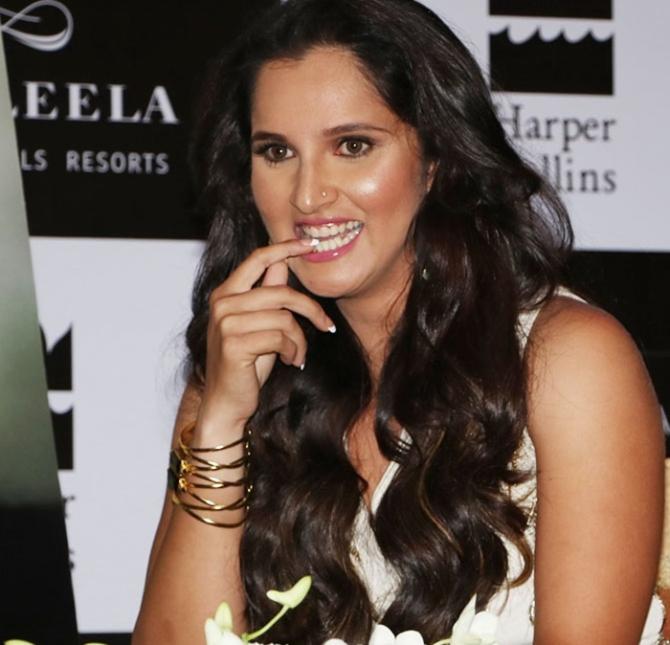 IMAGE: Sania Mirza during the launch of her autobiography. Photograph: Hitesh Harisinghani/Rediff.com.
Indian tennis star Sania Mirza, who is married to Pakistani cricketer Shoaib Malik, spoke about her personal life with actress Neha Dhupia in her chat show No Filter Neha.
Mirza like always was at her candid best.
Who would think that Sania wasn't a confident person!
You know I have to tell you that I was not a very confident person about my looks when I was growing up, I was a scrawny kid, I used to have a boycut. But I think it was a mental thing, right!
Everyone used to talk about like.. this again comes down to a very disturbing thought process we have in our culture, sorry to make it serious but I want to always talk about it because it always came from everybody telling me that how dark I had become playing tennis, all the time.
I was told by my aunts and uncles to my parents that what are you doing, no one's going to marry her, she is going to get tanned.
Honestly, I love to talk about this because I want to tell girls that listen guys who cares what the colour of your skin is, go after your dreams man, you will get a man believe me you will get a great man and even if you don't, it means nothing. You can still be your own person.
Sania talks about her shopping rule
I love shopping, but seriously I have rules with shopping, I know it sounds weird.
The rule is that I do not shop in the middle or before a tournament starts, I shop only after, only if I do well at the tournament.
It depends how well I do, how big my pay check is, to know how much I spend.
So, a very good friend of mine, also my make up artist Bianca she was with me in Singapore and I was like if I win tomorrow I will go buy this. She was just like buy it. I was like no no no if I win tomorrow.
So I chose 4-5 pairs of shoes and I said after every round I will come and buy this. Basically the mall was in the hotel there, so it was very difficult to wait till the tournament got over. So I had to change my rule and make it a match by match rule.
Sania is not a sore loser but very competitive
I am not a sore loser but I am very competitive, because losing is a part of my profession, its part of what we do, we have to lose a lot of the times and we have to win a lot of the times as well and the high that you get to win is unbelievable every athlete will tell you that.
Also losing teaches us a lot. So we cannot afford to be like bad losers!
Shoaib on losing to Sania in table tennis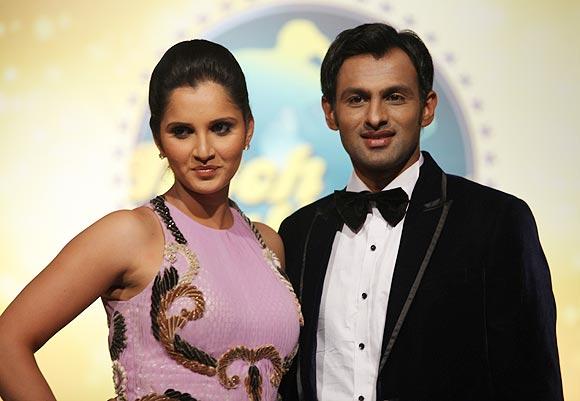 IMAGE: Sania Mirza and Shoaib Malik
We were in England and during the champions trophy. After Paris I went there and we were spending sometime together I wasn't playing that week so their team room had table tennis, so one night we weren't feeling sleepy, we came back from dinner and all he was like chalo jaakar dekhte hai team room meih kuch khana vana hoga. So we have gone there for some dessert, tea, we were like oh lets have tea and there were couple of people sitting and they had table tennis so I was like come lets play table tennis and we started playing so I beat him the first time, at 11:45 at night I beat him and he was like 'ek aur khelte hai' he could not stop.
And the next day we go out for dinner with a bunch of other cricketers and he goes to them and they speak in punjabi all of them, I can't speak, I can understand.
So they call wife 'Sadi budi' and the guy goes to him, arey yaar sadi budi ne toh...he was complaining something. He said sadi budi ne toh bada yeh kaha hai something so Shoaib says in punjabi, yaar tu toh mujhe keh raha hai, mujhe sharam aarahi hai, meih toh kal table tennis meih haar gaya sadi budi se (I am feeling ashamed, I lost to my wife at table tennis).
So we went that night again at 12 o clock and we played till 2:30 in the morning till he won then he beat me a few times and I said bas hogaya abh mujhe neend aarahi hai, meih ja rahi hu sone, mujhe packing karni hai (enough, I need to sleep, I have get my packing done).
Who does Sania Think is India's biggest drama queen?
Karan Johar
Who does she think is India's biggest heartbreaks?
Salman Khan
Who does she think is India's no1 calm the f*** down please
Arnab Goswami