'I know Nigel every well, if anyone would want more women to play chess, it would be him'
'He was trying to hint towards the biological difference which was blown out of proportion'
'You cannot have a normal childhood if you want to do well in sports'
Indian chess diva Tania Sachdev holds forth on women in the sport with Laxmi Negi/Rediff.com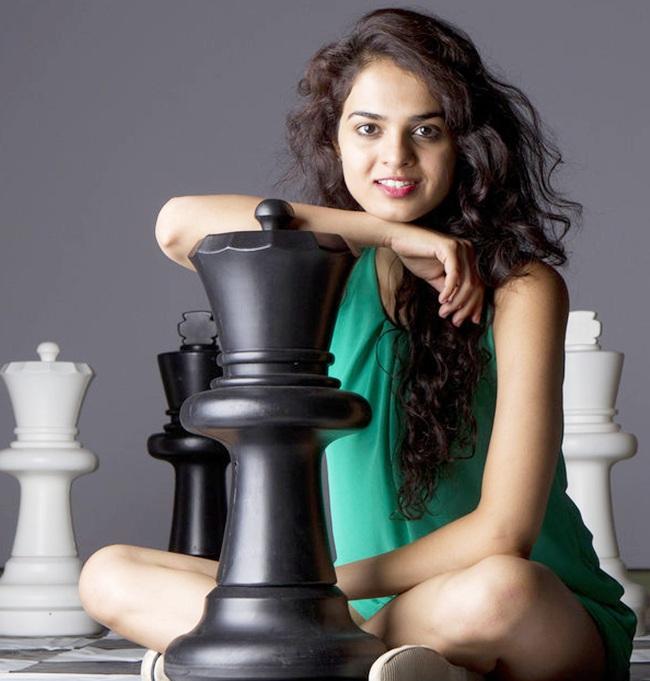 A Google search for 'Hottest' or 'Most beautiful sportswomen in India' will have Tania Sachdev as a permanent fixture.
Her innocent looks and mesmerizing smile is enough to categorize her in the list of beautiful sportswomen in India.
Call her the ultimate chess diva or chess goddess, the Delhi-based girl is, without doubt, the face of Indian chess.
To say that the 28-year-old is the ultimate combination of beauty and brains will be an understatement.
One runs short of adjectives when this Woman Grandmaster stands up for English Grandmaster Nigel Short (he was in news for saying 'girls just don't have the brains to play chess') and keeps us hooked to the 64-squared chess board as she makes the right moves.
Laxmi Negi/Rediff.com caught up with the recently-married lady during the Ram Ratna 42nd National Women's Challenger Chess Championship, conducted by the Maharashtra Chess Association, in Mumbai.
Stay right here to get your mind blown as she holds fort on women in the sport.
Nigel Short has been quoted as saying that 'girls just don't have the brains to play chess'. Why such prejudice against women?
I happened to read the original article and it is absolutely fine. There is nothing he said that is discriminating. He was simply misquoted.
Nigel Short infuriates players with 'women no good at chess' jibe
This is the reality. Chess is a mind sport. It is true that male players are stronger than female.
How many women players have made it to the top 100 in men? But it does not mean women cannot play chess.
What he was trying to say is that men and women have different kind of brains that work differently. It is not that one is better and the other is not.
For example, women are great at multitasking, but men cannot do that at all.
During a game men can focus single-mindedly. Also, during the process of becoming a great chess player they are more focused. They are able to forget everything else and play chess.
In the case of women, the way their mind is engineered, they are brilliant in doing 50 different things at one time. And when it comes to chess, this might work against them.
Secondly, emotional intelligence: men handle it better. Women are better than men when it comes to expressions and relationships; but, again, this is what I have learned from the men Grandmasters. They handle losses much better than women. I think women get emotional about it. It goes against them when it comes purely to chess.
Biologically, it does make a difference in performance.
There are also practical differences, like not enough money in women's chess. So women do not take it up. Also, it is a new sport for women and, hence, less participation.
I know Nigel every well; if anyone would want more women to play chess, it would be him.
He was trying to hint towards the biological difference, which was blown out of proportion.
Coming to physical sports, the difference is easy to see. When it comes to chess, it is not easy to differentiate.
One can be all feminist and say, 'this is all nonsense and how can he make a comment like this', but the differences do exist.
That said, of course, there has been a Judit Polgar and Hou Yifan, but it is just two women.
There are not 500 women chess players who are doing so well. They are an inspiration to all of us to reach that point. What worked for them was they had this mindset of focusing on this sport for many years without any other distractions. They are emotionally very strong on the board. But it does not exist among all women chess players.
I make a living out of playing chess. So, of course, women can play chess, but we have a lot to learn.
Women are not supposed to be strong; they are not supposed to be intelligent. They are accused of distracting when they are beautiful. What do they do?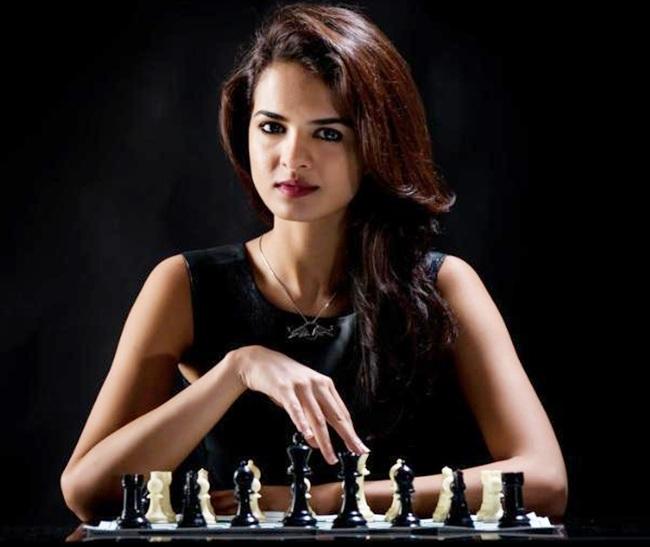 There is nothing wrong in that. These are personal choices that people make.
If you are doing well in your sport there are many things that come of out it, like endorsements or sponsorships, or people are commenting or complimenting. I do not find anything wrong in it.
If you are able to understand your focus in life and pursue it, nothing like it. Personally, for me, I like doing different things.
I have worked hard growing up; I believe in trying different things and living my life to the fullest.
I do not believe that someone who has given up everything for chess is wrong. It works for them, but it would not work for me.
But I am allowed to have my opinions and, therefore, I love to try different things in life.
Oh, so you are a champ who will not say 'I never had a normal childhood. There were no movies or chilling out with friends'?
I will definitely say that. While growing up, I have not gone for movies because there was no time for these things. I had to practice chess.
But once I was out of college and was playing chess at a professional level, I got the Arjuna award (2009).
The last couple of years I knew I wanted to do different stuff, like trying out chess commentary, walking the ramp.
But I have got all these opportunities because of chess and not because I am a supermodel.
I know whatever comes my way, it is because of the game. But that growing up phase, no one can escape.
You have to sacrifice. There is no shortcut to success. You cannot have a normal childhood if you want to do well in sports.
Is there a burn-out in chess? You start out early and it goes on for quite a few decades?
(Emphatically) Yes! Your body burns out faster than your mind. So chess being more of a mind sport -- of course, physical fitness is a key attribute -- it has a lot to do with the mind. The shelf life is longer.
Vishy (Viswanathan Anand) was world champion in his 40s, but it is not a forever game. Burn-out is when you start at the age of six and do the same thing again and again. There is so much stress and pressure.
When does a chess player peak?
In a way, chess players are lucky. In physical sports, like football or tennis, you peak at 20s, but chess players can be active for a longer time. These days it is becoming a younger sport.
For example, we have a young world champion in Magnus Carlsen. The top 10 players of the world are people in their twenties. That was not the case some eight years ago when the top players were in their thirties.
Experience has been taken over in chess by computers and, hence, it has become a younger sport.
Info Box
1 gold & 2 silver medals at Asian Team Championship in Tehran (2014)
Bronze medal at the Commonwealth Chess Championship at Glasgow (2014)
Woman Grandmaster (2005)
International Master (2008)
Arjuna Award (2009)
How has your preparation changed?
At the age of eight, I was good at chess. I started playing professionally only at the age of 17-18. So computers were very prominent. But, personally, I love chess in the pre-computer era. It was so much romantic and so much less preparation.
These days there are lines you have to memorize. Even a ten-year-old knows the 15 moves and knows what exactly needs to be done. What can you do? Computers are the reality.
Like everyone, I use Chessbase. There are also so many online chess websites which are amazing.
I still prepare with a coach and books as much as I can. But you cannot get rid of the computer.
What about the Olympics?
Unfortunately, chess is not in the Olympic Games. There is talk of it being included in the Olympics, but I think that is just talk.
Definitely, it would have been amazing had chess being in the Olympics, but we do have a chess Olympaid (held once in two years), but it is not the Olympics.
But, more than Olympics, why chess suffers despite being so popular and having so much talent is that it cannot be televised.
It is mind sport and no action happens -- it is one of chess's biggest disadvantages. That is why chess suffers; it is not a game that can be shown and sold on television.
Has marriage changed you?
A lot of responsibility comes with marriage. Priorities shift, but I am lucky to be married to someone who is proud of what I am. So I will continue to play for India and give my best.