-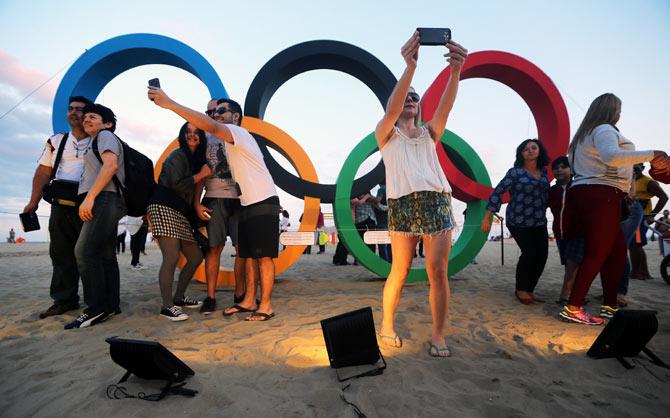 Rio can still pull off a dazzling Games, but organizers are scrambling to sell some 1.7 million tickets, or 28 percent of the scaled-back total made available for sale. That is a bigger overhang than the 20 percent of tickets that were unsold a month before the London Games.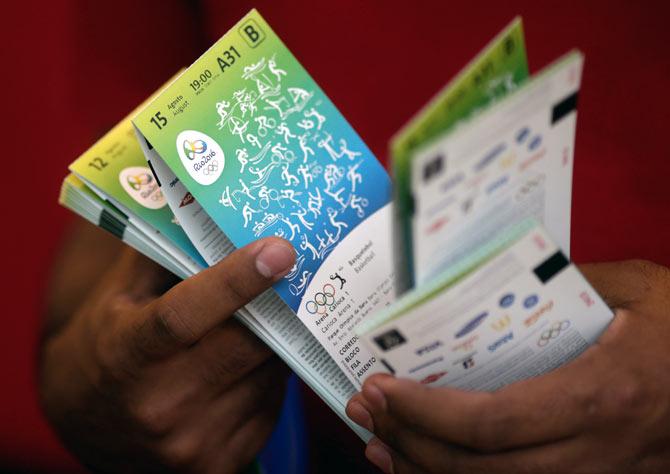 IMAGE: A sport fan shows his tickets after buying them at the 2016 Rio Olympics ticket office in Rio de Janeiro, on June 20, 2016. Photograph: Ricardo Moraes/Reuters
Over the past few weeks, one US marketing executive's phone has been ringing hot with offers that many sports fans could only dream of: an all-expenses-paid trip to watch the Olympic Games in Rio de Janeiro next month.

So far, 10 Olympic sponsor firms have invited him to the Games, a sign of what he and other executives say is an event struggling to draw well-heeled corporate clients worried about Zika virus, Brazil's economic crisis and security risks.

The marketing executive, speaking on condition of anonymity to avoid harming business relationships, said he has turned down Rio due to prior commitments.

But even when invited guests are available to attend, there appear to be fewer takers than normal for Rio, according to interviews and a Reuters analysis of ticketing and travel data.

"I can understand the scare about the Zika virus," said Rob Prazmark, president of 21 Sports & Entertainment Marketing and a leading broker of Olympic corporate partnerships.

"And when you have a souring market, which Brazil has become, the concept of entertaining at a high-profile event can also go sour."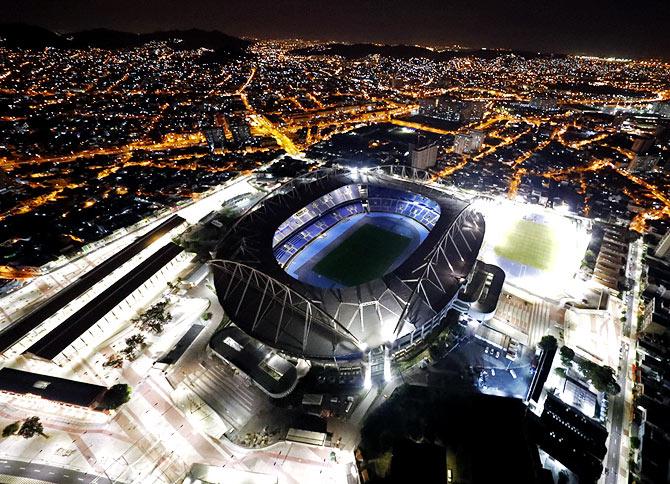 IMAGE: An aerial view of the Olympic Stadium in Rio de Janeiro. Photograph: Pawel Kopczynski/Reuters
For the host city, corporate entertainment is an important part of its plan to recoup part of its $12 billion (9.15 billion pound) in Games investment. For Olympic sponsors and other big firms, the Games are a major marketing event, a chance to reward customers, suppliers, staff or VIP guests with the trip of a lifetime.

A typical five-day programme for two corporate guests is valued at around $30,000, according to another marketing executive who has worked closely with sponsors on the programmes. Some companies invite more than 1,000 guests each.

Several top-tier global Games sponsors – including VISA, GE and Coca-Cola -- said their hospitality programs are proceeding as planned for Rio. They declined to say how many guests or employees they would entertain there.

All said health and safety of guests are a top priority.

"We recognise the challenges that have arisen, but we believe the Olympic Games can have a lasting, positive impact on the host community," said Coca-Cola spokeswoman Kate Hartman.

The challenges include Zika, a mosquito-borne virus which can cause a rare birth defect, as well as economic crisis and security fears ranging from street crime to militant attacks.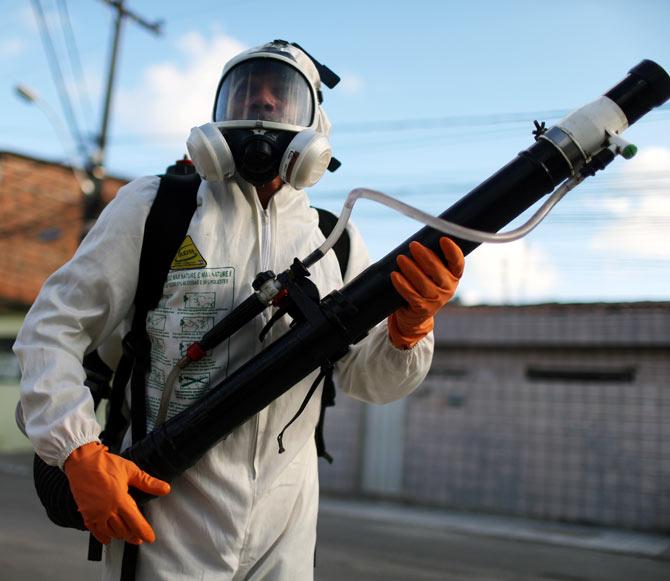 IMAGE: A city worker fumigates in an effort to eradicate the mosquitos which transmit the Zika virus in Recife, Pernambuco state, Brazil. Photograph: Mario Tama/Getty Images
On Thursday, Brazil arrested 10 people on suspicion of belonging to a group backing Islamic State and preparing attacks during the Games. Some 85,000 security personnel will be deployed in Rio, more than twice the number at the 2012 London Games.

All these concerns mean sponsors will take fewer guests to Rio and may spend less on entertaining than at past Summer Games like London, or Beijing in 2008, Prazmark said.

Brazilian tourism officials project that Rio will receive as many as 500,000 Games-oriented tourists over the Olympics.

"There's a perception, widely broadcast, about huge numbers of tourists going to the Olympics, and it's almost always wrong," said Tom Jenkins, CEO of European tourism association ETOA in London.

The Games draw mostly domestic audiences, corporate delegations and die-hard international sports fans, Jenkins said. Zika worries have led some athletes to withdraw from Rio and may also crimp attendance by VIP and luxury travellers.

"The jet set goes where they feel everybody is going to be," he said.

SCRAMBLE TO SELL TICKETS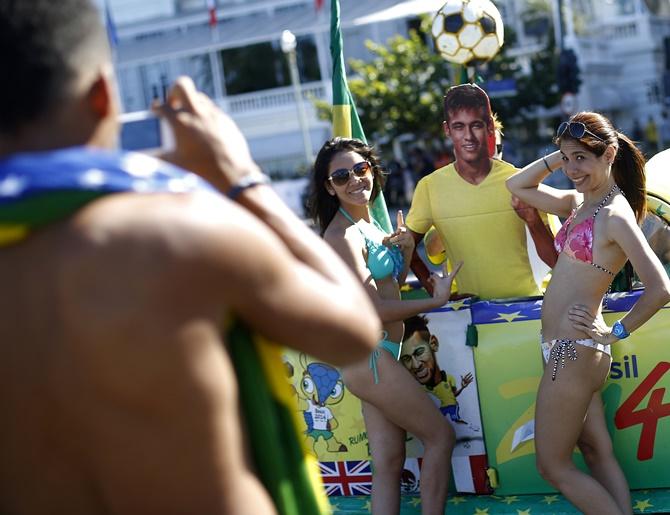 IMAGE: Tourists pose in Rio de Janeiro. Photograph: Ricardo Moraes/Reuters
Rio can still pull off a dazzling Games, but organizers are scrambling to sell some 1.7 million tickets, or 28 percent of the scaled-back total made available for sale.

That is a bigger overhang than the 20 percent of tickets that were unsold a month before the London Games.

On Thursday, Rio's O Globo newspaper reported that fans holding at least 50,000 Games tickets had sought to return them for a refund after June 17, the day Rio de Janeiro declared a "state of public calamity" due to severe cash shortfalls.

Reuters could not immediately verify the report.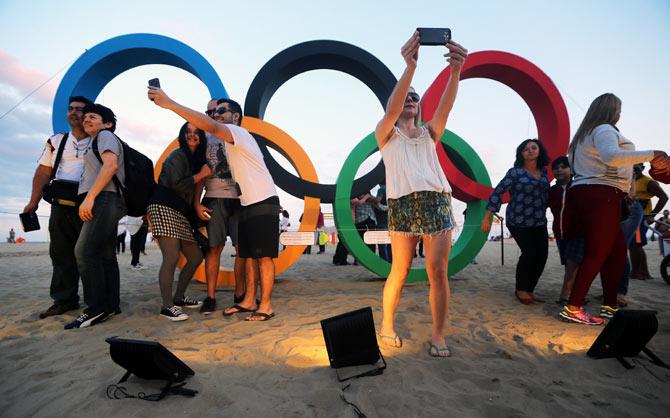 IMAGE: People take photos in front of a set of Olympic rings, created from recycled material, on Copacabana beach, one of the Olympic venues, in Rio de Janeiro, on July 23, 2016. Photograph: Mario Tama/Getty Images
To boost revenues and fill stadiums, Rio organizers took the unusual step last month of allowing foreigners to buy tickets once reserved for Brazilians. Previously, foreigners could only buy tickets from authorized resellers in their home countries, often at sizeable mark-ups and unfavourable exchange rates.

"Our goal is to sell out all the tickets for the Games," Rio Organizing Committee Ticketing Director Donovan Ferretti said, adding that more than 1 million events tickets had been sold to spectators outside of Brazil.

Still, seats at many events remain unsold, with prices ranging from less than 40 reais ($12) to 3,000 reais ($923) for a prime seat at the closing ceremony. On Thursday, organizers made another 100,000 tickets available on Rio2016.com.

Perhaps surprisingly for a soccer-crazed host country, around 800,000 of the unsold Games tickets are for soccer matches. Many will be played in cities far from Rio de Janeiro, in now under-utilized stadiums that Brazil built at high expense for the last mega-event it hosted, the 2014 FIFA World Cup.