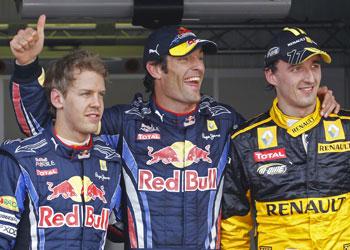 Australian Mark Webber dreamed of emulating compatriot and Formula One great Jack Brabham on Saturday after putting his Red Bull on pole position for the showcase Monaco Grand Prix.
The 33-year-old's second pole in the space of a week continued his team's stranglehold on the top slot, with Renault-powered Red Bull chalking up six out of six races this season.
Webber secured it by three tenths of a second from Poland's Robert Kubica in a Renault, with Red Bull's Sebastian Vettel pushed into third place.
"The first lap went ok, I brushed the Armco (barriers) pretty hard at the start of the second sector...I finished that one and then went for another. It just all came together," said the Australian, winner in Spain from pole last weekend.
The pole was the fourth of Webber's career and the first at Monaco by an Australian since triple world champion Jack Brabham in 1967.
Brabham, now the oldest surviving champion at 84, also took his first F1 win in Monaco in 1959 -- the only time an Australian has won on the unforgiving streets of the Mediterranean principality.
"I wouldn't be here without Jack Brabham," said Webber, reminded of the fact. "My Dad followed Jack when he was a young boy and that started I suppose the dream in the Webber household.
"Jack is an absolute legend of the sport and he's been very good to me over the years...of course it's an honour to get the pole today but it would be the biggest highlight of my career if I can join him tomorrow."
Ferrari's Brazilian Felipe Massa completed the second row in fourth place.
His team mate Fernando Alonso, a two times Monaco winner, watched qualifying from the garage after wrecking his car in final practice. The Spaniard, second in the championship behind McLaren's Jenson Button, will start from the pit lane.
World champion Button, last year's winner on the metal-fenced streets of the principality with Brawn GP, just sneaked through to the third and final phase of qualifying and secured eighth slot on the grid.
McLaren's Lewis Hamilton, the 2008 winner, qualified fifth with Germany's Nico Rosberg alongside for Mercedes and back in front of team-mate Michael Schumacher.
The older German, a five times winner in Monaco and making a comeback at the age of 41 and after three years out, qualified seventh.
Fears that qualifying could be crash-strewn and chaotic, with three much slower new teams on the track and expanding the field to 24 cars since last year's race, proved unfounded.
The only casualty was Renault's Russian Vitaly Petrov, who slewed into the barriers at Ste. Devote in the second session and starts 14th.
Monaco Grand Prix qualifying result
1. Mark Webber RedBull-Renault 1 min 13.826s
2. Robert Kubica Renault 1:14.120
3. Sebastian Vettel RedBull-Renault 1:14.227
4. Felipe Massa Ferrari 1:14.283
5. Lewis Hamilton McLaren 1:14.432
6. Nico Rosberg Mercedes 1:14.544
7. Michael Schumacher Mercedes 1:14.590
8. Jenson Button McLaren 1:14.637
9. Rubens Barrichello Williams-Cosworth 1:14.901
10. Vitantonio Liuzzi Force India-Mercedes 1:15.170