India qualified to the quarterfinals with Canada and Ireland taking the last two positions in the group.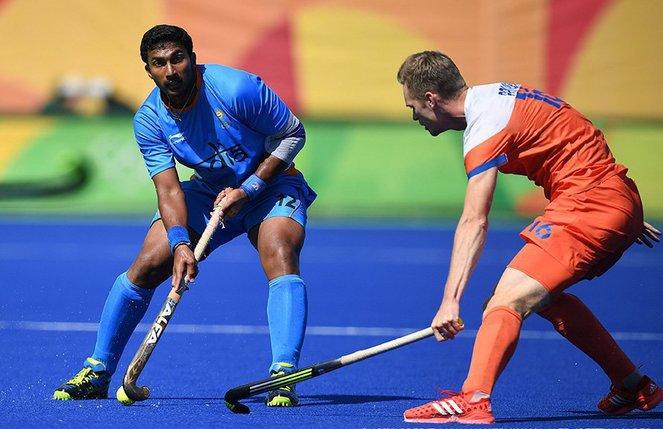 IMAGE: India's VR Raghunath in action against Netherlands at Rio 2016. Photograph: Hockey India.
India chief coach Roelant Oltmans today said two yellow cards hurt the team badly and that resulted in its 1-2 loss to the Netherlands in a pool B men's hockey match at the Rio Olympic Games in Rio de Janeiro on Thursday.
"We were on the attacking side until we got two yellow cards, which was a gamechanger. You had to fight with one or two less. That's not only difficult to score a goal but it also took away a lot of energy from the players that I'm not happy about it," Oltmans said.

The Netherland, world number two and London Olympics silver medallists, scored both their goals from penalty corners through Rogier Hoffman (32nd minute) and Mink van der Weerden (54th), while India's lone goal came from the stick of VR Raghunath (38th).

The Indians dished out some valiant defending in the final stages of the third quarter when they were reduced to nine men. With little more than three minutes left for the quarter to end, SV Sunil and Raghunath had to sit out for five minutes after getting yellow cards from separate incidents.

"We should be proud how tough we have made it. Tomorrow (against Canada in Pool B concluding match) you will see a fresh India," Oltmans, also the team's High Performance director, said.

Trailing 1-2 with four minutes left, India withdrew goalkeeper PR Sreejesh for an additional forward and pressed hard for the equaliser. Their efforts bore fruit as India earned their fourth penalty corner six seconds from the hooter after appealing for a video referral.

That penalty corner resulted in four more back-to-back short corners but the Indian dragflick battery of Rupinder Pal Singh, who took four tries, and Raghunath failed to break the Dutch defence led by goalkeeper Jaap Stockmann.

The coach, however, was not convinced of the final try that went for a video referral.

"Nevertheless, we got our chances to equalise in the last four and half minutes. Unfortunately the last one was held on the line by the defender. Small areas we're still lacking. But we showed that we're close to top sides in the world. It's encouraging," said Oltmans.

"The match had many faces. Chase game in the first quarters, both teams were well organised and did not give away anything. The second was more or less the same. The third quarter came alive through the only goal that the Netherlands scored. We took over the initiative quite well after that and we scored a goal. We even had chances to score.

"I feel we got too many cards. When we got the cards the momentum was on our side. We came back 1-1 and started to have good attacks. I think that was a game changer," he explained.
Talking about the two yellow cards, Oltmans said: "The first one was for pushing with the stick on the back of the defender. I'm not sure about that and the other one was for elbowing... I will have to see the replays."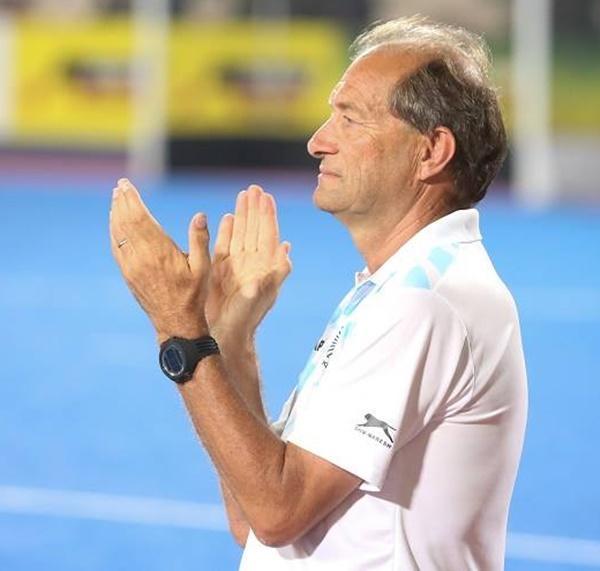 IMAGE: Indian coach Roelant Oltmans. Photograph: Hockey India
On the strategy to play without Sreejesh to bolster the forward, he said: "When we were in Spain we played last four minutes without the goalkeeper. The players are used to it. So far we have created a lot of opportunities in the matches we have played. Don't worry about penalty corners, every match we've been able to convert them."
Sreejesh said it is an usual strategy that the teams apply when they are trailing.
"It's no surprise. It's normal strategy. When we are trailing, we have to build pressure so as to negate the numerical disadvantage. We have to wait for them to make a mistake and score a goal. Last four minutes, we got five PCs," said Sreejesh.
On the missed penalty corners, Sreejesh said: "That's the difference between the win and loss. We should have converted in the dying moments. We still have one more match in the league round. We will concentrate on improving.
"We got opportunities. We could control the game even when we're down to nine players. But unfortunately we could not convert for a 2-2 draw."
Manpreet Singh, who stood in as the captain, said, "We did very well. We had two cards but despite that we did well. Overall, we put up a good show."
He insisted that the team would have to work on its penalty corner conversion, something that has been an issue so far.
"We could not succeed, it's hard luck. We will work on the video session. Our focus is now on Canada on Friday. We are taking one match at a time," said Manpreet.