British police are to investigate an allegation that Manchester United striker Wayne Rooney assaulted a man in a nightclub, a spokesman said on Tuesday.
Police in Manchester, northwest England, said a member of the public had made a formal complaint of assault against the 19-year-old England player.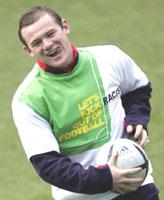 "A man reported being assaulted at a nightclub in the city centre," a Greater Manchester Police spokesman said. "Inquiries are continuing into the incident."
A spokesman for Rooney denied the allegations.
"Wayne was approached by a man he had never met in an abusive and threatening manner," the spokesman told the Sun newspaper. "Despite extreme provocation, Wayne did not respond."
Local media alleged Rooney, 19, hit a 22-year-old student who taunted him early on Tuesday over his controversial transfer from Everton last year.
The student was reported in the Sun as having said to Rooney: "Once a Blue always a Blue, eh Wayne?".
The reported comment was a reference to a slogan printed on a T-shirt worn by lifelong Everton supporter Rooney before his 27 million pounds ($51.26 million) transfer.
| | |
| --- | --- |
| | Also Read |
| | |
Many
Everton fans were angered by the move, which they saw as an act of betrayal.
More than 30 supporters were arrested in clashes after Rooney's return to Everton's Goodison Park at a tense cup match against their English Premier League rivals Manchester United in February.
Rooney, feted in England for scoring four goals to help his country reach the quarter-finals of the Euro 2004 soccer tournament, is expected to play in Saturday's World Cup qualifier against Northern Ireland.