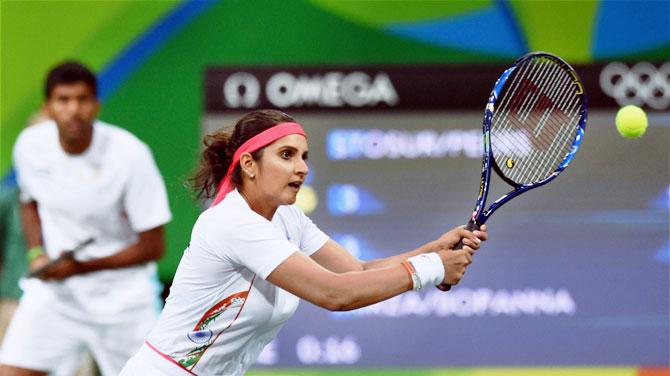 IMAGE: Sania Mirza. Photograph: Atul Yadav/PTI
With speculation rife that Rio Olympics silver medallist Venus Williams was allegedly allowed to use prohibited substance under Therapeutic Use Exemptions (TUEs) clause, Indian tennis ace Sania Mirza on Friday rubbished reports suggesting that she has demanded the All India Tennis Association (AITA) to raise the matter with the appropriate authorities.
According to reports, Sania's mother Naseema had called up an AITA official, asking him to look into the matter.
However, the AITA refuted all such speculation in a media release saying, "All India Tennis Association has received no communication from either Mrs Naseema Mirza or Ms Sania Mirza or MYAS regarding the issue of WADA, as has been reported by a section of media."
Meanwhile, AITA Secretary General Hironmoy Chatterjee told PTI that it was Sania's father Imran who had approached them and not her mother.
"It was Imran Mirza who spoke to Anil ji (AITA President Anil Khanna), just mentioning that a report (WADA hacking) has come out. What we have stated in the press release is that we have not received any written communication from anyone because some other journalists also wanted to know if we have received written communication. And whatever we had said (yesterday) that once it is established by the authorities, whatever action needs to be taken, will be taken," Chatterjee said.
World No 1 women's doubles player, Sania posted the release on Twitter saying, "Hope this clears EVERYTHING out! And hoping this will make as big headlines as the 'controversy'! #unnecessarydrama".
Sania and Rohan Bopanna were beaten by eventual silver-medallists Venus and Rajeev Ram in their mixed doubles semifinals at the Rio Olympics last month.
Venus was one of four US athletes targeted by Russian hacking group, Fancy Bears, who broke into the World Anti-Doping Agency records releasing details of her confidential medical records.
The hacked records reveal that Venus and Serena Williams were given TUEs that allowed them to use certain medications banned by WADA. However, the use of exemptions is not regarded as a doping offence as it is a standard practice in the sports world.
The cyber-attack by the Russian hacking group has been widely criticised, with WADA condemning the attack on its records system.