Victory eluded Viswanathan Anand yet again and the World Champion was held to a draw by Hikaru Nakamura of United States in the seventh round to remain joint second in the fourth Final Masters' second leg, in Bilbao, Spain.
After his fifth draw, a sole victory and a loss, Anand remained on a 50 per cent score in the category-22 super tournament being played on a double round-robin format.
In a shocking result, Ukrainian Vassily Ivanchuk suffered his first loss in the second leg at the hands of tailender Francisco Vallejo Pons of Spain. After a rocking start that fetched him three wins in the first half, and a another one against Nakamura here, Ivanchuk was subdued by Pons in a tense game wherein he fell under time pressure.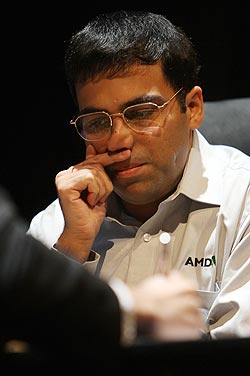 With just three rounds to come in the event, Ivanchuk still leads the tables with 13 points in his bag and the quartet of Anand, Magnus Carlsen of Norway, Levon Aronian of Armenia and Nakamura follow him five points behind.
Pons, with his second victory in the tournament, escalated himself to seven points but that as yet is only enough for the solo last-place in the soccer-like scoring system.
After the game against Nakamura, it seems like the Indian ace needs to catch back on his winning ways through his preparation that went haywire against the American.
It was a Berlin defense that Anand himself has been employing as black regularly wherein he got nothing.
Anand in fact sacrificed one pawn in the endgame and then another but was still unable to find a much-needed break through.
Nakamura, to his credit, maintained the balance for the major part and just when black's position became threatening, Anand forced a draw. The game lasted 36 moves.
Ivanchuk fell under pressure against Vallejo Pons in the intricacies of an Anti Grunfeld defense where the former played black.
While the Ukrainian worked on solving his opening problems, Vallejo got his play rolling on the king side.
Pons picked up a pawn by the time the dust settled and transposed to a rook and pawns endgame where too, Ivanchuk's defensive technique was found wanting. The highest rated native Spaniard won the longest game of the day in 47 moves.
Magnus Carlsen pressed hard but had a tough customer in Levon Aronian. It was a Queen's gambit declined as black by Carlsen in which Aronian fell under middle game troubles.
However, the Armenian transposed to a rook and pawns endgame to restore the balance. The game was drawn in fifty moves.
Results round 7: V Anand (Ind, 8) drew with Hikaru Nakamura (Usa, 8); Levon Aronian (arm, 8) drew with Magnus Carlsen (Nor, 8); Francisco Vallejo Pons (Esp, 7) beat Vassily Ivanchuk (Ukr, 13).
The moves: V Anand v/s H Nakamura 1. e4 e5 2. Nf3 Nc6 3. Bb5 Nf6 4. O-O Nxe4 5. d4 Nd6 6. Bxc6 dxc6 7. dxe5 Nf5 8. Qxd8+ Kxd8 9. Nc3 Ke8 10. h3 h5 11. Bf4 Be7 12. Rad1 Be6 13. Ng5 Rh6 14. g3 Bxg5 15. Bxg5 Rg6 16. h4 f6 17. exf6 gxf6 18. Bf4 Nxh4 19. f3 Rd8 20. Rxd8+ Kxd8 21. Kf2 Nf5 22. Rh1 Ng7 23. Bd2 Bf5 24. Nd1 Bxc2 25. Ne3 Bd3 26. Ng2 Ne6 27. Rxh5 Rg7 28. Bc3 Ke7 29. Rh6 Rf7 30. g4 Bb1 31. a3 f5 32. g5 Nxg5 33. Nf4 Ke8 34. Rg6 Nh7 35. Rg8+ Rf8 36. Rg7 Rf7 game drawn.