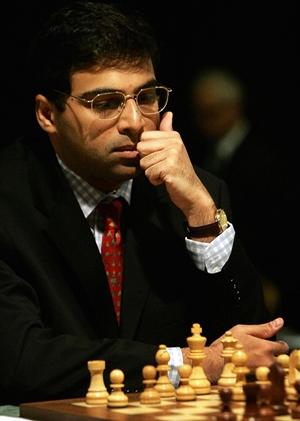 Viswanathan Anand drew with tournament leader Levon Aronian of Armenia in the eighth and penultimate round to stay in sixth position at the Altibox Norway chess tournament in Stavanger, Norway.

Having done the hard work, Aronian was in no mood to spoil things as white and the Armenian remained cautious while slightly better at some point.

World champion Magnus Carlsen of Norway regained his exposure and outwitted his last World championship challenger Sergey Karjakin of Russia in the big news of the day. Vladimir Kramnik of Russia, who was threatening to overtake Carlsen in the rating list, went down to Maxime Vachier-Lagrave of France.

In the other two games of the strongest tournament of the year, Hikaru Nakamura of United States signed peace with compatriot Wesley So and the other American Fabiano Caruana played out a draw with Dutch Grandmaster Anish Giri.

With just one round to come, Aronian is sitting pretty on 5.5 points and he is followed by Nakamura who is on five. Anish Giri holds the third spot solely on 4.5 points, a half point clear of Wesley So and Vladimir Kramnik.

Anand shares the sixth spot with Vachier, Caruana and Carlsen who are all on 3.5 points and Karjakin is now sole last with three points in his bag.

The final round promises to be exciting too as Aronian will meet Wesley So, while Anand has his big clash slated against Carlsen. Nakamura will be black against Caruana and Giri has black against his nemesis -- Kramnik -- once again.

Anand started with the Queen's gambit declined and Aronian went for the Catalan. It was one of the main lines where the Armenian secured minimal advantage in the middle game.

However, Anand was accurate and Aronian decided that probably black had enough defensive resources. Going in to the last round with the cushion of a half point lead was another factor as Aronian repeated the position. The game lasted 32 moves.

Carlsen threw everything at Karjakin and was duly rewarded for his courage. The Russian defended tenaciously but a blunder on the 42nd move sealed his fate.

Vachier made sure Kramnik's happiness of beating Carlsen was short-lived as the Frenchman showcased his brilliant calculating skills to score an important victory. The game was fought till the rook and pawns endgame.

Results (Round 8):

Levon Aronian (Arm, 5.5) drew with V Anand (3.5); Hikaru Nakamura (Usa, 5) drew with Wesley So (Usa, 5); Anish Giri (Ned, 4.5) drew with Fabiano Caruana (Usa, 3.5); Magnus Carlsen (Nor, 3.5) beat Sergey Karjakin (Rus, 3); Maxime Vachier-Lagrave (Fra, 3.5) beat Vladimir Kramnik (Rus, 4).
Image: Viswanathan Anand