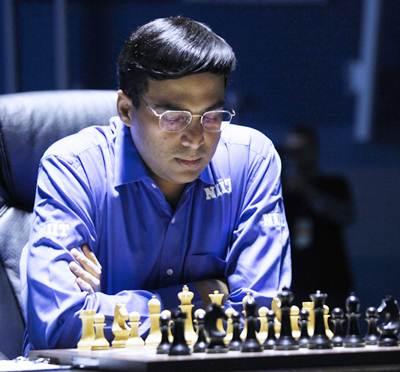 Former World champion Viswanathan Anand shrugged off his first round draw to score a resounding victory over Matthias Bach of Germany in the second round of the Masters section of Tradewise Gibraltar Chess festival, in Gibraltar, on Thursday.

Having drawn the first round against Hungarian Woman Grandmaster Szidonia Vajda Lazarne, Anand expectedly found the rhythm and had no troubles whatsoever in registering his first victory in the tournament.

Interestingly, Anand and his second in three World championships '- Grandmaster Surya Shekhar Ganguly - had both drawn the first round. While Anand had drawn with Lazarne, Ganguly was held to a draw by Bach. As luck would have had it, Ganguly played against Lazarne in the second round and scored an easy win, while Anand outclassed Bach.

It was mostly business as usual in the second round with most of the top stars sailing through over lesser opposition. International Master Anurag Mahamal, however, had a surprise in store for veteran Grandmaster Pia CRamling of Sweden as the Indian went on to score his second victory on the trot.

The biggest upset of the day was recorded by Swede Erik Blomqvist who defeated Li Chao B of China, rated above 2750.

With eight rounds still to come in the tournament, there are as many as 42 players with a perfect score.

This group includes the defending champion and top seed Hikaru Nakamura of United States and second seed Maxime Vachier-Lagrave of France.

On a day when P Harikrishna was held to a surprising draw by Natalija Zhukova of Ukraine, some higher ranked Indians scored fine victories and maintained a clean slate.

S P Sethuraman, Abhijeet Gupta, M R Lalith Babu and Sandipan Chanda moved up to two points defeating Miguel Santos Ruiz of Spain, Neef Maximilian of Germany, Ben Artzi Ido of Israel and Sarasadat Khademalsharieh of Iran respectively.

The second highest rated Indian woman player Grandmaster Dronavalli Harika also continued with her winning ways and downed Thomas Paehtz of Germany while V Vishnu Prasanna was the other Indian to move to two points at the expense of Norwegian Christiansen Johan-Sebastian.

Anand picked his pace at will from the black side of a reverse Benoni. The Indian got swift advantage with perfect manoeuvres in the early middle game and won a pawn by exerting pressure. The rest was easy as the Indian ace won in 32 moves.

Ganguly was even quicker as he capitalised on a blunder by Lazarne to win in just-16 moves from the black side of a French defense game.

Important and Indian results round 2 (Indians unless specified): Fodor Tamas Jr. (Hun, 1) lost to Hikaru Nakamura (Usa, 1); Maxime Vachier-Lagrave (Fra, 2) beat Valentina Gunina (Rus, 1); P Harikrishna (1.5) drew with Natalija Zhukova (Ukr, 1.5); Erik Blomqvist (Swe, 2) beat Li Chao B (Chn, 1); Radoslaw Wojtaszek (Pol, 2) beat JamesTarjan (Usa, 1); Laurent Fressinet (Fra, 2) beat Prasanna Rao (1); Raj Tischbierek (Ger, 1.5) drew with Vidit Santosh Gujrathi (1.5); Miguel Santos Ruiz (Esp, 1) lost to S P Sethuraman (2); Romain Edouard (Fra, 1.5) drew with Padmini Rout (1.5); Abhijeet Gupta (2) beat Maximilian Neef (Ger, 1); Sandipan Chanda (2) beat Ben Artzi Ido (Isr, 1); Sarasadat Khademalsharieh (Iri, 1) lost to M R Lalith Babu (2); Kazim Gulamali (Usa, 1.5) drew with G N Gopal (1.5); Pia Cramling (Swe, 1) lost to Anurag Mhamal (2); Christiansen Johan-Sebastian (Nor, 1) lost to V Vishnu Prasanna (2); D Harika (2) beat Thomas Paehtz (Ger, 1); Gary Quillan (Eng, 1) lost to S Kidambi (2); Bai Jinshi (Chn, 2) beat Siva Mahadevan (1); David Spence (Eng, 1) lost to Aravindh Chithambaram (2); Matthias Bach (Ger, 0.5) lost to V Anand (1.5); Szidonia Lazarne Vajda (Hun, 0.5) lost to Surya Shekhar Ganguly (1.5); S Satyapragyan (1.5) beat Suez-Panama Gilles (Fra, 0.5); B Pratyusha (1) beat Jose Vilarnovo Caamano (Esp, 0); Nisha Mohota (1) beat Skutta Bernd (Ger, 0).
Image: Viswanathan Anand