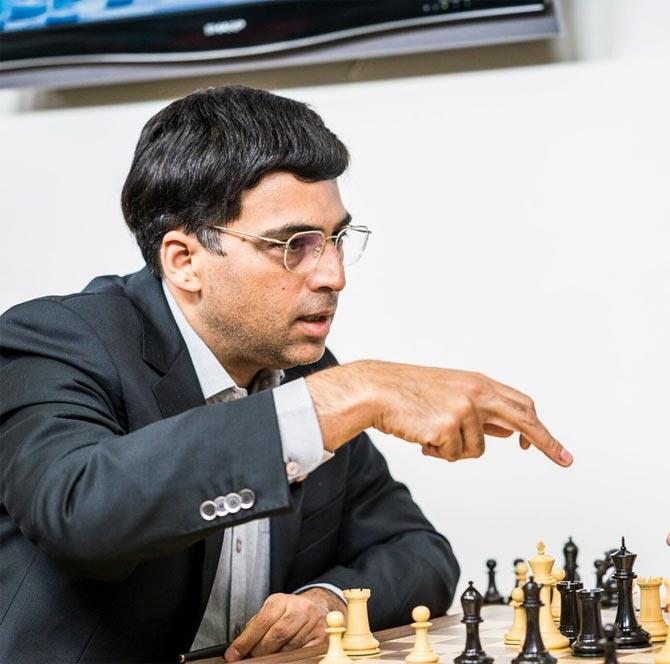 IMAGE: Viswanathan Anand in action. Photograph: Grand Chess Tour/Twitter
Five-time World champion Viswanathan Anand crashed through the defences of World No 2 Fabiano Caruana in the fifth round and jumped to the joint second spot in the Sinquefield Cup, in St Louis, US.

If the first four games were easy draws, Anand showed to the world that he was patiently waiting for his chances. The Indian showcased one of his best games in recent times, a game that will find its way in the collections of best games ever played by Anand.

Caruana clearly overestimated his chances in the middle game, arising out of an English opening. Not going for the tried and tested variations, the American managed a decent position with his black pieces but then got tempted with a tactical sequence that spelt doom.

Caruana's judgement was not by his side but Anand was at his best in calculation as he figured out a beautiful combination involving a queen sacrifice. Putting his queen en prise, Anand knew it was all over and it took a moment for Caruana to register the facts on board. The game lasted a mere 29 moves.

The victory took Anand closer to the tournament leader Maxime Vachier-Lagrave of France who tried to complicate but could not scare Levon Aronian of Armenia. The draw for the Frenchman meant he inched up to 3.5
points out of a possible five while Anand is now right behind him on three points along with World Champion Magnus Carlsen of Norway.
Meanwhile, Carlsen recovered greatly following a loss to Vachier-Lagrave in the previous round. On the receiving end was Wesley So of US who has been clearly struggling to carry on with his stupendous form last year when he won literally everything.
Carlsen called Wesley's bluff by accepting a pawn sacrifice and then had little troubles in converting that in to a full point.
The other two games of the day were drawn as Ian Nepomniachtchi misplayed a better position and drew with his Russian compatriot Sergey Karjakin.
The latter had to again came up with some splendid defense in a difficult situation and proved yet again that he was worthy of the title 'minister of defense' awarded to him.
Hikaru Nakamura of US was seen pressing against Russian Peter Svidler but that too petered out to a draw leaving Aronian, Caruana and Karjakin tied for the fourth spot on 2.5 points apiece.
There are four rounds still remaining in the super tournament and the battle will resume after the only rest day of the event.
Results (Round 5):
V Anand (Ind, 3) beat Fabiano Caruana (US, 2.5); Wesley So (US, 2) lost to Magnus Carlsen (Nor, 3); Sergey Karjakin (Rus, 2.5) drew with Ian Nepomniachtchi (Rus, 2); Hikaru Nakamura (US, 2) drew with Peter Svidler (Rus, 2); Maxiem Vachier-Lagrave (Fra, 3.5) drew with Levon Aronian (Arm, 2.5).