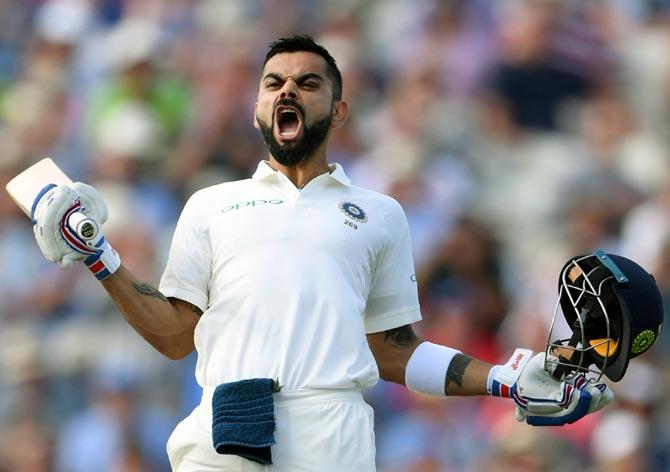 Indian cricket captain Virat Kohli and world champion weightlifter Mirabai Chanu were on Monday jointly recommended for the Rajiv Gandhi Khel Ratna award, while star javelin thrower Neeraj Chopra was among 20 sportspersons picked for the Arjuna Awards.
Besides Chopra, other prominent names recommended for the Arjuna Awards were junior world champion sprinter Hima Das and Asian Games gold-medallist middle distance runner Jinson Johnson, cricketer Smriti Mandhana, hockey players Manpreet Singh and Savita Punia, multiple Commonwealth Games gold-medallist table tennis star Manika Batra and Asiad doubles gold-medallist tennis player Rohan Bopanna.
These recommendations by a selection committee headed by Justice (retd.) Indermeet Kaul Kochhar are subject to approval by Sports Minister Rajyavardhan Singh Rathore. Once ratified by him, President Ram Nath Kovind will present the awards on September 25 at the Rashtrapati Bhawan.
Kohli will become the third Indian cricketer to win the country's highest sporting honour after the legendary Sachin Tendulkar (1997) and the talismanic former captain Mahendra Singh Dhoni (2007) once the sports ministry officially accepts the committee's recommendation.
"Yes, Virat Kohli and Mirabai Chanu's names have been recommended by the awards committee," a top source told PTI on condition of anonymity.
It is learnt that India's top male shuttler Kidambi Srikanth was also in Khel Ratna contention for his good show in the Super Series circuit last year but lost out to the 24-year-old Chanu, who is the reigning world champion in the 48kg category.
Asian Games gold-medallist boxer Amit Panghal was discussed for the Arjuna Awards but the committee decided against recommending him due to a failed dope test back in 2012, a source told PTI.
Similarly, the selection committee also decided against recommending veteran discus thrower Seema Punia for the awards due to his doping past. The 35-year-old Seema, who won a medal each in the Commonwealth and the Asian Games, had failed a dope test during the 2000 World Junior Championships.
Former Asian Games bronze-medallist and Commonwealth Games silver-medallist Satish Kumar was the lone boxer to get the Arjuna honour this year.
Three shooters -- Rahi Sarnobat, Ankur Mittal and Shreyasi Singh -- also figured in list of 20 recommended sportspersons while there were two from para-sports -- Ankur Dhama and Manoj Sarkar.
The 18-year-old Hima, who won a gold and two silver in the Asian Games, and golfer Shubhankar Sharma were not in the original shortlist but were later added for their impressive performances.
This year's award ceremony was postponed to September 25 from the usual August 29 National Sports Day event due to clash of dates with the Asian Games in Indonesia.
The Khel Ratna awardees are entitled to a cash prize of Rs 7.5 lakh, while the Arjuna winners are given Rs 5 lakh.
Kohli, the world's No.1 Test batsman as per the ICC rankings, has been in stupendous form for the past three years and missed out despite nominations in the years 2016 and 2017.
The 29-year-old currently has 6147 runs in 71 Tests with 23 centuries and 9779 runs in 211 ODIs, including 35 tons.
With a combined 58 tons in international cricket, he is second only to Sachin Tendulkar (100) in the list of India's top century-scorers in international cricket.
The BCCI has been nominating Kohli for the Khel Ratna for the past three years but in 2016, it was given to Sakshi Malik, PV Sindhu and Deepa Karmakar for their good show at Rio Olympics.
Last year, the Khel Ratna was awarded to former India hockey captain Sardar Singh and para-athlete Devendra Jhajharia.
Kohli is one of those rare sportspersons, who has received Padma Shri award (2017) before Khel Ratna.
This year, Kohli was a favourite after having led India to victories against England and Australia at home and away wins against West Indies and Sri Lanka.
The Indian team has also won limited-overs series in South Africa under Kohli's leadership.
He is a member of the 2011 ICC World Cup and the 2013 ICC Champions Trophy winning team. He also led the team to the finals of the 2017 ICC Champions Trophy.
Kohli has also been the recipient of ICC's 'ODI Cricketer of the Year' in 2012 and 2017 along with the sport's highest honour -- the ICC Cricketer of the Year. Kohli has won the Indian Cricketer of the Year on five occasions.
He ended the recent England series with a phenomenal 593 runs even though it was not considered in the selection cycle.
For Chanu, the award comes as a massive morale-booster as she is currently recovering from a lower back injury, which forced her to skip the Asian Games. She is the current Commonwealth Games gold-medallist and India's only medal hope in weightlifting going into 2020 Olympics.
Rajiv Gandhi Khel Ratna Recommendations:
Virat Kohli (cricket) and Mirabai Chanu (weightlifting).
Arjuna Award Recommendations:
Neeraj Chopra (Athletics); Jinson Johnson (Athletics), Hima Das (Athletics); N Sikki Reddy (Badminton); Satish Kumar (Boxing); Smriti Mandhana (Cricket); Shubhankar Sharma (Golf); Manpreet Singh (Hockey); Savita (Hockey); Ravi Rathore (Polo); Rahi Sarnobat (Shooting); Ankur Mittal (Shooting); Shreyashi Singh (Shooting); Manika Batra (Table Tennis); G Sathiyan (Table Tennis); Rohan Bopanna (Tennis); Sumit (Wrestling); Pooja Kadian (Wushu); Ankur Dhama (Para athletics); Manoj Sarkar (Para badminton).
Archery coach Teja, athletic's Pannu recommended for Dronacharya Award
National archery compound coach Jiwanjot Singh Teja is set to become one of the youngest Dronacharya awardees after the 34-year old's name was recommended for the honour along with Asian Games gold medallist Arpinder Singh's coach S S Pannu.
The selection committee picked Teja, head coach of the national compound archery team since 2013, along with Pannu, who trained triple jumper Arpinder Singh, the gold medal winner at the recent Jakarta Games.
Also recommended for the Dronacharya award are CA Kuttappa (boxing), Vijay Sharma (weightlifting) and A Srinivasa Rao (table tennis), according to the sources in the Sports Ministry.
Teja was instrumental in reviving two-time Asian Games medallist Trisha Deb's career. In 2010, a Korean coach had said Trisha was not fit to become an archer but under Teja she went on to win two bronze medals at the 2014 Incheon Asian Games.
Under Teja, India's women compound team achieved the world number one rank.
"My son was born in 2010 and I have missed all his growing years because I was always away in the national camps. I really missed my son's early years in childhood. I did not know when he started walking on his own but all this has paid now," Teja, who hails from village Bhawanigarh in Sangrur district, told PTI from Patiala.
"And getting this award at the age of 34 is very encouraging for me and the sport. I can easily serve another 20 years. Initially, I had also thought to become an engineer like my brother but then I chose to be an archer. I never became an international standard archer because there was no good training available.
"I asked my family to help me become a coach and today we have produced excellent results in compound archery. Our team was ninth in the world in 2011 and in two years we took it to world number two rank," Teja said, remembering his struggle and achievements.
Four coaches have been recommended for the Dronacharya award in the life-time category. They are Clarence Lobo (hockey), Tarak Sinha (cricket), Jiwan Kumar Sharma (judo) and V R Beedu (athletics).
Four Dhyan Chand awardees picked by the selection committee are Satyadev Prasad (archery), Bharat Chhetri (hockey), Bobby Aloysius (athletics) and Chougale Dadu Dattatray.
These recommendations are subject to approval by Sports Minister Rajyavardhan Singh Rathore. Once ratified by him, President Ram Nath Kovind will present the awards on September 25 at the Rashtrapati Bhawan.
The selection committee was headed by Justice Mudgal and has other members in former Commonwealth Games gold-winning air pistol shooter Samresh Jung, shuttler Ashwini Ponnappa, former national boxing coach G S Sandhu, hockey coach AK Bansal and archery coach Sanjeeva Singh apart from Sports Authority of India's Special Director General Onkar Kedia and Joint Secretary (Sports) Inder Dhamija.
The Dronacharya award is presented to coaches for their outstanding and meritorious work on a consistent basis over a period of four years.
The Dhyan Chand honour is bestowed on sportspersons for their life-time achievements and contribution to sport during both their active career and after retirement.
The Dronacharya and Dhyan Chand awardees are entitled to a cash prize of Rs 5 lakh each.
Recommendations for Dronacharya Awards:
Regular Category: Jiwanjot Singh Teja (archery), S S Pannu (athletics), C A Kuttappa (boxing), Vijay Sharma (weightlifting) and A Srinivasa Rao (table tennis).
Life Time category: Clarence Lobo (hockey), Tarak Sinha (cricket), Jiwan Kumar Sharma (judo) and V R Beedu (athletics).
Recommendations for Dhyanchand Award: Satyadev Prasad (archery), Bharat Chhetri (hockey), Bobby Aloysius and Chougale Dadu Dattatray (wrestling).