'I won't at all be happy, if he wants to go there. As I see it, there is no time'
'He has contractual obligations'
'This whole thing about pros in Olympics is something that I don't support'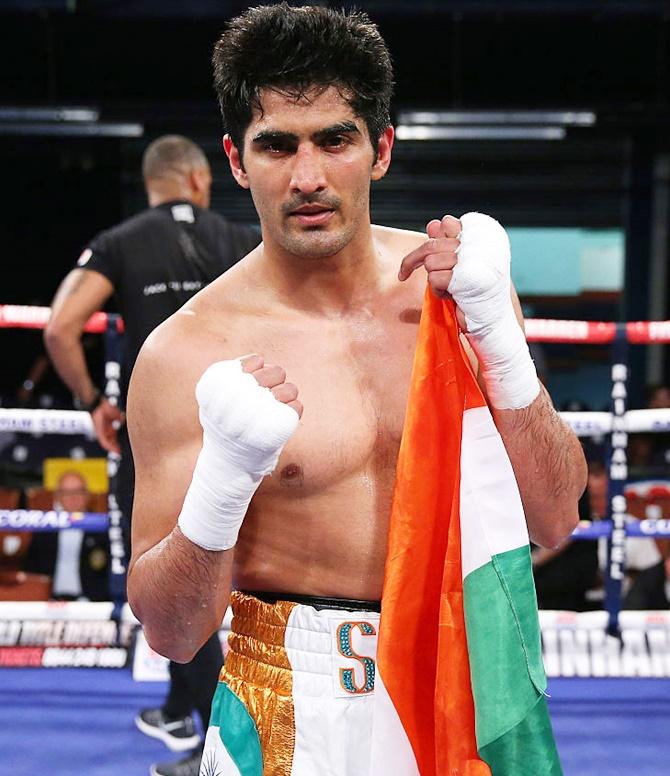 IMAGE: India's biggest boxing star Vijender Singh celebrates. Photograph: Alex Livesey/Getty Images.
Vijender Singh might say that he would give Olympic qualification a shot after doors were thrown open for professional boxers but his UK-based promoter Francis Warren, on Monday, made it clear that India's biggest star simply does not have the time left to try for a Rio ticket.
Ever since the International Boxing Association (AIBA) opened the Olympics for professional pugilists, India's most successful boxer Vijender has been faced with just one question -- will he give it a shot?
The former Olympic and World Championships bronze-medallist has maintained that if there is an opportunity for him to give it a shot, he would grab it.
And by opportunity, he means the final Olympic Qualifier in Venezuela, which has been thrown open to pro boxers from around the world.
"I won't at all be happy, if he wants to go there. As I see it, there is no time. Of course he is his own man, he has his own mind but that cannot hinder with what we have planned for him because it's taken a year to reach where he has. He has contractual obligations with us," Warren, who heads the Queensberry Promotions -- a top boxing promoter in the UK, said.
"If Vijender wins on July 16, he will enter the top-15 of the WBO rankings. From there, we are looking at a world title bout in the next few months. It (going to Olympic qualifiers) is not something that he can decide on his own. He will have to discuss with us and we will do that in private, behind closed doors," he added.
Vijender, who will be fighting for the WBO Asia pacific title in a 10-round contest against Australia's Kerry Hope on July 16, has maintained that he is game for the qualifiers starting July 3.
"Representing the country in the Olympics is a huge thing and I will definitely try for that if there is a chance. I will try to go," said the country's only male boxer to have won an Olympic medal -- a bronze in the 2008 Beijing edition.
Even if he wants to, the Olympic door could be shut on Vijender later this month if Vikas Krishan makes the cut in 75kg, the division which Vijender made his own at the peak of his amateur career, at the Qualifiers in Azerbaijan starting June 16.
Warren was completely dismissive of the idea of allowing pros in the Olympic arena, calling it unfair on amateurs.
"This whole thing about pros in Olympics is something that I don't support. Imagine a 20-year-old amateur kid fighting against a hulk like pro. It will be a one-sided demolition. Olympics is a stage which is meant for youngsters and I think it should remain that way, for the amateurs," said Warren.
The International Boxing Association (AIBA) decided to allow pros in Olympics after an Extraordinary Congress earlier this month. The decision has been met with mixed response and some prominent names like Mike Tyson and Lennox Lewis have lambasted the move, even going to extent of calling it stupid.
Talking about Vijender's July 16 bout, Warren said he expects the Indian to endure his longest bout thus far but eventually come out trumps.
"Kerry is a mean guy. He is tough, he has been around fo 12 years, has a couple of titles as well. I think Vijender will stop him may be in the seventh or eighth round. So it's going to be a long fight," he said.
The unbeaten Vijender has won all his pro bouts so far via knockouts, not one of them going the whole hog.
"Vijender has been fantastic. He has learnt quickly, credit to him. He has faced six different kind of opponents so far and has knocked all of them out," he said.
Vijender was, in fact, asked whether he has had it too easy in the circuit.
In his typically rustic style, which has not waned despite his move to the UK, the Haryana-lad said, "All those who say it's been easy, I invite them to spend some time in the gym with me, they would know how easy it is. I make it look easy, it doesn't mean that it is easy."
Warren said Vijender has opened the doors for other Indian pro boxers and he has his eyes on a few others as well.
"I like all of them, they are all very talented. I have seen quite a few and they are exciting. But I cannot give you any names right now because we don't believe in luring them. They have to be clear about their India commitments and then if somebody is interested, we give it a thought," he said.