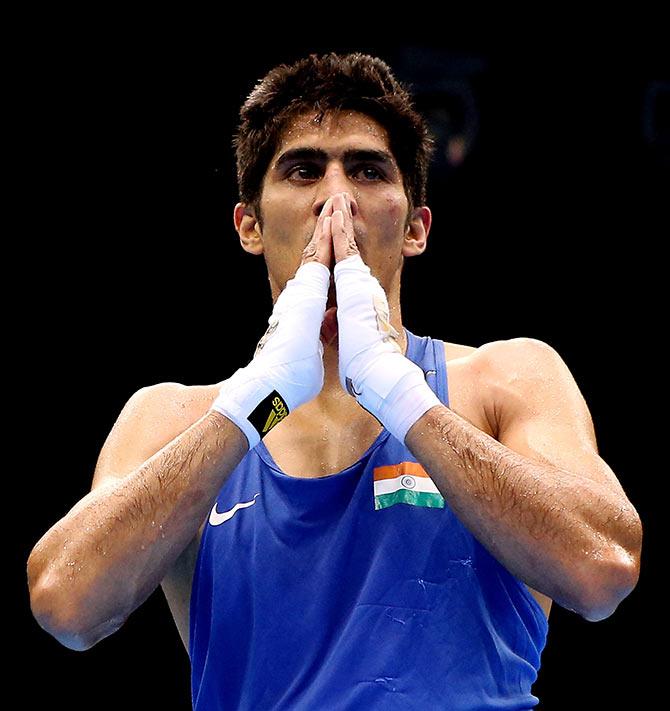 IMAGE: Vijender Singh reacts. Photograph: Reuters.
Worried about the administrative logjam in Indian boxing, recently-crowned WBO Asia Pacific champion Vijender Singh pleaded with the officials to put together a new federation at the earliest for the sake of country's pugilists.
Speaking at the ASSOCHAM conference, in the presence of Union Sports Minister Vijay Goel, Vijender said the country's boxers have been denied a voice at international events because of the current situation.
"Our country does not have a boxing federation since last three to four years. (An) ad-hoc committee is presently running boxing. Earlier we had Abhay Singh Chautala as the Boxing Federation President for 10 to 12 years (till 2012), things went well but later the court case started and since then we don't have any federation," the 2008 Olympic bronze-medallist said.
"I want India to have a Boxing Federation again and anyone including (national coach Gurbax Singh) Sandhu Sir can become president of it but a federation is required which can fight for the rights of the boxers," said Singh, who turned professional last year.
In 2012, the erstwhile Indian Amateur Boxing Federation (IABF) was terminated for manipulation in elections. The body that took shape later -- Boxing India -- could not run the show for even a year and had to be dissolved after a rebellion by the state units.
Ever since, an ad-hoc committee appointed by the International Boxing Association (AIBA) is administering the sport and elections are being planned tentatively in September to put together a new body -- the Boxing Federation of India.
This logjam has affected Indian Boxing as only three boxers have qualified for the Rio Olympics as compared to eight in London in 2012.
Singh called on the country to pray for the athletes going to Rio for next month's Olympics and said, "Unko Dua mein yaad rakhna" (Remember them in your prayers).
"...they have done their work and reached a level that they are representing India. Now it's our turn to support them. Whether they bring a medal or not, that does not matter all we need is to pray for them and give our wishes to them," the 30-year-old said.
"I have represented the country in three Olympics and I know what it feels when people cheer for us and we don't need anything else," he said.