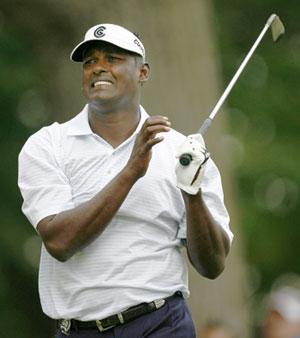 Ace golfer Vijay Singh has dropped out of the top-50 for the first time in nearly 18 years.
The Fiji golfer slipped to No 51 in the world rankings, published on Monday, after he failed to qualify for the final 36 holes at the Texas Open -- the first time since 1992.
It was his fifth consecutive tournament without earning ranking points.
Singh has now gone two months without playing a round of competitive golf on Saturday or Sunday. This was the third time in his last four tournaments that he missed the cut.
Singh has only shot a round under par once in his last eight outings, probably not surprising since he is 152nd on the tour in driving accuracy and 98th in average putts per hole.
The last time he was ranked out of the top 50 was in 92. He won the German Open the next week and was in the top 50 every week since.