IMAGES from Day 9 of the US Open matches played on Tuesday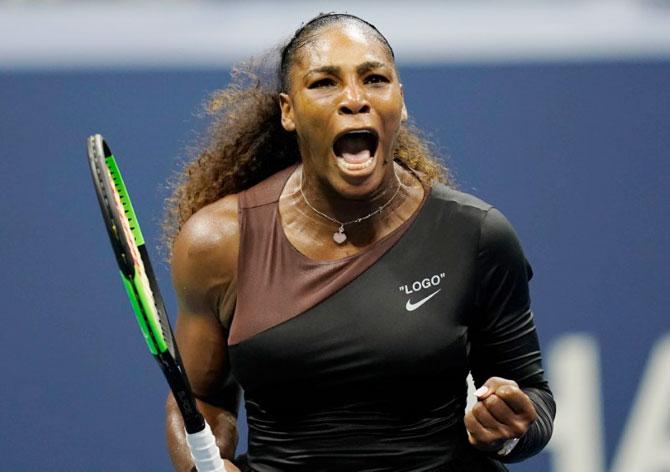 Serena Williams fought back from a break down in the first set to beat Czech eighth seed Karolina Pliskova 6-4, 6-3 and reach the semi-finals of the US Open in suffocating conditions on Tuesday.
The 36-year-old, who is bidding for a record seventh title at Flushing Meadows as well her 24th career Grand Slam crown, started sluggishly at the Arthur Ashe Stadium , allowing Pliskova to take a 3-1 lead in the opening set.
With the heat rule in effect and junior matches on the outside courts suspended earlier in the day, Williams made 22 unforced errors in the opening set but showed all of her big-match pedigree to battle back and close out the set by winning the last four games.
"The crowd was really rooting for me and I felt so bad because everyone out here was cheering and I wasn't winning so I thought I had to try harder," Williams said courtside.
"I really feel like right now I'm playing free. I was having a baby this time last year so I have nothing to prove."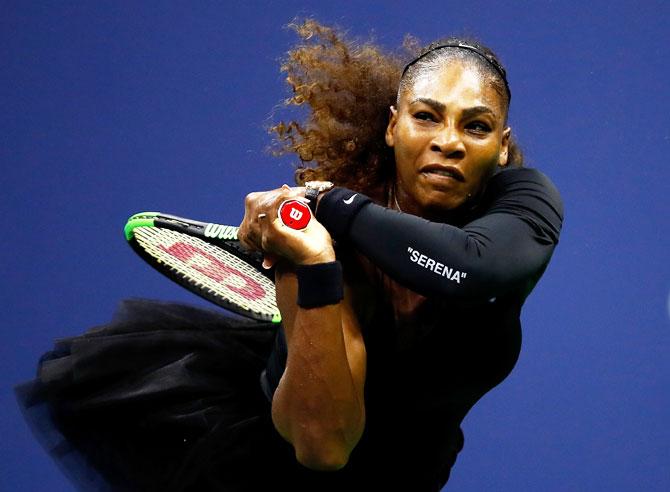 The second set was far more comfortable for the number 17 seed.
Two successive breaks of serve allowed Williams to win her eighth game in a row and open up a 4-0 lead, and she saw off a brief fightback from Pliskova before sending down her 13th ace to seal the match in one hour and 26 minutes.
"When I get to a Grand Slam, I feel I want to play really hard. I want to do really well. I love this game so maybe that's why," added Williams, who was beaten by Pliskova in the 2016 semi-finals.
Williams saved 10 of the 12 break points and struck 35 winners to Pliskova's 12 to record her first victory over a player in the world's top 10 since returning from maternity leave earlier this year.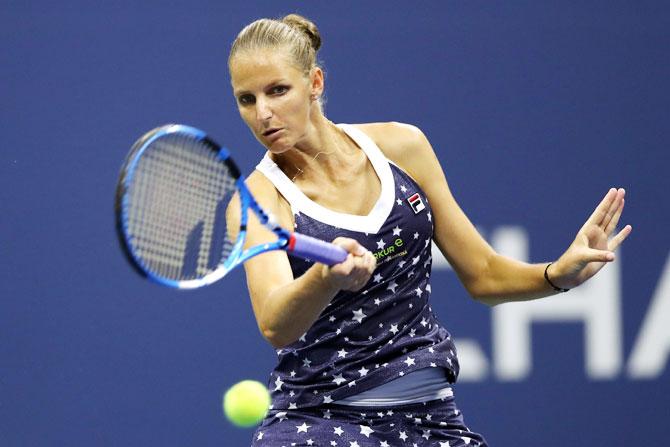 "She's one of the best players in the world," Pliskova said.
"Doesn't matter that she's number, what, 17 or 18 now. I think she's still the strongest.
"She's not going to give you anything. She's just going to ace you or play the best points on your chances. That's just how it is."
Next up for the American is a semi-final clash with 19th seed Anastasija Sevastova of Latvia.
"She's been playing really well for actually a long time," Williams said of her semi-final opponent.
"So obviously I know her game really well. She clearly knows mine. So she's definitely someone that gets a lot of balls back and something I have to be ready for."
Del Potro beats Isner and heat to reach semis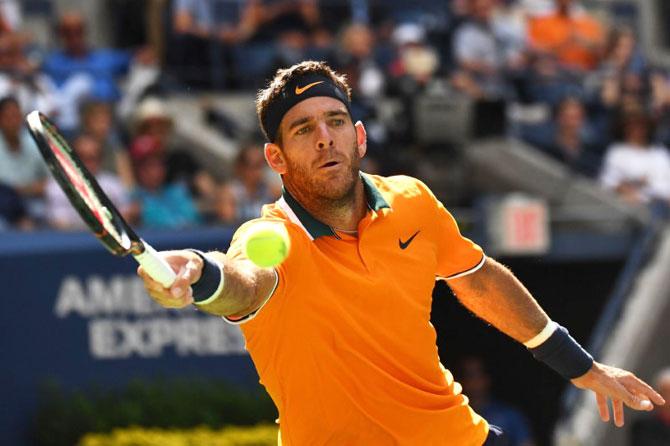 Juan Martin Del Potro outslugged John Isner 6-7(5) 6-3 7-6(4) 6-2 to reach the semi-finals of the US Open on Tuesday after a towering battle in a sweltering Arthur Ashe Stadium.
The three hour, 31 minute quarter-final was played in suffocating humidity so extreme that officials called a halt to junior matches on the outside courts for more than two hours.
Play continued on Arthur Ashe but with temperatures nudging 100 degrees Fahrenheit (37.7°C) the stadium was turned into a sauna, leaving the 6'10" (2.08m) American Isner and 6'6" (1.98m) Argentine Del Potro, suffering.
"I weigh 238 pounds, so I have always said it's pretty difficult to play in hot conditions," said Isner, who had 11 shirt changes during match. "I weigh a lot and I sweat a lot.
"It takes its toll on bigger guys, in my opinion.
"I don't know what I weighed before the match. I did not weigh myself, but I can tell you I lost a lot of weight out there."
Anyone looking for serve and volley came to the wrong place as the pair traded bombs from the baseline with Isner, bidding to become the first American since Andy Roddick in 2006 to reach US Open semi-finals, belting 26 aces and Del Potro 14.
Break chances were few and far between, Isner managed just three and was unable to convert any, while Del Potro had 11, cashing in on three, including one to close out the match.
It was enough to see Del Potro, the 2009 U.S. Open champion, through to the last four at Flushing Meadows for a third time where he will face either top seed Rafa Nadal or Austrian ninth seed Dominic Thiem, who were playing later on Tuesday.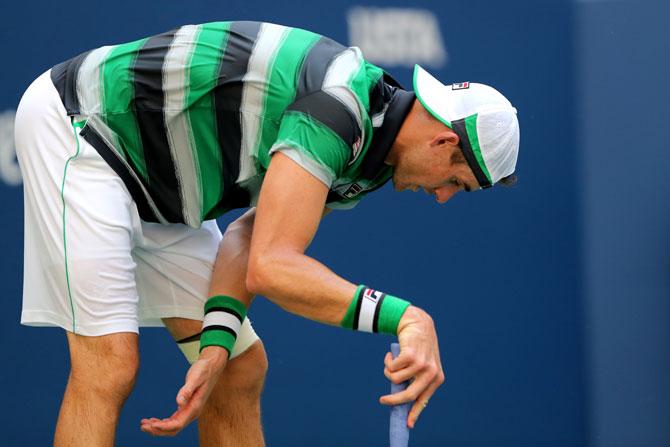 "I think I played very solid this game," said Del Potro. "In particular I made good returns every service game.
"I saw John a little bit tired also. That's give me a little bit more energy to keep trying.
"I don't know if I'm playing my best tennis ever but I'm feeling good. I reach another semi-finals in this grand slam, which means something big to me."
The Argentine had the sole break chance in the opening set but the third seed could not convert, while Isner had a mini-break at 3-3 in the tiebreak and turned that into a 1-0 lead.
It was the first set surrendered by Del Potro at the tournament this year and a positive omen for 11th seed Isner, who was 24-2 at Flushing Meadows when winning the first set.
But Del Potro would not drop another set as the Argentine appeared better equipped to deal with the conditions even though he joked he did not want to come back on court following a 10-minute break between the third and fourth sets.
"I had a shower, lay on the table and I didn't want to come back again," laughed Del Potro.
"It was too hot for tennis."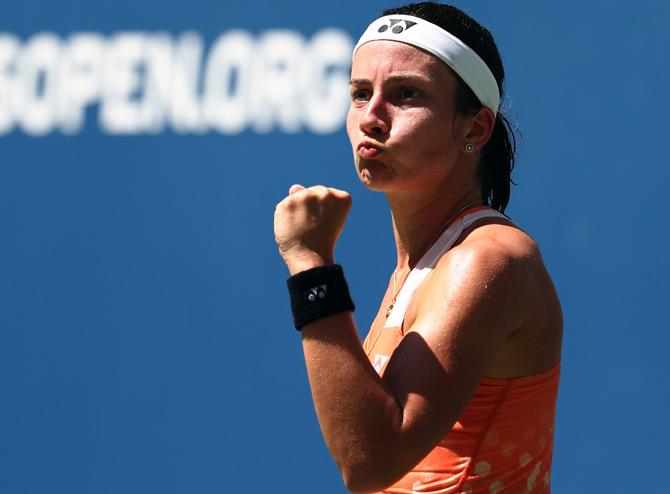 Defending US Open champion Sloane Stephens was dumped out in the quarter-finals after losing 6-2, 6-3 to Latvian 19th seed Anastasija Sevastova in sweltering conditions on Tuesday.
The third-seeded American lacked the swagger she showed through the opening four rounds and wilted on the sun-baked Arthur Ashe Stadium court against Sevastova, who became the first Latvian woman to reach the semi-finals of the US Open.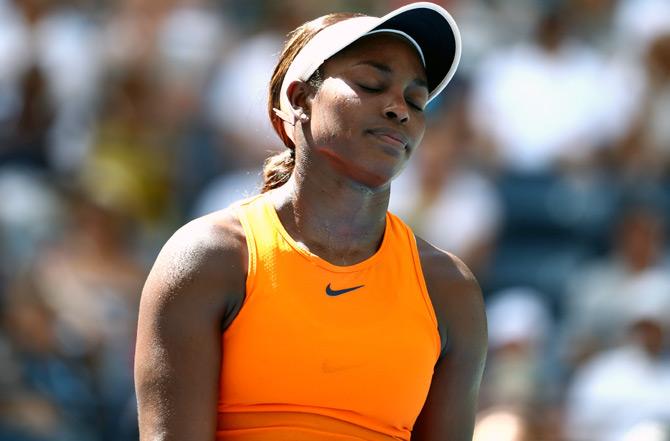 The 28-year-old Sevastova, who avenged last year's quarter-final loss to Stephens in New York to reach her first Grand Slam semi, converted five of her eight break points and saved seven of the nine against her.

"I think it was very physical today," Sevastova, who lost to Stephens during a U.S. Open tune-up in Montreal last month, said during her on-court interview. "It was tough to play."

With temperatures hovering above 90 degrees Fahrenheit (32.2°C), and the tournament's extreme heat policy in effect for a second consecutive day, Sevastova broke an error-prone Stephens to go ahead 3-1 and never looked back.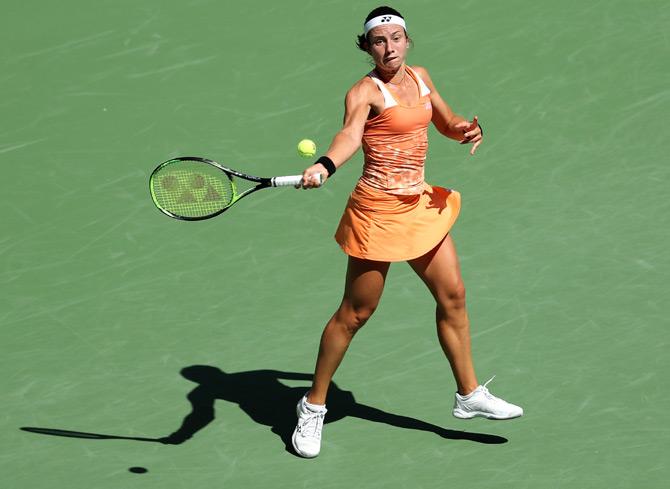 Sevastova, who retired from tennis in 2013 due to injuries before returning in 2015, withstood a fightback from the 25-year-old American late in the match but sealed the win on her third match point when Stephens sent a backhand into the net.

Next up for Sevastova is the winner of the evening match between six-times champion Serena Williams and Czech eighth seed Karolina Pliskova.